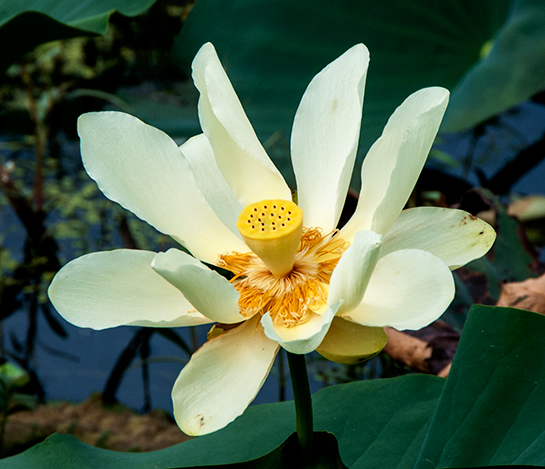 The proper name for this big impressive flower is not "water lily." It is actually an "American Lotus." However for the most part, acquiescing to popular usage in this epistle, we will refer to it as a "lily" and/or "lilies." After all, this is L.A.

Sunday, September 16, 2012
On a daily basis thousands of vehicles — mine included — cruise past the pond that's home to this flotilla of water lilies. I'm thinking most of those drivers show about as much interest in the lilies as the lilies show in the drivers and their rolling steeds — zilch, given that lilies are sorely lacking in cognitive skills and drivers are just too danged distracted to see much of anything but the road ahead.
If you must know, the real name of this plant is not "water lily." It is American Lotus. The Linnaean binomial, Nelumbo lutea, is the proper name. This particular colony has been ensconced on the north side of a pond in the southeast corner of the junction of I-530 and South Hazel Street for as long as I remember.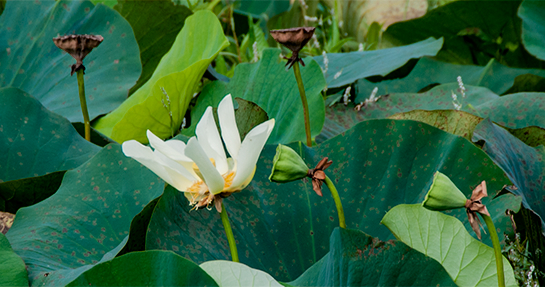 A close-up of the lily neighborhood showing three stages in their life cycle. Full bloom (center), dropped petals a few days ago (right), and dried, empty seed pods ready for a corner vase (top).
Like a lot of us and our surroundings, the "lilies" have had it rough this year. Whereas we tend to point our fingers at "the economy" and the politicians we believe to have foisted it upon us, the lilies are less fortunate. Their argument is with their Creator, who has seen fit to hold back on the rain necessary to choke competing weeds out of their environment. The latter arguments are not winnable. The former we solve on election cycles.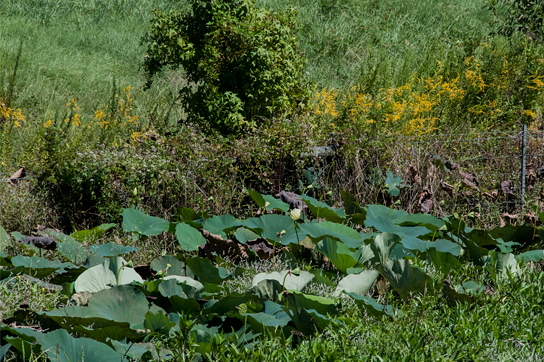 The environment where the lilies live, shot from across the pond from where I shot the flowers. Out of sight at the top of the image is an on-ramp to I-530. About the horizontal center of the image you can see an accursed fence. My back was well into the tree in the middle of the picture to get most of the shots for this story — over the %$#!!** fence. A shorter shooter would have been out of luck. In the foreground you can see grass and other plants growing into the lily colony. Normally, you don't see this, but low water allowed these competing plants to encroach on normally inundated and exclusive lily territory.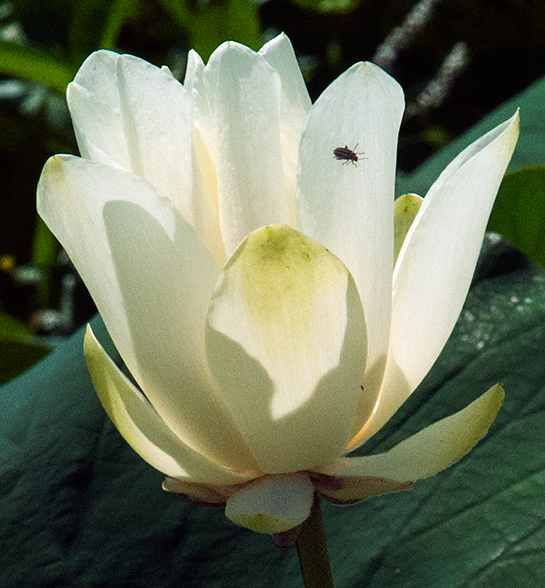 This "lily" has just bloomed. It did not take long for the bloom to be bugged.
My friend, Linda Newbury, Lord Mayor of Felsenthal, Arkansas, lives slightly over a .22 short shot from Grand Marias Lake in the Felsenthal National Game Refuge, a location rife with these beauties. She tells me these "lilies" "don't last 'til they're gone" once you pick them.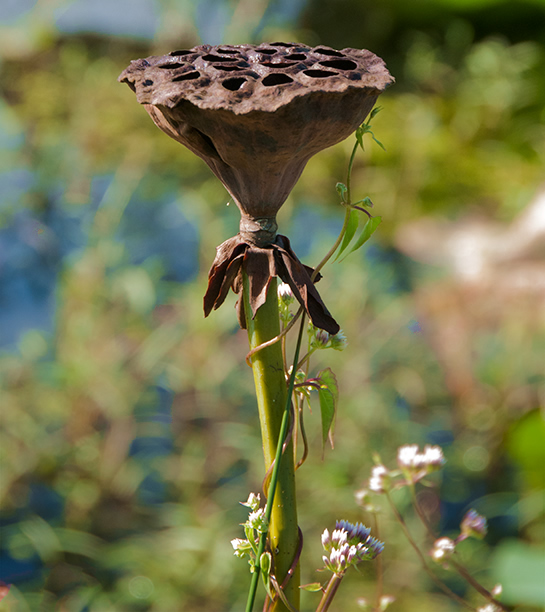 Now you know. The goofy looking dried things in vases are actually American Lotus skeletons.
On the other hand, the dried seed pods of the American Lotus are familiar to many as a component of the sticks and twig arrangements favored by interior decorators when they need to fill a vertical space. If you've ever wondered what the goofy-looking-trumpet-shaped-brownish-thingy-with-lots-of-holes was, now you know. It's an American Lotus skeleton.
Despite being mostly snubbed by rain this year, the "lilies" survived. I shot all of the pictures for this story and our Weekly Grist blog September 8, 9 and 10, 2012. As of today, there are no blooms left. Once they start heading to the dormant state, they pick up speed. I noticed the last bloom one morning last week and vowed to return by 2 p.m. to shoot it. By that time, it had dropped its petals.
The good news, they'll be back next year. With any kind of luck they'll have more water. Us — we'll see.
N O T E S:
Nikon D300, ISO 200, hand-held, all. Top picture AF-S Nikkor 18-200 G ED, 1/320@f9; Second picture, same lens, 1/250@f8; Third picture, same lens, 1/640@f13; Fourth picture AF VR-Nikkor 80-400mm f4.5-5.6 D ED, 1/800@f14; Fifth picture, AF-S Nikkor 18-200 G ED, 1/250@f8. Post processed with Adobe Photoshop® CS6 Extended.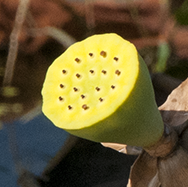 TAKE A LOOK
at the life cycle of the "lilies"
at Weekly Grist
for the Eyes and Mind.
From bud to dried flower arrangement fodder, including another bug visit and a couple of surprise shots from the past week. Guaranteed low-cal, no-fat, all natural, helps regularity — and were told, cures dropsy. Click and go!


Click the jump wings
to see the previous
Photo of the Week.

Click the camera
for an index to every
Photo of the Week.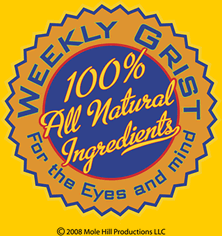 Most of the time, there is more to the Photo of the Week story than can be told in an essay. And most of the time there are more pictures to be seen. Presuming that some folk will enjoy being privy to this trove of information, I have created a blog, "Weekly Grist for the Eyes and Mind," where I am showing and telling "the rest of the story." There are also some blatantly commercial mentions of some of the things we do to earn our beans and taters. Click on the Weekly Grist logo and go to the blog. — J. D.