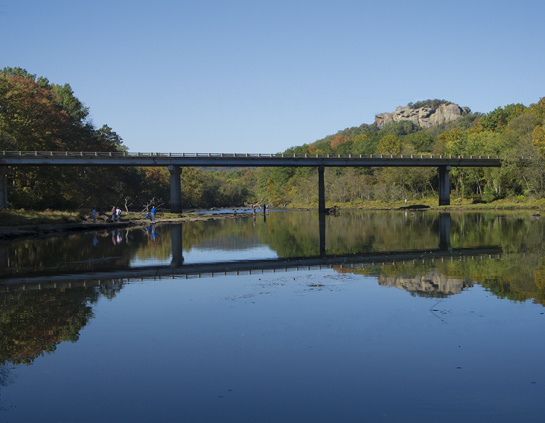 By standing in the public access area of the Little Red River below and upstream of the Arkansas Highway 110 bridge at Heber Springs, you'll get this view. Timing, however, is critical. See below.

Sunday, October 21, 2012
If you are of a mind to enjoy some really nice scenery with very little effort, this should do the trick: Just stand on the bank upstream of the Highway 110 bridge over the Little Red River and look downstream. It helps to do it in the morning. In the afternoon you would be looking into the sun.
What you will see is a fine river with a nice reflection of Sugar Loaf Mountain. If you are lucky, you will spot some anglers with fly rods attempting to remove trophy (or just pan size) rainbow and brown trout from the stream.
October is a good time. The weather is a tad cooler and the leaves are beginning to change. This is postcard stuff. In the event you cannot make the trip, it is my pleasure to make this revelation available to you — buoyed by photographic evidence.
N O T E S:
Notes. Nikon P7000, hand held, ISO 100, 1/900 @ f4. Post processed with Adobe Photoshop® CS6 Extended.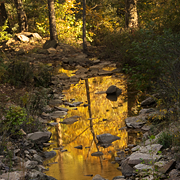 BUT WAIT,
THERE'S MORE!
See a mountain stream
hiding in a shadow,
but reflecting brilliant,
sun-lit foliage, just a few miles
from the 110 bridge.
Visit Weekly Grist
for the Eyes and Mind and see the sight.


Click the jump wings
to see the previous
Photo of the Week.

Click the camera
for an index to every
Photo of the Week.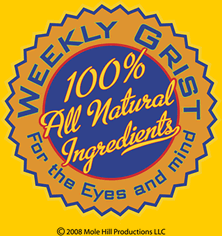 Most of the time, there is more to the Photo of the Week story than can be told in an essay. And most of the time there are more pictures to be seen. Presuming that some folk will enjoy being privy to this trove of information, I have created a blog, "Weekly Grist for the Eyes and Mind," where I am showing and telling "the rest of the story." There are also some blatantly commercial mentions of some of the things we do to earn our beans and taters. Click on the Weekly Grist logo and go to the blog. — J. D.