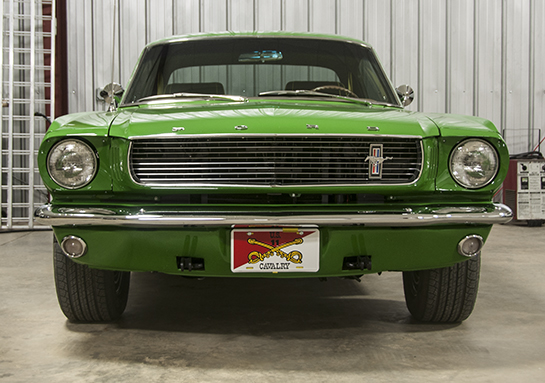 This looks like a well-restored '66 Mustang painted John Deere green. And it is. But there is more to this car than immediately meets the eye as you will soon discover. The car rests in James Matthews' garage in Rosebud, Arkansas. I was privileged to get a personally guided tour of the premises by Matthews, a Mustang curator extraordinaire.

Sunday, November 11, 2012
Lee Iacocca and his minions at Ford Motor Company believed they were on to something when they introduced the Mustang to the nation in April, 1964, at the New York World's Fair. History has shown that the original prognostications by Iacocca and his buddies were on the conservative side. The car struck a chord in the American psyche, started galloping out of Ford showrooms, and eventually became an automotive icon.
The originals are now 48 years old — and they still turn heads when they cruise America's highways and city streets. And there is a ready market for old Mustang parts. James Matthews of Rosebud, Arkansas, can attest to that. He has several hundred Mustang carcasses in his back yard.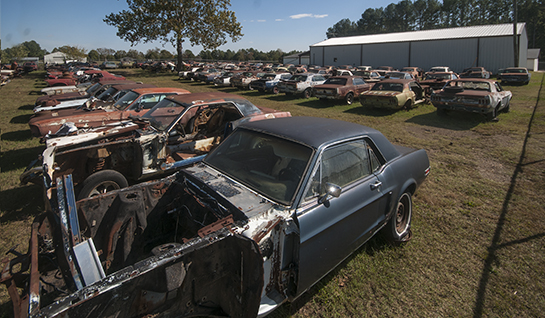 This is about half of James Matthews inventory of Mustang carcasses. Although the term "junked car" probably applies, the term "junk yard" falls way short of the mark and is downright inappropriate. This place is more like an outdoor museum of damaged Mustangs. The premises is clean, all of the cars are off the ground — and they are aligned with military precision.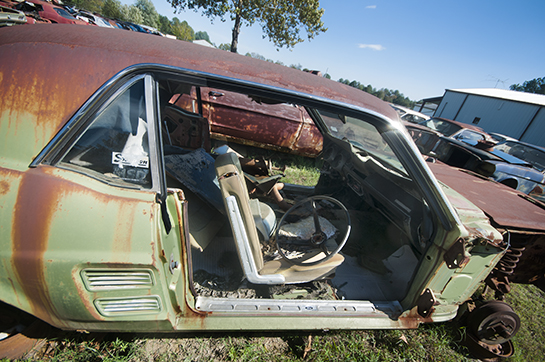 Once the pride and joy of one or more proud owners, this bedraggled Mustang can live again as its gadgets, doo-dads, whatchamacallits, thingamabobs, and frimkin assemblies become part and parcel of operational Mustangs.
Matthews says he has been working on cars since the day he was born. His father was a mechanic, and he followed in his father's footsteps as soon as he could make them. Fast forward to 1973 when Matthews finished his U.S. Army service, which took him to Viet Nam and Germany. Having seen what the rest of the world had to offer, James decided that Rosebud, where he started, was by far the best choice for a place to live. Naturally, he opened a mechanic business.
After a while in the business, he discovered that there was a ready market for Mustang parts, so he began to acquire Mustang wrecks. On the front end, he had to seek out his stock. After a few years, the word was out: James Matthews in Rosebud will buy your Mustang wreck. Once he engaged that ratchet, the Mustangs came to him in herds.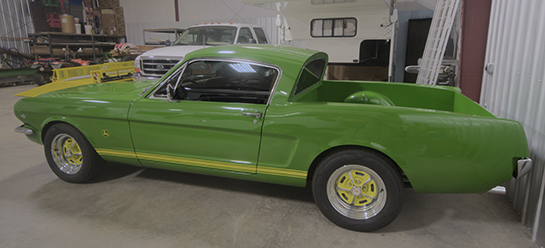 Here's the rest of the story on the green Mustang pictured at the top — and there's more to it than meets the eye. A few years ago, James had an idea: Why not convert a 66 Mustang to a small pickup truck, paint it green, and put some John Deere stickers on it? Made sense to him, combining two iconic American symbols. James did all the work except for body, paint, and upholstery work. Everything is pretty well vintage other than the obvious. It is a traffic stopper wherever it goes. James loves it.
Among Mustang enthusiasts, James Matthews is near legendary. This article is the current caboose in a long parade of articles, feature stories, sound bites, and blog posts. His place is also a popular target for photographers.
A few years ago, Matthews, fed up with the regulations and red-tape foisted on small businesses, decided to hang it up. Now he sits on his side patio and keeps an eye on the huge pasture that appears to be his yard. I asked if he had e-mail. He allowed as how he didn't, and further, did not give a hoot about the Internet. "If I was inside looking at a computer, I might miss something out here."
N O T E S:
Nikon D300, tripod mount, ISO 200, first three. Top Mustang, base exposure on series of nine for compositing, Nikkor VR 18-200mm f3.5-5.6 G ED, 1/10@f3.8; First exterior shot, Sigma 10-20 f4-5.6 EX DC HSM, 1/640@f8; Second exterior shot, same lens, 1/250@f6.3; Side shot of truck, same lens, ISO 400, base exposure on series of nine for compositing, 1/15@f4.5.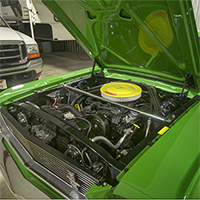 SEE MORE OF THE TRUCK
and the Mustang carcasses
at Weekly Grist
for the Eyes and Mind.
You'll find close up shots
of the interior and the engine,
plus links to the 1968
"Only Mustang Makes it Happen"
commercial and a clip of the legendary Bullitt car chase featuring the late Steve McQueen and a Ford Mustang GT 390 fastback versus the bad guys in a Dodge Charger R/T 440.

Click the jump wings
to see the previous
Photo of the Week.

Click the camera
for an index to every
Photo of the Week.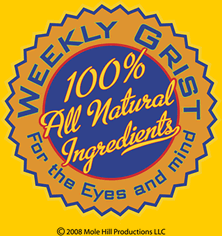 Most of the time, there is more to the Photo of the Week story than can be told in an essay. And most of the time there are more pictures to be seen. Presuming that some folk will enjoy being privy to this trove of information, I have created a blog, "Weekly Grist for the Eyes and Mind," where I am showing and telling "the rest of the story." There are also some blatantly commercial mentions of some of the things we do to earn our beans and taters. Click on the Weekly Grist logo and go to the blog. — J. D.