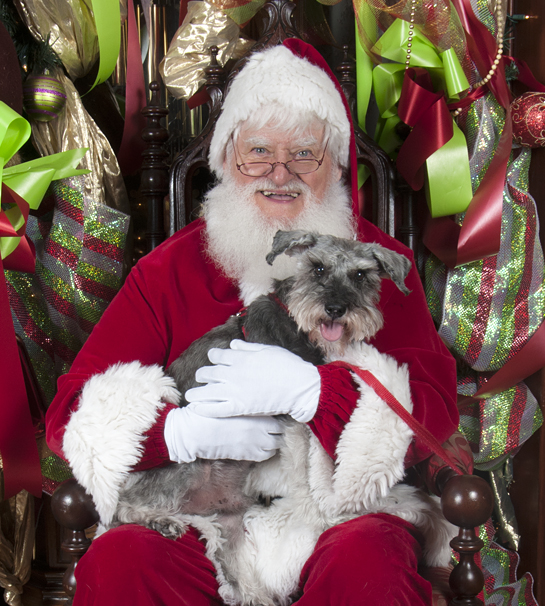 Santa and this rescue Schnauzer strike up a truce long enough to get an "ears up" shot, the Holy Grail of dog shots, at the annual Humane Society of Jefferson County (Arkansas) photo session on December 9 at Margland Bed and Breakfast in Pine Bluff, my home for coming-up on 50 years. Later, the Schnauzer cautiously let me scratch his ears. We became tentative friends.

Sunday, December 9, 2012
Every December, The Humane Society of Jefferson County, Arkansas, sponsors a photo shoot where folks can bring dogs, cats, kids, parents, grandparents, aunts, uncles, and perhaps the neighbors, to sit with or on Santa and look at a camera. I've had the good fortune of being on the other side of the camera for the last two years. It is a labor of love.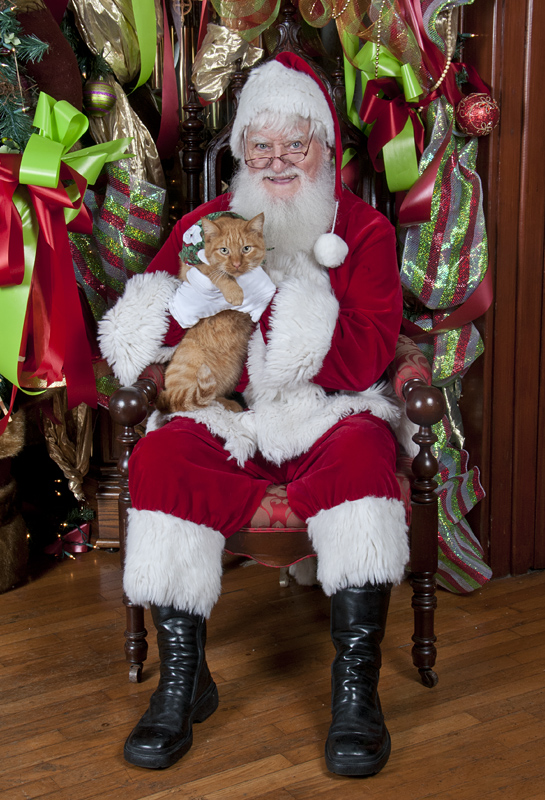 Super-tabby Rusty, the head-cat of Margland Bed and Breakfast, was a good boy long enough for this shot. He's a good kitty, but his patience ran thin for posing shortly after the shutter snapped.
Those who are photographed then ceremoniously buy prints of their likeness. One-hundred percent — that's every barking, meowing cent — of the proceeds of this exchange go to the Humane Society's coffers to take care of rejected, lost, or otherwise doomed critters, who want nothing more in life than to shower some fortunate human being with unbridled loyalty and unconditional love.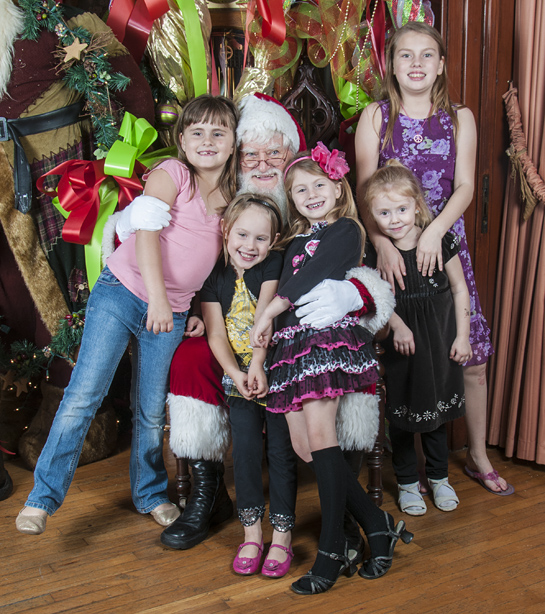 This is an impromptu gathering of kids with Santa. One walked up, then another, then another — you get the drift. I got their attention and snapped. Then they went back to the business at hand with old St. Nick.
Despite the threat of a downpour, a lot of individuals, families, and critters attended. When you get a bunch of dog and cat people together, one normally sees a lot of smiles, a few mishaps, and numerous instances of extreme patience, all of which make a good afternoon, with time well spent.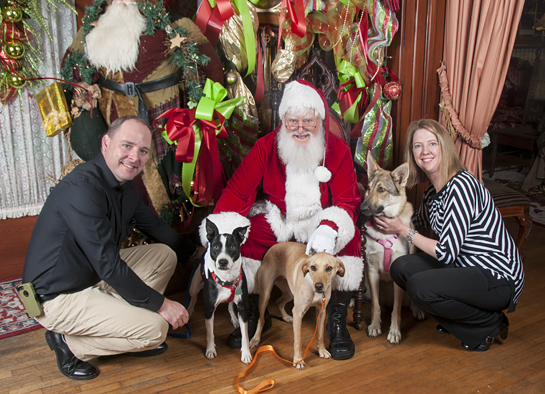 This family portrait includes two rescue dogs. The tan pooch in the middle is livelier than she looks. Her ears are up most of the time.
If you happen to feel a bit of unspent generosity this Christmas, your local Humane Society will be a good target for your largess. These are the folks in the trenches. They take care of the rescued critters. These gracious volunteers become their friends, foster parents, and guardians. All of that requires kinetic energy, sweat, and dedication. And the stroke of your pen.
N O T E S:
Nikon D300, ISO 200, tripod mounted, all. Nikkor VR 18-200mm f3.5-5.6 G ED, all. Lit with Novatron D600 and Novatron stobes with umbrella softboxes. Post-processed with Photoshop CS6 Extended.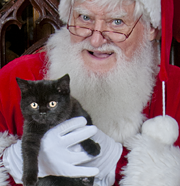 SEE MORE CATS,
DOGS, AND PEOPLE
at Weekly Grist
for the Eyes and Mind,
including this fuzzy kitten.
We're talking perky ears,
slobbery tongues,
and several "AWWW" looks.
Click, go, and enjoy. It is non-fattening, all natural, and risk-free.

Click the jump wings
to see the previous
Photo of the Week.

Click the camera
for an index to every
Photo of the Week.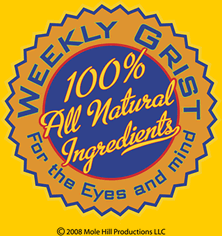 Most of the time, there is more to the Photo of the Week story than can be told in an essay. And most of the time there are more pictures to be seen. Presuming that some folk will enjoy being privy to this trove of information, I have created a blog, "Weekly Grist for the Eyes and Mind," where I am showing and telling "the rest of the story." There are also some blatantly commercial mentions of some of the things we do to earn our beans and taters. Click on the Weekly Grist logo and go to the blog. — J. D.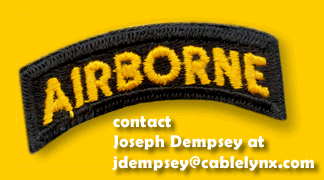 ---
---
---
---
---
---
---
---