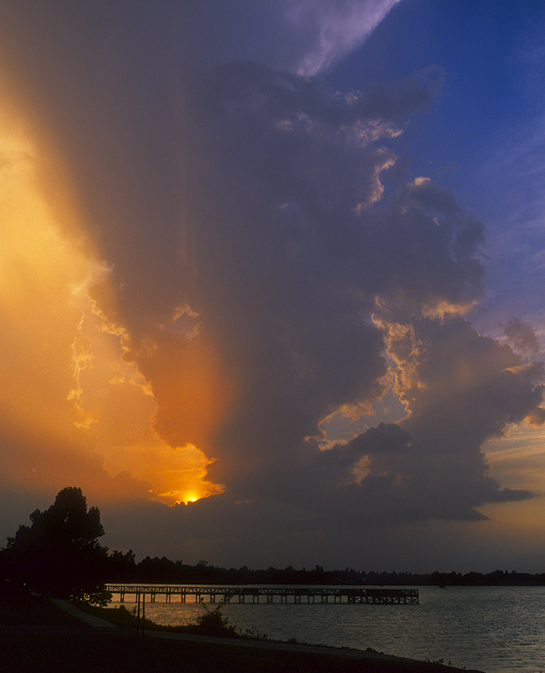 Sunset from the shore of then Lake Pine Bluff, now Saracen Lake. This image is prima facie evidence of my contention that the location is one of the best on the planet to observe a sunset.

Sunday, December 30, 2012
Sometime in some June in the early nineties, late in the day, I spotted meteorological conditions on the distant western horizon which generally spell thunderstorm on or about sundown. That portends well for sunset shots if you can find a location with a long look.
I was about 30 miles or so southeast of what would eventually become the end of a chase to get a decent shot of what was about to happen. Every time I stopped to set up, the fickle storm decided to reorganize. Eventually, I wound up at one of the best sunset observation places on the planet, the banks of Saracen Lake, known then as Lake Pine Bluff.
Once I got there and set up, the frustrations of the chase were about to transmogrify into the benefits of the chase. I fired off several rolls of Fujichrome Velvia as the clouds churned and played peek-a-boo with the sun. This shot was the pick of the litter. It was all over in five minutes or less.
Now that we've dealt with a sometimes calamitous 2012, the prospects of 2013 are looking better every day — that is, if you overlook the rampant idiocy in our nation's capitol. What we learned in 2012 should steel us for the days ahead. So Happy New Year, bring it on. I'm ready! Let's rock!
N O T E S:
Nikon N90S, Tripod mounted. Fujichrome Velvia, Nikkor 80-200 f2.8. Scanned 100% at 4,000 dpi expanded and post-processed in Photoshop CS6.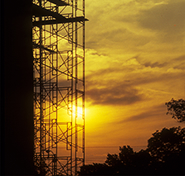 SEE ANOTHER
great local sunset
at Weekly Grist
for the Eyes and Mind.
Unlike the chase described above, this one was a stumble on.
Click and observe.

Click the jump wings
to see the previous
Photo of the Week.

Click the camera
for an index to every
Photo of the Week.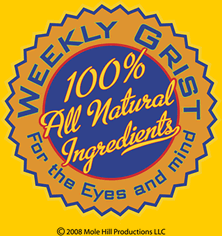 Most of the time, there is more to the Photo of the Week story than can be told in an essay. And most of the time there are more pictures to be seen. Presuming that some folk will enjoy being privy to this trove of information, I have created a blog, "Weekly Grist for the Eyes and Mind," where I am showing and telling "the rest of the story." There are also some blatantly commercial mentions of some of the things we do to earn our beans and taters. Click on the Weekly Grist logo and go to the blog. — J. D.