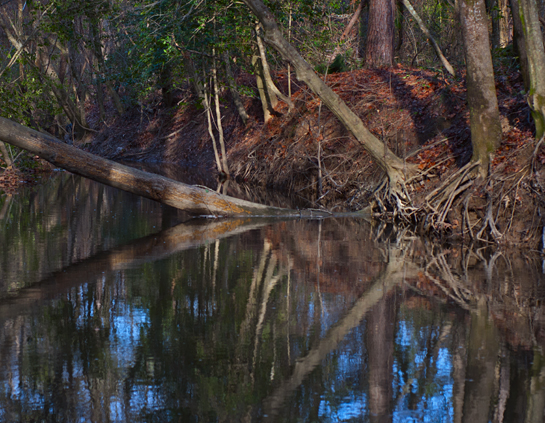 Shot from its banks, Huskey Creek below the bridge on County Road 61 in Hot Spring County, Arkansas, yields some nice colors and reflections, possible only because there is no foliage on the deciduous trees on its banks. It was a rare mid-January day, lots of late-afternoon sun and moderate temperatures. This is what you miss when you stay stoved-up at home in winter months.

Sunday, January 13, 2013
After a commercial shoot in Hot Springs, Arkansas, I realized I had more hours of daylight left between me and dark than was necessary for the drive back to the international headquarters in Pine Bluff. With that kind of time on my hands, I did a "been-gone," as in "I been gone turn down that road for quite a spell." The road was Hot Spring County Road 61. From the looks of things on the map, it held promise.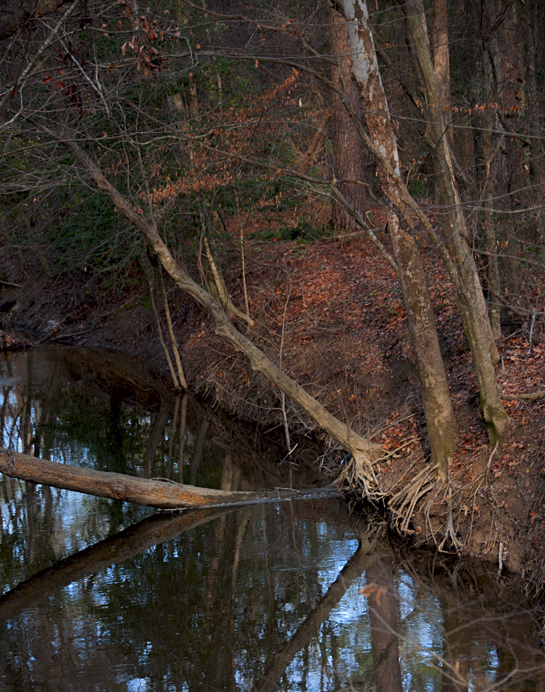 Higher on the bridge embankment, the same scene takes on a slightly different look. That's the beauty of Mother Nature. Walk or climb a few feet (I did both), and the picture changes.
It was a nice country road but nothing spectacular. Then I came to a fork. Something kept telling me to stay left. I fought the urge for a few seconds and then decided that I was on the receiving end of a message, one I should best heed. I made the right decision. Not far from the fork, I saw the always welcome sign, "Pavement Ends." A few curves later I came upon what I believe to be Huskey Creek. There was no sign, but I retraced my steps on a map after the trip and Huskey Creek is my conclusion.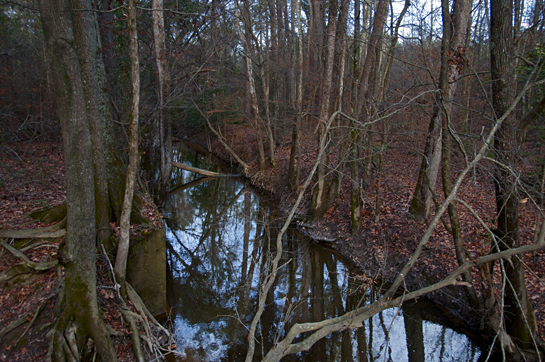 This is the view from the bridge. Keep in mind that these colors, this light, and these reflections are exclusively available in winter. By mid-spring, the trees are full of leaves and the nicely lit floor of the woods and surface of the creek are shrouded in shadows. That is not to say greenery and shadows are bad, but it does say that your shooting opportunities are narrowed.
There's something to be said for listening to and heeding hints that mysteriously register in one's little pea brain. When you do, people accuse you of being lucky. If you subscribe to the Higher Power theory as I do, you know it's not luck. It's being prepared for the opportunities Ol' H.P. sends your way. Huskey Creek was one of those. Here's hoping you are on the receiving end of a few Huskey hints this week.
N O T E S:
Nikon D300, ISO 200, hand held. Top picture, 60 mm AF Micro-Nikkor f2.8D, 1/125@f4.5; Second picture AF-S VR Nikkor 18-200 f3.5-5.6, 1/40@f5.6; Third picture, same lens, 1/60@f4. Post processed with Adobe Photoshop® CS6 Extended.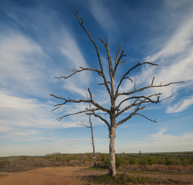 FURTHER
DOWN THE ROAD
we came to Locust Hill,
which looks more like New Mexico than central Arkansas.
See Locust Hill and more,
including a log building
and old water tower at
Weekly Grist for the Eyes and Mind.
Click, go and dig it!

Click the jump wings
to see the previous
Photo of the Week.

Click the camera
for an index to every
Photo of the Week.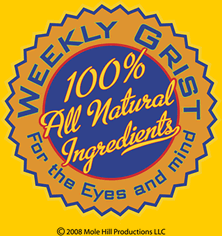 Most of the time, there is more to the Photo of the Week story than can be told in an essay. And most of the time there are more pictures to be seen. Presuming that some folk will enjoy being privy to this trove of information, I have created a blog, "Weekly Grist for the Eyes and Mind," where I am showing and telling "the rest of the story." There are also some blatantly commercial mentions of some of the things we do to earn our beans and taters. Click on the Weekly Grist logo and go to the blog. — J. D.