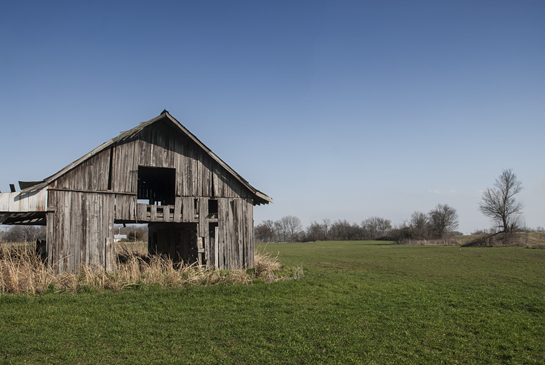 I'm not certain exactly what was happening in my little pea brain the day I shot this old barn composed like this. Perhaps on that day, I believed that this view was what really counted. In any case, take a good look. This old barn is a goner. It is no more. Finis. Nada. No signs of former construction remaining. Not a toothpick.

Monday, February 4, 2013
This old barn was one of my favorites. Not because of architectural significance or aesthetic schmaltz, but because it was convenient. I noticed it was gone because, in the words of Charlie Daniels, "I was in a bind," and sought it out for convenience sake. When I arrived I saw that the real estate where it formerly stood was minus one barn.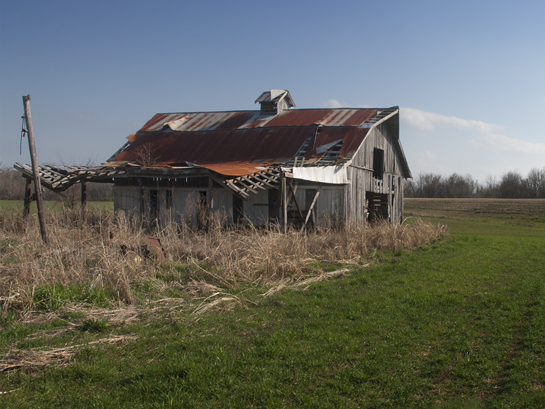 I doubt that the rest of the universe felt a paltry hiccup when the old structure crumbled. It is as if: When a barn falls in LA (lower Arkansas), does it make a noise? I'm not sure. It did give rise to one noise from me when it finally set in that another barn was gone, and I quote: "Well #@%*!"
At least I got the pictures.
N O T E S:
Shot 3/1/2008 Nikon D200, ISO 100, tripod mounted, both. Both 1/200@f7.1. Post processed with Photoshop® CS6 Extended.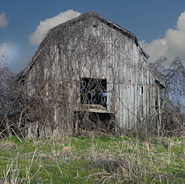 SEE A COUPLE OF BARNS
still standing at
Weekly Grist
for the Eyes and Mind....
one big'un and one littl'un
still ahead in the losing battle
against the forces of nature.


Click the jump wings
to see the previous
Photo of the Week.

Click the camera
for an index to every
Photo of the Week.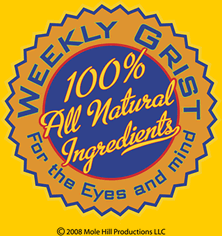 Most of the time, there is more to the Photo of the Week story than can be told in an essay. And most of the time there are more pictures to be seen. Presuming that some folk will enjoy being privy to this trove of information, I have created a blog, "Weekly Grist for the Eyes and Mind," where I am showing and telling "the rest of the story." There are also some blatantly commercial mentions of some of the things we do to earn our beans and taters. Click on the Weekly Grist logo and go to the blog. — J. D.