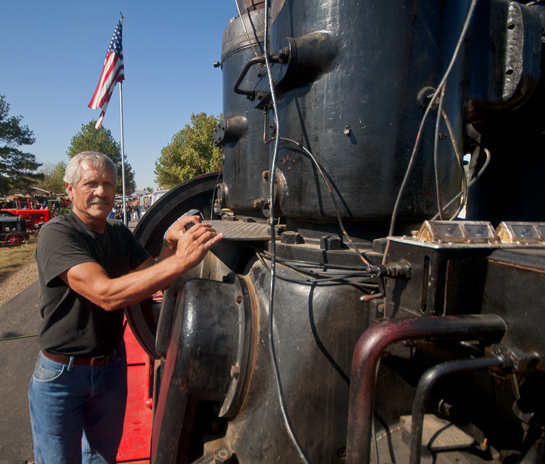 Randy Skarda of Hazen, Arkansas, stands with his 1919 Fairbanks-Morse Type Y Vertical Oil Engine on display at the 35th Grand Prairie Rice Festival at Hazen on Saturday. Randy restored the 23,230-pound monster motor in 1990 and '91 after protracted efforts to get it from its original owner, Adolph Thomas.

Sunday, February 10, 2013
A U T H O R ' S N O T E :
Back in October 2011, after two years of good intentions, I finally made the trip to the Grand Prairie Rice Festival in Hazen, Arkansas, where I found this behemoth engine. At about two stories tall or so, it dominates the landscape. When Randy Skarda and his son crank the beast to life, it is a jaw-dropping experience for those of us who are fascinated by big machines.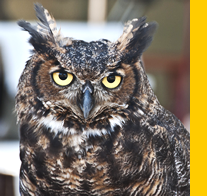 That the engine is fully operational is testimonial to the dogged determination of Randy Skarda to make it happen. I hope you enjoy this story the second time around.

There was plenty more at the festival including an antique tractor parade, a "thrashin'" machine, and a raptor display. See that part, including the great horned owl, at Weekly Grist for the Eyes and Mind. Thanks,

Joe



Originally Published on Sunday, October 30, 2011
Randy Skarda licked his chops for a long time to get his hands on Adolph Thomas's antique pump engine before he ever called it his. "A lot of people approached Mr. Thomas and tried to buy the engine," Skarda said. "But he refused all offers, including mine." Skarda continued approach Thomas, all to no avail.
"Then, one day, I decided to make him an 'offer he couldn't refuse.'" Kinder than the famous Corleone offer, Skarda told Thomas that he would show Thomas's name every time he displayed and demonstrated the engine.
At first it appeared that this offer also fell on deaf Thomas ears. "Then a week or so later, I saw him at the bank and he asked me, 'Got your trailer ready?'" That was 1990. A little over a year later, Skarda had the monster motor purring like new.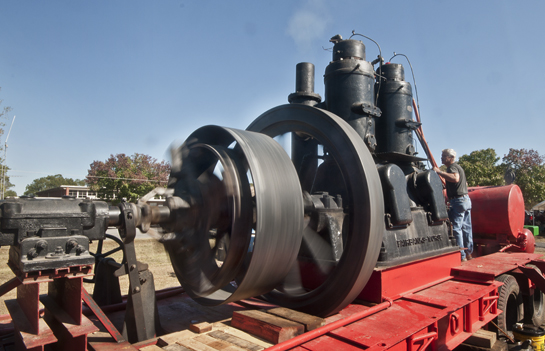 The road to recovery for the engine was not without bumps. Mr. Thomas bought the engine in Stuttgart in 1919 and placed it in service powering a rice well at his farm southeast of Hazen. He used it for the next 22 years, which meant that the last time the mighty engine roared was 1941. Forty-nine years is a long time for an engine to lie dormant.
Skarda did all the work himself. "I even had to make a few parts for it," he said. After he had reached a point past making his own parts, he remembered a local retired mechanic who formerly serviced the engines. Skarda contacted the mechanic to see if he had any parts. He didn't, but thought an old friend of his who lived at Lodge's Corner, a few miles down the road might. And did he ever. At nearby Lodge's Corner they found a barn full of Fairbanks-Morse engine parts.
The engine now operates flawlessly. Here are some of the vital statistics for the Fairbanks-Morse engine:
| | |
| --- | --- |
| Engine type: | Two-stroke |
| Fuel: | Diesel, kersone, distilliate, gas oil, fuel oil and crude oil |
| Bore: | 12" |
| Stroke: | 18" |
| Engine base: | 15,000 lbs. |
| Fly wheel: | 3,800 lbs. |
| Belt pulley and clutch: | 2,740 lbs. |
| Muffler/exhaust pipe: | 1,680 lbs. |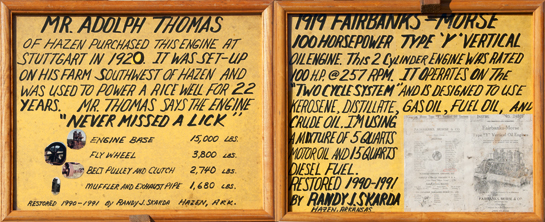 In keeping with Randy Skarda's promise to Adolph Thomas, we display the signs Randy always shows when he exhibits the engine.
Cranking the engine is a convoluted process according to Seth Skarda, Randy Skarda's son. "The first thing we have to do is to heat the engine heads to about 200 degrees," Seth Skarda says. "Then we push one of the cylinders down with compressed air." Once it cranks, it runs like a clock.
See more pictures of the Fairbanks-Morse engine in this gallery.


Through action more than with words, Randy Skarda shows us that this machine is his passion. He doesn't go into a long, drawn out explanation, but somehow you get the idea that Randy does what he does with the engine just because he can. His devotion in keeping this bit of living history alive and showing it to folks is very much the right thing to do.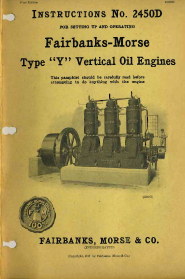 For the gearheads amongst us, we've uncovered a digital copy of the operator's manual, Instructions No. 245OD For Starting Up And Operating Fairbanks-Morse Type "Y" Vertical Oil Engines. You can peruse the intricacies of this reliable behemoth by clicking the photo of the manual's cover to the right of this paragraph.


N O T E S:
NIKON D-300, ISO 200, all; Top picture: Sigma 10-20mm F4-5.6, EX DC HSM, 1/1250@f4 (the engine shakes the fool out of the trailer), second picture, same lens, 1/50@f/18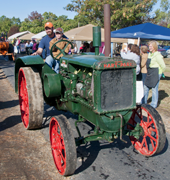 SEE MORE OF THE FESTIVAL
including an antique tractor parade,
an antique "rice thrashin'" machine,
some captive owls, a grist mill
and more . . . all at
Weekly Grist for the Eyes and Mind. Click, go, and enjoy.


Click the jump wings
to see the previous
Photo of the Week.

Click the camera
for an index to every
Photo of the Week.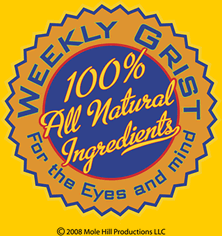 Most of the time, there is more to the Photo of the Week story than can be told in an essay. And most of the time there are more pictures to be seen. Presuming that some folk will enjoy being privy to this trove of information, I have created a blog, "Weekly Grist for the Eyes and Mind," where I am showing and telling "the rest of the story." There are also some blatantly commercial mentions of some of the things we do to earn our beans and taters. Click on the Weekly Grist logo and go to the blog. — J. D.