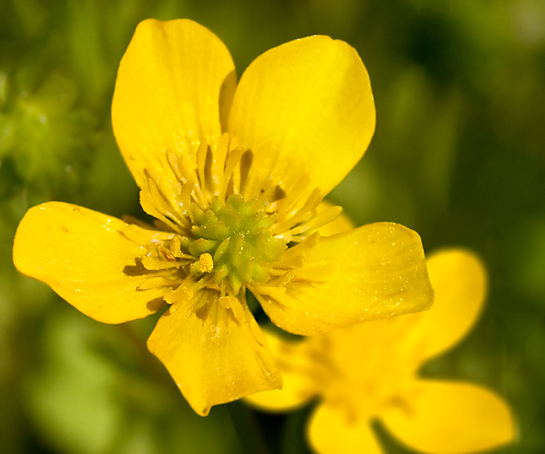 Sunday, February 24, 2013
A U T H O R ' S N O T E :
Spring is dragging its feet here in LA (lower Arkansas). By now, we are normally inundated with jonquils in flower beds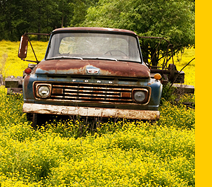 and spring beauties in our winter-ravaged yards. Given the poor performance thus far, perhaps we can look forward to the next big event — the arrival of the Killer Buttercups. To illustrate my point, I am sending you back to April 2009, a memorable buttercup year.

After you digest this epistle, be sure and grab the rest of the 2009 buttercup story at Weekly Grist for the Eyes and Mind where you will see the old truck inundated with buttercups.

Thanks,

Joe



Originally Published on Sunday, April 26, 2009
The poesy you see above is probably three-eighths of an inch across on its best day. Good optics and a bit of luck let us expand our vision, so to speak, and grab a closer look at the exterior trappings of these little jewels. I don't have a clue what the biology 101a binomial nomenclature might be. Perchance Yellowboogerum flowerus for all I know. When I was a top-water in Fort Smith, Arkansas, we called 'em buttercups. And so they are.
The buttercup you see above is a part of a veritable onslaught of buttercups on steroids, now evident along US Highway 63 in Cleveland County, Arkansas. For transplanted Arkies, the highway was formerly known as State Highway 15. And for those who care to know, I was not consulted in the renaming process.
You see hundreds of shimmering yellow patches on a leisurely trip down ol' 63, but the area close to Rowell seems to have borne the brunt of the attack. Not that anyone is complaining. The attack of the killer buttercups is cheap entertainment.
Take a gander at the garden below, thoroughly surrounded by buttercups. Gardens in this neck of the woods are a stand-alone discipline. Virtually all self-respecting residents along the road cultivate a garden of some demeanor.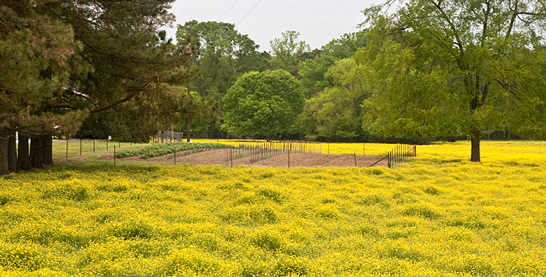 When you plant what is common, coffee-shop palaver — with varying opinion on when the perfect time happens to be. "What" will for sure include tomatoes, peppers, onions and okra. Squash, butterbeans, corn (for roas'nears), mustard and turnips will add a measure of status to the garden.
A dear friend once advised that when traveling in this area, one should always carry a sack in one's pickup during late spring and early summer — reason being, you will almost certainly be offered fresh veggies from these gardens, and you want to facilitate and encourage this largess.
The attack of the killer buttercups is a good thing. It is the visual equivalent of a seven-fold amen to spring and a brilliant overture to summer. I have not one, but two sacks in the pickup.

N O T E S:
Nikon D300, close up AF Micro Nikkor 60mm F2.8 D, hand held (got lucky), ISO 400, 1/800 @ f16. Garden, AF-S Nikkor 18-135mm f3.5-5.6 G ED, 1/200@f 7.1, ISO 200, (75mm, 35mm equivalent, 112mm)

On our blog, killer buttercups in Cornerville, Arkansas, attempt to eat an old truck ... and other buttercup attack pictures and observations. Weekly Grist for the Eyes and Mind.

Click the jump wings
to see the previous
Photo of the Week.

Click the camera
for an index to every
Photo of the Week.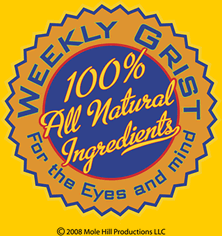 Most of the time, there is more to the Photo of the Week story than can be told in an essay. And most of the time there are more pictures to be seen. Presuming that some folk will enjoy being privy to this trove of information, I have created a blog, "Weekly Grist for the Eyes and Mind," where I am showing and telling "the rest of the story." There are also some blatantly commercial mentions of some of the things we do to earn our beans and taters. Click on the Weekly Grist logo and go to the blog. — J. D.