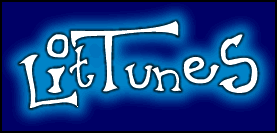 Making
Connections
between
Popular Tunes
and Literary Works



"Cloud Song"
Jess Klein

I Know Why the Caged Bird Sings by Maya Angelou
The Dollmaker by Harriette Arnow
Warriors Don't Cry by Melba Patillo Beals
The Awakening by Kate Chopin
Absolutely Normal Chaos by Sharon Creech
Raisin In The Sun by Lorraine Hansberry
Out Of The Dust by Karen Hesse
The Secret Life of Bees by Sue Kidd
The Bean Trees by Barbara Kingsolver
Terms of Endearment by Larry McMurtry
Ties That Bind, Ties That Break by Lensey Namioka
A Tree Grows in Brooklyn by Betty Smith
Joy Luck Club by Amy Tan
Dinner at the Homesick Restaurant by Anne Tyler
I Remember Mama by John van Druten
Charlotte's Web by E.B. White
Our Town by Thornton Wilder
The Effects of Gamma Rays on Man-in-the-Moon
Marigolds by Paul Zindel


Jess Klein's (link to www.jessklein.com) effort was paired with eighteen different works of literature by the good folks at MindBlue Productions (see LitTunes Web Links for an overview of this site) to top the LitTunes list of songs connected to literature. While the universal appeal to the song creates a pathway for multiple connections, the lyrics lack nothing in power and poignancy.
"Students are confronted daily with challenging relationships between family and friends at home, school and in the texts they read. Jess Klein's 'Cloud Song' is perfectly suited to explore the nuances of these relationships," MindBlue writes. "Novels such as Charlotte's Web, I Know Why the Caged Bird Sings, and Joy Luck Club are just some of the possible companion texts for this study guide. 'Cloud Song' uses a fascinating metaphor of clouds and weather to explore the complexities of a trusting relationship between mother and daughter."
CG — 1/28/08

Click the musical note
for lyrics to "Cloud Song."


"Angel in Manhattan"
Ellis Paul

Bless Me, Ultima by Rudolfo Anaya Go Tell It on the Mountain by James Baldwin Waiting for Godot by Samuel Beckett Da Vinci Code by Dan Brown A Christmas Carol by Charles Dickens "Hope is a Thing with Feathers" by Emily Dickinson As I Lay Dying by William Faulkner Catch 22 by Joseph Heller A Prayer for Owen Meany by John Irving Shoeless Joe by W.P. Kinsella Inherit the Wind by Jerome Lawrence and Robert E. Lee The Natural by Bernard Malamud Beloved by Toni Morrison Antigone by Sophocles

Boston-based Ellis Paul's (link to www.ellispaul.com) folk songs successfully trap moments in time with an uncanny tenor voice and precise wit. Woody Guthrie's daughter Nora had this to say about Ellis:
A singer songwriter is only as good as the times he reflects. In times like these, when so many nuts are running the show, it's comforting to know that Ellis Paul is actually holding our sanity on his own stage! Wise, tender, brilliant and biting, Ellis is one of our best human compasses, marking in melodies and poems where we've been and where we might go if we so choose to. Personally Ellis, I'm goin' where you're goin'!
Paul's "Angel in Manhattan" as reflected on the Tunes Top Ten is exemplary of his style and swagger. Connections vary from setting (Manhattan, New York) to theme (issues of faith). Look at the lyrics or watch the YouTube video to see where Ellis might fit in your curriculum. Here's the link to the video: http://www.youtube.com/watch?v=6sS6ULuAEGg
CG — 1/28/08

Click the musical note
for lyrics to "Angel in Manhattan."



"Papa was a Rolling Stone"
The Temptations

The Bean Trees by Barbara Kingsolver The Color of Water by James McBride Angela's Ashes by Frank McCourt All My Sons by Arthur Miller Long Day's Journey into Night by Eugene O'Neill Adaline Falling Star by Mary Pope Osbourne The Sign of the Chrysanthemum by Katherine Patterson Father Figure by Richard Peck A Tree Grows in Brooklyn by Betty Smith Black Boy by Richard Wright Native Son by Richard Wright

In the original recording, The Temptations alternate vocal lines, taking the role of siblings questioning their mother about their now-deceased father. Their increasingly pointed questions, and the mother's repeated response — "Papa was a rollin' stone/wherever he laid his hat was his home/and when he died, all he left us was alone" — paint a somber picture for the children who have never seen their father and have "heard nothing but bad things about him."
The connections to literature abound, and the 11 literary works represented here barely scratch the surface. Literature containing absentee fathers — absent either physically or emotionally, or both — would connect plot lines directly to this tune, while any work of literature where a parent's lack of involvement is key to the story would create thematic connections. A contemporary problem faced by many of our students, the absent father poses issues of sensitivity that a teacher should approach with some wisdom. Be aware that using this song could potentially offend or upset students in similar situations at home.
CG — 1/28/08
Here's a link to a video of the song: http://www.youtube.com/watch?v=xC5ThTsgJcE

Click the musical note
for lyrics to "Papa was a Rolling Stone."



"Youth of a Nation" P.O.D.

She Said Yes by Misty Bernall After the First Death by Robert Cormier The Chocolate War by Robert Cormier Ordinary People by Judith Guest The Outsiders by S.E. Hinton Remembering the Good Times by Richard Peck The Catcher in the Rye by J.D. Salinger Lovely Bones by Alice Sebold Give A Boy A Gun by Todd Strasser The Adventures of Huckleberry Finn by Mark Twain

P.O.D. (Payable On Death — link to www.payableondeath.com) scored a hit No. 1 single with "Youth of a Nation," which is the No. 4 pop tune on our Tunes Top 10 list. The 2002 Satellite release was inspired, in part, by the school shootings at Columbine High School and Santana High School. In the years following the song's release, "Youth of a Nation" has remained in the popular culture as representation of adolescents going down the wrong paths.
The lyrics recount three instances that can be related to the literature. "I" takes the lead at the beginning of the song — on his way to school, "I" "takes two to the chest." Rather than being upset at the shooter, "I" embraces compassion towards a lost young person, saying, amongst other things, "I know it's because/ We are, we are, the youth of the nation." Later, Suzy and Johnny find themselves in equally desperate situations. Many of the protagonists in the literary works listed above display personality traits and life situations that connect to the song lyrics. These connections are useful to illuminating key aspects of plot, theme, and character.
CG — 1/28/08
Here's a link to a video of the song: http://www.youtube.com/watch?v=UKKN7soRi28

Click the musical note
for lyrics to "Youth of a Nation."



"Let Down" Radiohead

Fahrenheit 451 by Ray Bradbury The Stranger by Albert Camus Among the Hidden by Margaret Haddix Brave New World by Aldous Huxley Metamorphsis by Franz Kafka The Giver by Lois Lowry 1984 by George Orwell The Movie Goer by Walker Percy

"Let Down," originally intended to be the first single from OK Computer, is about the alienation and emptiness of life in modern society, and is often considered one of the most melancholy songs on the album. The song is also considered one of the finest by Radiohead. Thom Yorke reportedly was inspired to write the song while sitting in a pub, noting the customers "clinging on to bottles" and sensing in them the "emptiest of feelings," a sense of disappointment. The song is renowned for its chorus, which refers to Franz Kafka's The Metamorphosis.
"Let down and hanging around Crushed like a bug in the ground"
In 2006 the song was covered by reggae legends Toots and the Maytals for the Easy Star All Stars compilation album Radiodread, a complete makeover of OK Computer in ska, dub, and reggae musical styles.
As in music, a feeling of emptiness is a recurring theme in literature. While the eight examples listed above are useful in developing the ideas of alienation and emptiness, many more literary examples are out there, ready and waiting to be connected to this fine song.
CG — 1/28/08
Here's a link to a video of the song: http://www.youtube.com/watch?v=jzsX6UKoCDU

Click the musical note
for lyrics to "Let Down."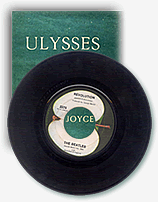 LitTunes was launched in 2007.
We invite you to come back often.
You are warmly invited to participate, too.
Contact Chris Goering by E-mail at chris@littunes.com