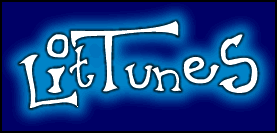 Joyce
and Cobain
vs. Woolf and Young:
Modernist Fiction and Rock Music
Open Connections between Issues of Youth, Aging, Suicide, and Passion for Life.
By Jerrod E. Bohn
Fort Collins, Colorado
July 4, 2008
Teaching the great modernist writers can be a daunting task in a high school setting. Published nearly a century ago, the works of James Joyce and Virginia Woolf increasingly risk being viewed as irrelevant by today's students. In addition to the movement's age, modernity in literature challenges today's young readers with chaotic issues of style, voice, syntax and form.
If These Are the Best Years....
As older students, high school juniors and seniors, begin to consider the transition to college, to adulthood, to responsibility, they inevitably face the subject of aging. After parents, guidance counselors, and other adults have told them that high school represents "the best years of their lives," students may wonder if what comes next is actually worth seeing through.
In his short story "The Dead" and her novel Mrs. Dalloway, James Joyce and Virginia Woolf share differing attitudes toward aging and premature death. Their divergent views are captured in the lyrics of Neil Young's songs "Hey Hey My My (Into the Black)" and "My My Hey Hey (Out of the Blue)," and Kurt Cobain's life and the text of his suicide note.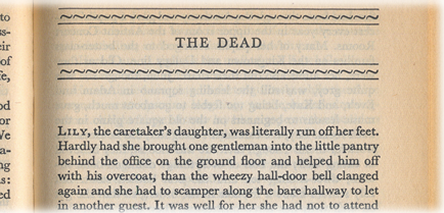 The action in James Joyce's short story
"The Dead" is enormously backloaded. After several pages detailing a social event in Dublin where nothing seems to happen besides a bunch of drunks carousing, Gabriel, the story's protagonist, witnesses his wife, Gretta, react to a song ("The Lass of Aughrim") so deeply that he fails to recognize her at first. Later, a lustful Gabriel questions his wife about the song and learns that a young man with whom she was in love used to sing it. After pushing his wife for more information, Gabriel learns that the young man, already sick, died after sneaking out of his house to see Gretta before she left for Dublin; in essence, the young man knowingly embraces his own death. After Gretta falls asleep, Gabriel reflects on what his wife has told him and confronts his own lack of passion, leading him to his epiphanic moment: "Better pass boldly into that other world, in the full glory of some passion, than fade and wither dismally with age" (260).

Brandish One's Torch
and Hurl It to Earth.
In Mrs. Dalloway, Woolf takes up a discussion of Gabriel's epiphany in two separate passages. First, Clarissa Dalloway reacts to her aging cousin by essentially repeating Joyce: "Better brandish one's torch and hurl it to earth than taper and dwindle away like some Ellie Henderson" (168). But Woolf's purpose here is not to agree with Joyce; rather, the statement reflects Clarissa Dalloway's internal battle with unspoken issues of aging.
Sometime later, Clarissa is informed about the suicide of Septimus, a young and perhaps mentally disturbed veteran of the Great War. Clearly bothered, Clarissa sneaks away to an unoccupied room. Intensifying the moment's tension, she moves toward the window, thinking of Septimus, who in many ways becomes her doppelganger. In this pivotal scene, she observes her neighbor, an elderly woman, quietly readying herself for bed. Clarissa soon declares, "Fear no more the heat of the sun" (186), and returns to her party changed by the event. Through the character of Clarissa Dalloway, Woolf presents an alternative to Joyce's call for premature death.
Kurt Cobain vs Neil Young
In 1979, Neil Young released the album Rust Never Sleeps, which opens and closes with two lyrically similar songs, "Hey Hey My My (Into the Black)" and "My My Hey Hey (Out of the Blue)." Both songs offer the same message: one's death should come quickly while one is young, in a moment of dramatic destiny, and in the throes of a ruling passion, instead of at an old age where youth and passion have faded away. Thus, it is better to die as Septimus or Michael Furey, Gretta's childhood lover, died than to lead a passionless existence a la Gabriel or Gretta.
The lyrics to "My My Hey Hey (Out of the Blue)" are strikingly Joycian:
"It's better to burn out
than to fade away"
. . . .
"It's better to burn out
than it is to rust."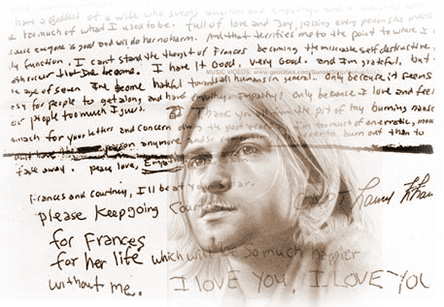 Rocker Kurt Cobain's suicide at age 27 has become pop legend. In his 1994 suicide letter, Kurt Cobain repeats Young's "My My Hey Hey" lyrics shortly before signing his name: "I don't have the passion anymore, and so remember, it's better to burn out than to fade away." As popular and as critically acclaimed as ever, the Nirvana lyricist took his life before age caused his fans and the music press to turn against him or write him off as a has been. Citing a life without passion, Kurt Cobain burned out.
We can reasonably align Kurt Cobain's suicide with themes raised by James Joyce in "The Dead." Does this also mean we can align Young with James Joyce? The answer is no. Instead, we see a number of provocative comparisons and contrasts for the classroom teacher to consider when preparing lessons based on the LitTunes model.
On the Good Side of Life
After confronting the questions of aging and suicide, Neil Young, like Clarissa Dalloway, returns to the party. Since 1979, Young has constantly reinvented his music on a number of astonishing albums. Like Clarissa Dalloway, Young realized there is an alternative to burning out, an alternative that must involve keeping the passion. Aging is not a thing to fear, not a thing to avoid through premature, self-inflicted death. Rather, aging is a natural human event, rich in opportunity for reignited passions. To appreciate life and to refine one's self can be an attractive path on the other side of youth.
We should note that Virginia Woolf committed suicide in 1941, while James Joyce died of health-related complications that same year. Woolf left behind a suicide letter to her husband, Leonard, that may be worth comparing to Kurt Cobain's. She speaks lovingly of her husband, who has given her "the greatest possible happiness." She also mentions a madness so insufferable that she cannot concentrate.
In his suicide letter, Cobain writes to "Boddah" about his inability to feel passionately about his music and even his hobbies of reading and writing. In both style and substance, Woolf's final words to Leonard feel drastically different from Cobain's letter to this strange "Boddah" figure. Was it an erosion of passion that led Woolf to drown herself? Why does Cobain's suicide letter read so passionately when its author is supposedly unable to feel excitement? Does either writing come off looking more rational than the other? For now, let us leave these questions for our students to answer.
Conclusions:
Pathways to Relevance
and a Passionate View of Life
Using Neil Young's "My My Hey Hey" to teach Joyce and Woolf is a great way to bring pop music into the Advanced Placement (AP) American literature or British literature classroom, the spaces in which a high school student is most likely to encounter these two British modernists. (Yes, the Brits are taught in some American lit classes.) Given the widely held opinion that canonical literature is out-of-touch and irrelevant for today's youth, music can serve as a bridge to show that the "great works" need not be considered outdated.
Because the themes set forth by these writers — Joyce, Woolf, Young, Cobain — do involve suicide, it is important that educators approach the texts with a certain delicacy. Many high school classes will probably lose one or two students to suicide before graduation, meaning that educators need to make sure they do not contribute to glorifying suicide.
Again, Neil Young's musical career, as reflected in the lyrics of his tunes, can prove useful in showing that by continually challenging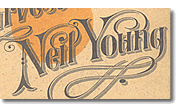 one's self and reinventing one's art, one can maintain a passionate life.
I see these texts as opening up an instructive discussion about a classroom taboo, the subject of suicide, an issue definitely on the minds of many high school students, parents, and teachers. Once more, delicacy proves to be the operative word, and teachers should only open such sensitive discussions if they feel comfortable and prepared to deal with this difficult theme.
Other Sources
Educators may wish to bring in some other musical texts in their discussion of Joyce, Woolf, Young, and Cobain. Here are some suggestions:
Neil Young's lyrics reference Johnny Rotten of the Sex Pistols and the King of Rock 'n' Roll, Elvis Presley. The Sex Pistols exploded onto the music scene in 1977 with Never Mind the Bullocks, It's the Sex Pistols and soon burned out after Sid Vicious's death. Elvis, as we know, gained weight and battled with drug addiction prior to his 1977 death.
Notable rock suicides include the suspicious deaths of Nick Drake and Elliott Smith. Other "young" rock deaths include: Janis Joplin, Jim Morrison, Jimi Hendrix, Tupac Shakur, Shannon Hoon (of Blind Melon), and Bradley Nowell (of Sublime).
Other musicians who have "aged well" — I base this labeling on continued commercial and critical success — include Bob Dylan, Stevie Nicks, Tom Waits, Nick Cave, Bruce Springsteen, Bette Midler, Paul McCartney, Bonnie Raitt, and Lou Reed.

Web Links and Works Cited

Cobain, Kurt. "Suicide Note."
http://www.geocities.com/ SunsetStrip/ Venue/ 6582/ Nirvana/ suicidenote.html



Joyce, James. "The Dead." Dubliners. New York: Norton, 2005.



Woolf, Virginia. Mrs. Dalloway. New York: Harcourt, 1981.



Woolf, Virginia. "Suicide Note to Leonard Woolf."
http:// www.malcolmingram.com/ suicide.htm



Young, Neil. "Hey Hey My My (Into the Black)". Rust Never Sleeps. Reprise, 1990.
lyrics at: www.lyricsfreak.com/ n/ neil+young/ hey+hey+my+my_10191111.html



Young, Neil. "My My Hey Hey (Out of the Blue)." Rust Never Sleeps. Reprise, 1990.
lyrics at: http:// www.azlyrics.com/ lyrics/ neilyoung/ mymyheyheyoutoftheblue.html
E D I T O R ' S N O T E :
Originally from Topeka, Kansas, Jerrod E. Bohn is currently working on his MFA (Master of Fine Arts) in poetry writing at Colorado State University. Upon completing his degree, Mr. Bohn hopes to teach at the university level or return to teaching high school literature and creative writing. His current research interest is the American murder ballad. Jerrod can be contacted at jedwardbohn@gmail.com