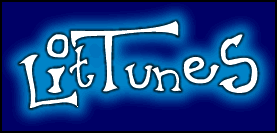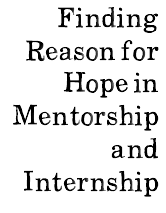 Burgundy Gets to Teach,
and the Realm of the Possible Brightens.
By Chris Goering
Fayetteville, Arkansas
September 21, 2012
When Burgundy Anderson started teaching eighth grade last year, she quickly thought of her seventh grade teacher and the various examples of using music and video clips from her schooling experience. When I asked Ms. Anderson why she so quickly turned to music to challenge her pre-AP class and provide scaffolding for her on-level eighth graders, she offered that, "It's two of my very favorite things in the world, music and literature. Perhaps the only thing that could make it better would be having a Reese's in the middle."
As our conversation continued, I learned about several other aspects of Burgundy's teaching experience, the most fascinating being the fact that she was teaching eighth graders while attending a Houston, Texas, area high school as an eleventh grader.
That revelation led to other questions. What is this program that allows her to teach? Who is this high school scholar with a profound love for teaching, music, and literature?
Burgundy, the student, was participating in a program designed for the gifted and talented curriculum at Clear Brook High School: the Independent Study Mentorship (ISM). According to the school's website, the ISM "is designed for students in their junior and/or senior years who wish to complete a project by working with a mentor in the community," a program that "enables students to grow in their awareness of responsibilities and quality of work required by adults at the collegiate and professional levels." Students have the opportunity to set up their internship experiences to fit their interests; for example, one of Burgundy's peers chose to work with a nurse and another with a fireman.
Students participating in the ISM must complete an in-depth study in a specific area of interest, document three-to-five hours of work each week, submit weekly logs, meet regularly with their school-based mentor, present a final project, and oh yeah, attend high school the rest of the time. The final project led Burgundy to search the Internet for ideas about using music and videos to teach her eighth grade students. LitTunes popped up! And when Burgundy requested an interview, I happily obliged.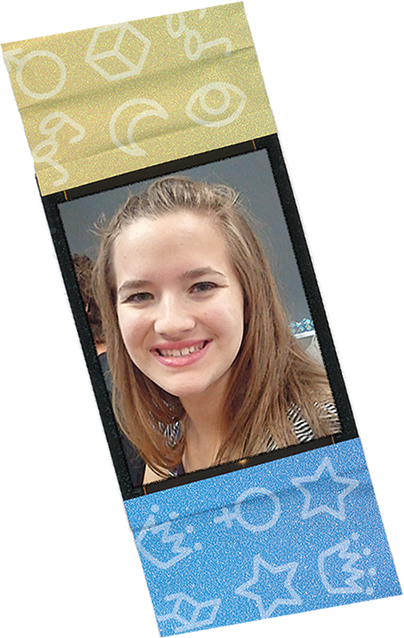 Burgundy Anderson
Growing up on Books and Music
What I learned about Burgundy in the interview is that she's an articulate and thoughtful, Reese's-loving teenager. A tuba player turned soundboard technician in the school's marching band, she's grown up on books and music, following the model set by her mother, who holds degrees in literature. Her current all-time favorite book is The Book Thief by Markus Zusack. After college, she'd like to teach English or math (or both) to secondary-level students.
Our conversation began with LitTunes. She said she found our web after her teaching experience came to an end and just in time to help her assemble a final report on the internship. As she discussed her observations about using music and music videos with eighth graders, it seemed to me that when it comes to including popular culture in classroom instruction, Ms. Anderson might have an unfair advantage — she's immersed in the stuff just like her students, an attribute most middle and high school teachers can't claim.
It is rare to find an eleventh grader standing in the classroom in the role of an eighth grade teacher, but the experience holds a great deal of promise for all involved — teacher, student teacher, and students. After all, just a few years ago, Ms. Anderson was sitting in the same class as Ms. Buchannan's current students. When a teacher talks, it isn't uncommon for students to tune out those words, but when a student talks, especially someone in an upper grade, the class listens. In fact, they listened to what Burgundy had to say, and in our conversations about the experience, she believes she caught their attention.
I asked Burgundy why she chose her seventh grade teacher, Ms. Buchanan, to guide and direct her student teaching experience. "I've had a lot of great teachers but still to this day, Ms. Buchanan's pre-AP English course was the most challenging and also the most enjoyable. Her teaching changed the way I looked at the world, not just how well I could read or write." Our further conversations revealed that Ms. Buchanan was an exemplary mentor to Ms. Anderson, carefully coaching her student-turned-teacher to take on full class periods on her own.
A Natural Teacher
Ms. Buchannan, a 13-year veteran of the Houston Clear Creek Independent Schools, has hosted student teachers in the past but never one who was her former student. "It was really cool to see her working with students, relating to them, and respecting their age. In many ways, it isn't surprising to see her in that role; she was a teacher even when she was in my seventh grade class. She'd bring up topics and bring in materials to spark discussion. It even seemed second nature to her then."
If asked to give a recommendation of Burgundy as a teacher, Ms. Buchannan said she would, offering, "She looks at every class and observes them first. She's a chameleon and can speak to students on their level. She adjusts herself to them and doesn't back down on her expectations. It's rare to even see university students with the balance of relating to the kids while also holding them to high expectations."
When I mentioned to Ms. Buchannan that Burgundy, now entering her senior year, described her seventh grade class as both the toughest and most helpful of all, the veteran teacher was a little surprised at first. But then, upon reflection, she said that students entering the first year of pre-AP instruction are challenged to shift their focus away from reading and writing in familiar ways and turn toward close readings of new texts and in-depth analysis in writing. They are challenged, Ms. Buchannan said, to embrace a "different way of thinking."
Holding to the goal that "her whole idea" is to "have students see their books in a broader lens," Ms. Buchannan explained that the thematic connections revealed in her lessons challenge her seventh graders to expand their perspectives on the power and meaning of the written word. Accoustomed to shorter units of instruction with more concrete connections, students are guided to new modes of thought and reflection through the study of multiple texts in a unit of instruction tied to the theme of persuasion.
So, instead of reading each story and recognizing and appreciating their stand-alone qualities, students learn to interpret songs, videos, short stories, non-fiction, clips from movies, a newscast, and a speech while also extrapolating the thematic connectivity of those texts with theme and each other.
Is it any wonder Ms. Anderson was inspired by this tasty flavor of innovative teaching?
Fresh and Original Insight
Ms. Anderson's discovery of LitTunes during her Independent Study Mentorship led to even more accomplishments. It quickly became obvious that her interest in the core principles of the LitTunes Literacy Project was more than a passing fancy and that her enthusiasm and creativity could provide fresh and original insight to the mission of teaching literacy through music. With Burgundy's participation in mind, we formulated the plan for a LitTunes Internship program.
When we offered the internship to Ms. Anderson, she accepted. Now she joins others here at LitTunes by providing materials, lesson plans, connections, and insights into curriculum materials — all from the rather unique perspective of a high school student with real-time teaching experience.
She completed the first phase of the LitTunes Internship in Fayetteville this past summer. This unique opportunity was made possible by the Brown Chair in English Literacy at the University of Arkansas. Ms. Anderson served her internship on campus, working collaboratively with the LitTunes team to design forthcoming material for the web that draws upon her experiences as both teacher and student. Her contributions also illuminate current aspects of teen popular

culture. Look for the burgundy colored B logo designating Ms. Anderson's contributions to the array of resources available here at LitTunes.
One Inspiring Example Will
Work for the Common Good.
My work as a teacher educator takes me into many schools and classrooms throughout our diverse and expansive country. Some classrooms are alive with pop-culture connections like those I can see in Ms. Anderson's work. And while I don't know too many eleventh graders who are ready to take the reigns as a teacher, I'm glad this very special student did. I'm also gratified that she found LitTunes during her search for resources here in the depthless reaches of the World Wide Web.
The opportunity to work with such a talented and motivated young person builds my faith in the future and imparts genuine confidence in the abilities of the rising generation to deal with the challenges of our times.
But frankly, I'm concerned that the next decade or two will create a hardship in America in terms of supplying teachers for an expanding population of students. However, if we can inspire the creation of more programs like the Independent Study Mentorship in Houston, then hope is alive. Why? Today and now there's not only a high school senior, but also a group of ninth graders, Burgundy Anderson's former students, who've enjoyed the opportunity to see teaching as a special pursuit — rewarding, fun, challenging, and most of all, possible.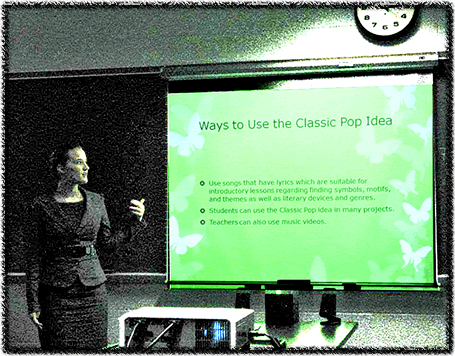 Burgundy discusses a LitTunes concept
in Ms. Buchannan's English classroom.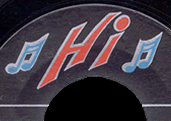 LitTunes was launched in 2007.
We invite you to come back often.
You are warmly invited to participate, too.
Contact Chris Goering by E-mail at chris@littunes.com