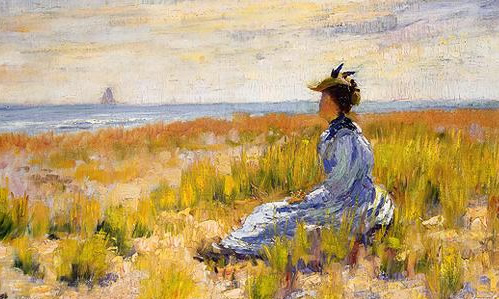 Language and Culture by the Sea.


ACTFL 11-29-09

By Freddie A. Bowles
Fayetteville, Arkansas


How quickly one week slides into the next. Here it is the last day of Thanksgiving holiday and last week's conference is wrapped up and tied with a bow. I sit amidst familiar surroundings in the chill overcast Arkansas clime when, just a few days ago, I was walking along the San Diego harbor in temperate sunny weather. In a quantum moment, or in a New York minute as we say down south, the mind and body adjust to traveling over a thousand miles through two time zones.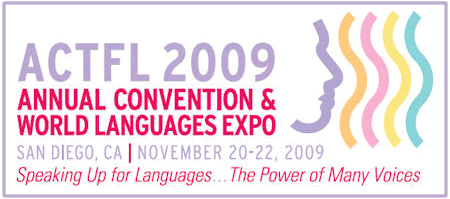 Techno and the Millennials
I left Arkansas with information to share with my foreign language colleagues and returned with some new ideas to share with my students. Of the 600-plus educational sessions at the ACTFL (American Council on the Teaching of Foreign Languages) 2009 Annual Convention & World Languages Expo, at least half focused on technology. The millennials, current jargon for students in today's classrooms, possess a level of techno proficiency that demands continual professional development on the part of teachers.
A session on student-made videos caught my attention in a major way. The presenters, Kerstin Gaddy from Catholic University of America and Peter Schultz from Kennesaw State University, displayed the work of a group of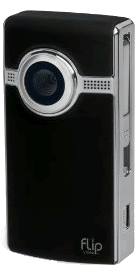 high school German language students, who produced movies with a no-frills Flip video camera and Microsoft Movie Maker software. Dr. Gaddy also showed videos created by a group of college students, who conducted and recorded interviews in German, then posted them to the class blog. The activities were aligned to the National Educational Technology Standards (NETS) and the ACTFL Standards for Foreign Language Learning. What an outstanding blend of content, technology, motivation, and learning styles — more than sufficient to inspire me to introduce the concept to my techno-savvy students next semester. Of course, this means I have to become adept, too. Can we say Christmas present anyone?
Registration for the conference opened at 7 a.m. on Thursday (November 19), so my traveling partner and co-presenter Kristen Novotny and I were up early to pick up our conference materials and have breakfast. The San Diego Convention Center is a massive complex, extending for several blocks along busy streets leading into the Gaslamp Quarter, touted by promotional lit as "the historic heart of San Diego." Our hotel sat between the trolley line and the bay, so it was a difficult decision to choose a direction to launch my exploration of the territory. With Kristen committed to a day-long training session for Advanced Placement Spanish Literature, and my first session not scheduled until 1 p.m., I decided to venture inland, away from the sea. I like history, too, so I figured I could see some of the 94 historic buildings listed on the National Registration of Historic Places.
Alonzo, Earp, and Hospitality
I learned that development in the Quarter began in 1867 when Alonzo Horton bought a thousand acres along the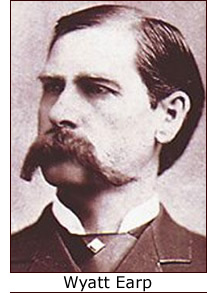 harbor to launch his ventures. Now old Alonzo has a plaza and a hotel named after him. I stumbled across another notable historic edifice, the Wyatt Earp House, one of three gambling establishments built by Mr. Earp to bring prosperity to the city and increase his personal fortune. Eclectic and intriguing, the Gaslamp Quarter features a mix of high profile eateries, name-brand shops, specialty boutiques, salty adult clubs, and inexpensive youth hostels. The locals on the sidewalks and in the shops and restaurants epitomize hospitality, ever willing to offer courteous advice and give directions.
My favorite discovery was the statue of "Bum" at the William Heath Davis House. This San Diego canine character was a stowaway, who disembarked without his owner to become a much-loved neighborhood mascot in the last decade of the nineteenth century. Bum was injured in a one-sided tussle with the Santa Fe railroad and lost his forepaw. When he died, school children collected pennies so that he could have a "proper" burial. The discovery was poignant, reminding me of my very own canine companion, who departed our abode for residence in the Elysian Fields just a few months ago.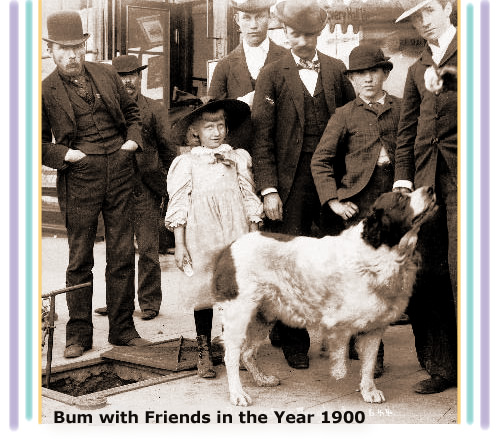 Not to be deterred by the fleeting moment of remembered loss, I continued down Fourth Avenue, peeking in shops and sniffing the heady aroma of exotic cuisines. The raw tug of hunger vied with the more aesthetic lure of objects d'art. Like my Mama, I am drawn to beautiful glass. The vibrant hues and whimsical figurines of Kita Ceramics and Glassware caught my eye. Enter I did into a showroom guarded by a petite Chihuahua, dressed for the cool morning in a stylish puppy coat. Woof woof! Her mistress slipped into the room on command and welcomed me to view the collection of Murano glass and hand-thrown pottery. The miniature glass figurines sent me back into memory land to another time and place, my first European journey and Venice, Italy, where I purchased a cobalt blue swan, shaped and blown on the streets near the Piazza di San Marco (St. Marks Plaza). Guess who received the swan? My Mama.
Spanish Eyes on San Diego
Moments like these blend so well into the emerging picture of the academic conference, which is devoted to the teaching of languages and the appreciation of cultural diversity symbolized by different tongues. Did you know that the first European to see San Diego was from Spain? History records that Juan Rodríguez Cabrillo sighted the shoreline in 1542, but he was viewing a land originally settled by the San Dieguito, La Jollan, and Kumeyaay people — with not an English speaker among them.
Eventually, the United States, pursuing the mandate of Manifest Destiny, gained control of the west coast, and in 1850, the pueblo of San Diego became an incorporated U.S. city, adhering to a scenario of conquest, repeated again and again by European settlers marching from the east to west, and the south to the north, over a couple of hundred years.
San Diego remains a city of diversity, reflected in its many ethnic eateries and myriad peoples of distinct language families. My psychic ear perked up every time it tuned-in the cadence and intonation of a language other than English — some recognizable, some not.
At the End of the Day....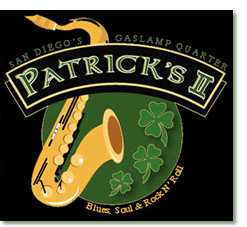 Wandering by whim and fancy from First Avenue to Fourth, I eventually arrived at my pre-determined destination, Patrick's II, a cozy music venue devoted to the blues. I found Patrick's right around the corner from Wyatt Earp's house of cards, and much to my delight, the owner greeted me warmly with a quick invitation to return in the evening for blues guitarist Bill McGee's performance. My last visit there came in 2007 during a conference of the Association of Teacher Educators, when I joined friends and colleagues for a toast and dance at the club every night of the conference. Perhaps again tonight, I thought, to finish off the day nicely.
But for now it was back to the conference center and my first session — time to get down to business.
What Value Accreditation?
The presenters at the accreditation workshop for teacher education programs were Arkansas' own Dave McAlpine and Virginia's Judith Shrum, co-author of the foreign language methods textbook used by many of us in teacher education. My seatmates, John from Ohio and Randy from Kentucky, were both novices to the accreditation world. After two years of research and training about accreditation issues, I felt like I had moved into the intermediate level — just enough knowledge to be dangerous.
The workshop pace was brisk with much useful information and tips for choosing the assessments for each standard, writing the narrative report, and collecting data to support the evidence. Accreditation can be tedious and contentious, intense and time-consuming, but I'm convinced that the ultimate outcome will be an improved educational experience for our future teacher candidates in foreign languages. The sun was just beginning to set as the small group of teacher educators at the session expressed gratitude to Dave and Judith.
At the close of our afternoon workshops, Kristen recommended Spanish cuisine at Café Sevilla, the tapas bar on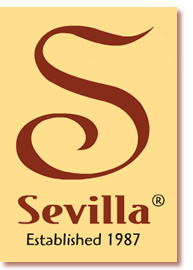 Fourth Avenue. With my buddy in tow, I was off again into the Quarter.
Dinner time in a city brings out a critical mass of ravenous folks. We expected a wait at the cafe, so I suggested the bar. It was also packed. But a waitress took pity and steered us to a table for two. Auspicious! The tapas? To die for. We ordered four: Tortillas Espanola, Grilled Spanish Sausage, Pisto La Mancha, and Fabada. A raucous ambience strengthens the appetite, so we devoured the four dishes — but at a leisurely pace befitting well-prepared cuisine. My fav was the Spanish sausage.
Another pleasure of city life is the night-life stroll. We dodged our way up Fourth to F Street to hear Bill McGee play his blues at Patrick's. We stayed through a rollicking set before sauntering back to the Marriott and a sleepy adieu to our second night in San Diego.
Shout It Out: Foreign Language Education Is Valuable to the Nation.
The next two and a half days passed in a whirl of sessions and presentations. Steven Hildebrand, President Obama's campaign manager, delivered the keynote address at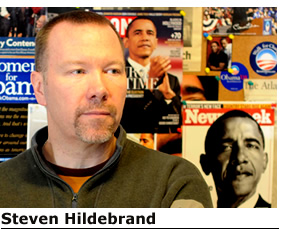 the Opening Session on Friday morning. Mr. Hildebrand urged us to raise our collective voices as advocates for the importance of foreign language education to our nation's economic, political, and social survival. Yes, he was preaching to the choir, but his message confirmed the importance of our profession and enhanced the strong sense of camaraderie already evident among the throng.
Ideally, the general public would also see the importance of multilingualism to our nation's ability to communicate with trading partners and foreign governmental agencies. And for many of our citizens, knowing a second language would allow them to chat with many of their own relatives. But I digress….
Teaching is an isolated profession for the most part. Teachers are usually the only adults in a room of adolescents, teens, or young adults. In pre-K through grade 12 settings, one's only adult contact during a long day is between classes and during a short and often harried lunch break or class-prep period. The day passes quickly, the months slide by as if on fast rails, and another year begins, it seems, before the previous one is all the way out the door.
Conferences give us a chance to learn from one another and share triumphs, concerns, and challenges. The constant flow of contacts and conversations on Friday and Saturday brought two days of opportunity to bask in the intellectual light of my peers.
It was also a time for me to share some of my knowledge about teaching and learning in three different presentations.
On Friday I joined my colleagues, Joan Turner and Brenda Magnetti, for our session entitled Childhood Memories: Speaking Out for Little C Culture. Little C Culture represents the commonplace practices we experience as a group — childhood games, family celebrations, and everyday events and outings.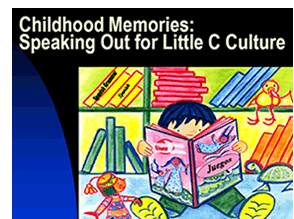 These stand in contrast to larger cultural representations such as celebrities, monuments, cultural icons, and literary works. Brenda videotaped herself speaking in Spanish about her memories of playing childhood games in Argentina. We showed the video and discussed instructional strategies to teach the Little C Culture represented in the video. The audience was intrigued and agreed with our premise that it is difficult to teach these practices when one has not lived in the target-language culture. We conducted an informal poll to see if we should expand our project to add more topics and speakers. A resounding Y E S confirmed that our concept has merit.
Here are links to printer friendly documents related to the presentation:

The Power Point displayed at the session
Speaking Out for Native Speakers
Kristen and I were up early Saturday to make sure we were ready for our presentation, Speaking Out for Native Speakers: A New Program in Arkansas. We were eager to share our information about innovative changes implemented by the Springdale School District to more accurately place students whose heritage or first language is Spanish. With almost 7,200 Spanish speakers, representing about 40 per cent of the student population, the district offers three levels of Spanish for Native Speakers to support literacy skills in both Spanish and English. National studies show that Spanish-heritage students have the second highest drop-out rate in high school — second to Native American Indians. In Arkansas, the challenge to overcome this trend is daunting in light of the tremendous increase in Spanish speaking students over the last two decades and the struggles of local districts to accommodate their educational needs.
Here is a link to the Power Point displayed at the session:

Speaking Out for Native Speakers
Immediately following our presentation, Kristen and I proceeded to one of the many ballrooms in the convention center to attend a luncheon hosted by the Spanish Embassy. I was a bit nervous because the prevailing language at the luncheon was Spanish, but to my delight I could follow most of the emissaries' speeches. In addition to lunch, the embassy provided each guest a collection of mementos and information to share with our students. They even had a drawing for three winners to attend professional development courses in Spain. Kristen and I crossed our fingers for her name to appear, but alas, it was not meant to be.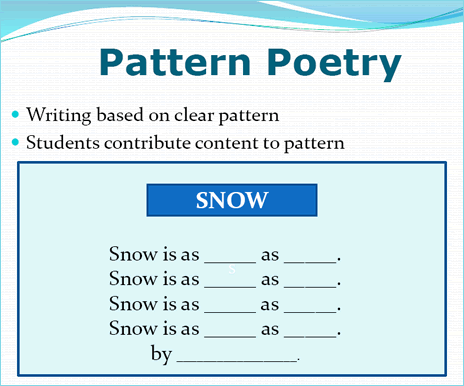 After lunch I took the next hour to prepare for my third presentation, Writing Poetry to Speak Out for Self. I was on my own for this one, so I wanted to be totally prepared. Fortunately, the room was vacant when I arrived, so I was able to place handouts, colored paper, and crayons on individual chairs.
In the Manner of My Classes
The fine arts are essential to my instructional strategies. My students in language and methodology classes are invited to dance, sing, draw, and compose. In the early years of my teaching I looked to poetry to introduce students to the "great writers" of the target culture, but I quickly discovered that not every student — frankly, not even most students — shared my passion for the written word, especially poetry. Eventually I learned to turn the page to another strategy, and began to find ways to have my students become the "great writers," or at the very least to identify with them, by creating their own, often highly original poetic works. As part of my presentation, I invited the participants to compose poems in the manner of my classes — and at the end of the demonstration exercise, two willing souls offered to share their poems with the group!
J. M. Michaels recited her lovely French poem with such "je ne sais quoi" that I asked her to step to the mike and share again for all to hear. J. M., aka Judith, chose a pattern poem to structure her creation.
poésie
émotions, sensualité
passé, maintenant, futur
Beaucoup aime la poésie
Pour jamais.
Judith retired from secondary teaching in 2001 but continued teaching French at the university level until 2004. Now she mentors foreign language teachers in her area. Merci beaucoup, Judith, for continuing to share your love and knowledge of French!
Jeff Nelson, who named his pattern poem "Red," added the artist's spice to his creation by composing it on red paper, taking full advantage of the materials I had placed on the chairs for inspiration.
ROJO
Echa fuego
Llamativo, caluroso, flúido
Anima a las personas
Brillante

Jeff spent three years in Spain as an EFL (English as a Foreign Language) teacher and several more in the U.S. in adult ESL (English as a Second Language) before changing hats to become an elementary Spanish immersion teacher, joining his wife in public education. Jeff loves music, too. He and his son are percussionists and his two daughters are pianists. We can certainly add poet to that list of accomplishments, yes?
Here are links to printer friendly documents related to my presentation:

"How do you use poetry in your classroom?"
The Power Point displayed at the session

"Writing Poetry to Speak Out for Self"
The handout for the session

With much elation over the success of all three presentations, I was ready to move to the other side of the learning equation and become a student. So I squeezed in one last session, The Power of Assessing Culture, by two of my colleagues from the University of Arkansas. The theme of culture seemed to be directing my personal choices for conferences topics. The presenters, Tonya Landrum and Brenda Magnetti, offered several strategies for assessing culture that teachers could easily incorporate into their traditional methods.
Sailboats and Ripened Cotton
To celebrate our successes, Brenda, Kristen, Tonya and myself opted for a toast at the hotel. Relaxed and hungry, we voted to stroll along the promenade to Sea Harbor Village for dinner. For a landlocked lass like me, walking past the seemingly endless rows of brilliant white sailboats, their masts towering over the promenade, reminded me of long-ago walks through tall rows of ripened cotton on the dusty turn roads of the Mississippi River delta. Ships to the west. Glass, steel, and concrete towers to the east. Amazing contrast.
The evening being a bit cool and a bit late, we had the walk mostly to ourselves, with no wait for dinner at the Harbor House Restaurant. Sitting on the upper level facing west, I contemplated the many colored lights streaming like ribbons on the smooth waters of the harbor. Others at the table remarked on the beauty of the setting — and then, carried along in the moment, we were suddenly back at the Marriott, poolside for one last hour of conversation beside the open fire pit. The evening wound down, and some of us yawned and stretched, and soon we were saying farewell, bon voyage, may your return flight on the morrow be swift and trouble free.
Mine was, too. All flights on time. And for me, the last conference of 2009. Home just in time for the first act of the long holiday season.

To read Freddie's Dispatch from San Diego
on the first day of the conference,
just follow the arrow....