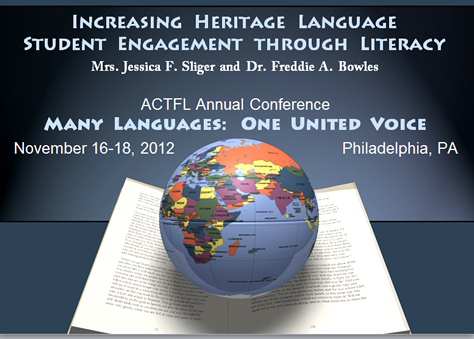 Many Languages: One United Voice.
Presenting at ACTFL's Conference
In the Historic City of Brotherly Love.

Heritage Language and Common Core 11-14-12

By Freddie A. Bowles
Special Dispatch from Philadelphia, Pennsylvania


The City of Brotherly Love plays host to the 2012 American Council on the Teaching of Foreign Languages' annual conference and world language expo. This year's theme, Many Languages: One United Voice, fits the setting well. The city of Philadelphia is renowned in American history for bringing together many disparate voices to guide a young nation along its revolutionary path toward unity and independence.
The conference officially begins on November 16, but many language educators arrive earlier in the week for other obligations, including committee meetings and pre-conference workshops. With 800-plus sessions to choose from over a three-day period, attendees can receive professional development from daylight to dark.
I arrived early to participate in the Delegate Assembly. Representatives from every member state have the opportunity to discuss relevant issues concerning language education, examine policy, and share ideas and resources for advocacy, instruction, and teacher education. This year is particularly exciting because an Arkansas educator, Dr. Dave McAlpine from the University of Arkansas at Little Rock, is the current president of the Council.
Increasing Heritage Language
Student Engagement through Literacy
Sharing what we do in the classroom and what we know about educating our students brings many of us to the conference. On Friday, I will present information from a three-year project that Jessica Sliger and I have conducted in her SNS (Spanish for Native Speakers) classes. Funded by a grant from the Arkansas Humanities Council, the project promotes cultural and linguistic efficacy and knowledge through the writing and reading of poetry. The presentation, Increasing Heritage Language Student Engagement through Literacy, gives participants the background knowledge to replicate the poetry unit and poetry slam. It also provides teachers with instructional strategies for increasing literacy in their home language and in English.
A slideshow and handout about the project are available for viewing or download. Just click and go! For additional information, readers should refer to the report from the 2011 ACTFL conference in Denver, also linked below.


Increasing Heritage Language Student Engagement through Literacy
presentation slideshow (.pptx)

Presentation Handout including Poetry Slam 101, Diamond Poem Activity, evaluation instruments, and rubric for assessing fluency and intonation
printer friendly document (.pdf)

Cruzando Fronteras: Spanish Language Poetry Slam Inspires Presentation at Conference.
a Planet Gnosis feature article (html)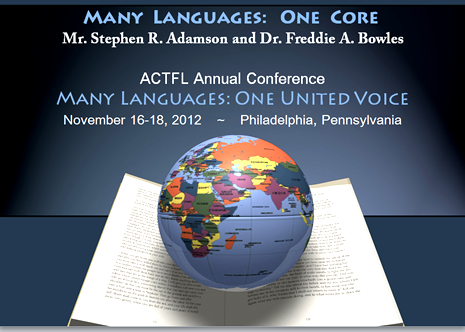 How Does the Common Core
Impact Foreign Language Education?
One of the "hot topics" in education is the initiative to create a common curriculum for all states. The commom core movement began just a few years ago as a state-led initiative under the guidance of the National Governor's Association and the Council of Chief State School Officers. Arkansas began transitioning its curriculum two years ago, beginning at the elementary level. Forty-five states and three territories have adopted the Common Core State Standards (CCSS). Though the standards focus on math and literacy, the impact reaches across curricula and impacts the teaching of languages, too.
On Saturday, I will join one of my doctoral students, Ricky Adamson, for a presentation based on our work with the foreign language teachers in Northwest Arkansas. Participants in this session will have the opportunity to see how the CCSS aligns with the National Standards for Language Learning and how to apply the Rigor and Relevance Framework developed by the International Center for Leadership in Education to instructional activities.
A slideshow and handout about the presentation are available for viewing or download. Just click and go! For additional information, readers can also refer to the Planet Gnosis article, Arkansas Language Teachers Meet to Further Their Knowledge of Common Core State Standard, also linked below.


Many Languages: One Core
presentation slideshow (.pptx)

Instructional Activities Examples
printer friendly document (.pdf)

Connect and Align: Arkansas Language Teachers Meet to Further Their Knowledge Of Common Core State Standards
a Planet Gnosis feature article (html)