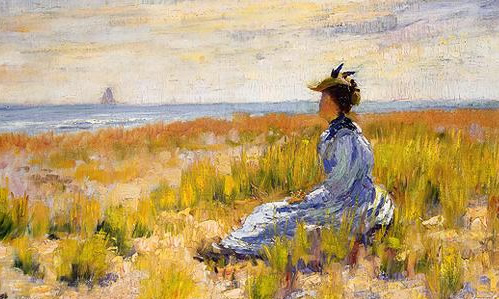 When Words Count.

Convergence 8-14-05
By Freddie A. Bowles
Posted from Fayetteville, Arkansas

Back home from the ATE conference in the former Dakota Territories, I realize that many of the ideas and reflections gathered there aren't going away.
Reminders of Native Tribes
And a Voyage of Discovery.
Eleven days have passed, but the distance in time and location has not lessened or loosened the hold of the past on my present state of mind. Academia, public education, and private interests converge in a complex way here in my familiar Northwest Arkansas home.
I left Bismarck and the Association of Teacher Educators' (ATE) summer conference on the second day of August with the mindset of satisfaction for one thing finished and eagerness for the initiation of something new. Now I find myself in the State of Disequilibrium, suspended in time and place. The questions outnumber the answers — and the past intrudes through reminders of Native Tribes, the Voyage of Discovery, Red Cloud, and the Treaty of 1868.
The conference was a finite point on a river of thought. The illusion of beginning and end has disappeared as I travel the waters of inquiry. What began as preparatory studies surrounding the theme of the pre-conference Leadership Academy, "Culturally Relevant Teaching for American Indian Children," has expanded into a more elusive intellectual pursuit: the history of the tribal nations in the Dakota Territories and the story of the Voyage of Discovery (the Lewis and Clark expedition).
To prepare for the conference, participants in the Leadership Academy were given an assignment -- read the first five chapters (or more) of Klug and Whitfield's Widening the Circle: Culturally Relevant Pedagogy for American Indian Children. The homework spurred me into a submersion of reading and contemplation about the original people, who inhabited this vast land before the mass immigration of people of other colors. I chose a medley of texts, mixing the dry polemic of academia with the poetic prose of personal narrative and mythology.
A Teacher, Not a Victim.
For the second time this year, I read the straightforward autobiography, Bloodlines: Odyssey of a Native Daughter, by Janet Campbell Hale, one of the last members of the Turtle Clan from the Coeur d'Alene tribe. Raised between two enclaves, the Coeur d'Alene Reservation in Idaho and the Yakima Reservation in Washington, Hale survived a sporadic and incomplete education. With the cold eye of maturity and wisdom, Hale shares her family history of incessant moving and poverty.
Hale now traverses her homeland as guest lecturer, speaker, and author. She also teaches creative writing and literature. Never once does she assume a voice of victimhood, blame, or accusation. She states her circumstances and recites a litany of events that have surrounded the misunderstanding, mistreatment, and miseducation of Native peoples by misguided and driven materialists and missionaries in relentless pursuit of expansion and exploration.
Afraid-of-Soldier's Winter Count.
From the library at Crow's Cottage I picked out The Portable North American Indian Reader, edited by Frederick Turner. My intent was to ground the present to the past. I turned to Ben Kindle's Winter Count, a written-down version of an oral calendar of winter events from 1759 to 1924, which the author received from his grandfather, Afraid-of-Soldier. Kindle related his grandfather's narrative in both Oglala Sioux and English.
The recitative of buffalo hunts, marauding rival tribes, unforgiving winters and haunting visions altered my romanticized view of a simple, nomadic life. The illusion slowly melted like the last traces of snow on the north face of a Black Hills ravine. Terse accounts of an unsuspected flood drowning tethered horses, a bear attack in a tent, dogs blinded by heavy snows, and a war bonnet's acquisition from an enemy (in 1797 a Sioux warrior kills a Blackfoot and takes possession of his war bonnet) revealed Nature's indifference and humanity's brutality for this tribe of Oglala Sioux.
Questions Gleaned
From a Remembered Classroom.
I put aside the tale of survival in harsh Dakota winters for a more practical text, instruction in how to teach American Indian children, which echoed the theme of the pre-conference Leadership Academy. Our required reading by co-authors Beverly Klug and Patricia T. Whitfield begins with the premise that education should be based upon respect for children and their cultural heritage. This premise needs no elaboration; however, I return to another reverie. I close my eyes for a moment and recreate a classroom from my childhood. Questions emerge.
Who were the students seated in the back of the room? The front?
Who were the ones mostly called out for disciplinary action? Who were the ones who escaped reprimand and correction?
Who were the ones that the teacher ignored or who appeared "invisible"? Who were the ones given every option to participate?
Who were the ones chastised or berated for being "different" or "other"? Who were the ones sanctioned for being "normal"?
Is there a pattern?
Which ones differed from me? Which ones were similar? Which ones resembled our teacher?
A Path through Understanding
To Relationship and Success.
Klug and Whitfield hold that successful learning experiences for Native Americans begin with their teachers, who are responsible for understanding Native cultures, values, and belief systems. Through understanding, teachers can create meaningful relationships with Native American students. From this relationship students achieve academic success.
We can extend this concept to include all children. Academic success for any student depends on recognizing that each enters school with a cultural identity formed from the values and beliefs of their heritage group. This identity filters the way they understand the world. It influences the way they learn content and interact in social settings in the classroom. Their first language determines how they perceive the world.
The ATE conference theme formulated by President P. Rudy Mattai, "Advocacy Through Engagement: The School-Community Collaborative Imperative in Educating ALL Children," connects Klug and Whitfield's definition of culturally relevant pedagogy to Academy Leadership programs that focused on Native American education.
Customs, Deportment, Protocol.
I joined members of the 2004 Leadership Academy and a few cohorts from 2005 in the lobby of the Ramkota Hotel on Friday, July 29, for the drive out to United Tribes Technical College. Dr. Robert Houston, cohort organizer and former ATE president (1985), gently encouraged our jovial bunch to board the yellow school bus. My assignment was to hold the seat for the author of our homework text, Beverly Klug.
Her assignment was to brief us on tribal customs, deportment, and protocol.
Keep our voices low, she said.
Avoid looking directly into the eyes, she said.
Listen attentively and be respectful, she said.
Beverly even practiced a handshake with each of us and stipulated we respond with a deft light touch.
(I must confess after the lessons that I was a little apprehensive about a potential meeting with a Native American. Would I make some horrible faux pas in front of my peers? I've lived, studied, and traveled from Arkansas to India and on to Afghanistan, from Vienna to Budapest to Kolosvar. I relish personal contact with fellow humans from other cultures. In Bismarck on July 31, however, I was surprised at my nervousness and curious about its source.)
A Campus with a Rich History.
The trip to United Tribes on the yellow school bus lasted less than fifteen minutes down the arrow-straight parkway. We arrived at a lovely wooded campus with red brick buildings on a site with historical roots extending back over 100 years. The campus originated as Fort Abraham Lincoln, served as an internment camp for Germans and Japanese during World War II, housed a Corps of Engineers unit after the war, and since 1969 has served as home to United Tribes Technical College. Almost 700 students were enrolled at the college in 2003-2004 with over 75 tribes represented in the student population. The college offers eleven certificate programs and seventeen Associate of Applied Science Degrees. Two of the AASD degrees are in Early Childhood Education and Elementary Education / Special Education.
Marilyn Johnson and Jeanette Haynes Writer, co-chairs of the Conference Planning Committee, and Wes Long Feather, assistant to the college president, welcomed us to the Barden Center, where we began the program with a refreshing catered lunch.
Dr. Houston, affectionately known as "Bob," served as facilitator to keep the 40 plus Academy participants on task. Ms. Klug presented more cultural information about Native Peoples and additional reminders of the rules of deportment while we enjoyed the refreshing repast. ATE President Mattai thanked the Planning Committee for organizing an educational program that aligned so perfectly with his conference theme. Marilyn Johnson continued the welcome and formally introduced Wes Long Feather, who offered a brief history of the college and campus.
A Ceremony to Wipe away the Tears.
Mr. Long Feather shared a special memory of campus life when he told the poignant story of "A Wiping of the Tears Ceremony," in which former German and Japanese internees from World War II made a return pilgrimage to "Snow County Prison" and joined with the Native Peoples to commemorate another shadowed period in U.S. history.
Our featured guest, Mary Louise Defender Wilson, from the Dakotah-Hidatsa tribe, told us she was born into a family of storytellers on Standing Rock (Sioux) Reservation. By the fifth grade, Mrs. Wilson was sharing stories with her classmates. Today this most serene and dignified lady is a recipient of the National Heritage Fellowship from the National Endowment for the Arts, the nation's highest honor for a traditional artist.
Mrs. Wilson's calm demeanor complimented her traditional dress of a calico blue with yellow and red stripes running the length of bodice and sleeves. Her long gray tresses were plaited in two braids that rested softly alongside her arms. Soft suede boots peeked out from below the hem of her full skirt.
Through the Eyes and Tongue
Of Great Grandmother.
She began her introduction by acknowledging her ancestry. Then she told her story through the eyes of her great grandmother, who was born in 1840 at Painted Creek. Mrs. Wilson would speak in Dakotah first, and then follow with the English translation. Her tale interwove factual information about her tribal heritage with stories about her family. The past and present disappeared as she spoke through the eyes of her great grandmother. She pointed out the importance of listening and observing as a way of knowing.
After the day's work was completed, the family gathered in the evenings for story time when everyone had time to listen. Imaginative stories and stories of accounting taught the relationship between the natural world and humankind. The story format never varied. Children and adults gained knowledge with each telling, and each story had a purpose. Understanding the nuances of the tales came with maturity. Ms. Defender Wilson emphasized the importance of listening attentively and with respect. The stories held lessons of behavior and social comportment along with content: counting and identifying and the relationship between people and nature.
She finished her presentation with gifts of cottonwood branches. But these were not just sticks. The central core of each stem held the shape of a star. With the star came a story of why it wanted to come to earth.
I Receive a Star-Gift.
The curious little star dropped from the sky and hid in the cottonwood tree because it wanted to be near the earth people and listen to their beautiful words of kindness and the delightful sound of their laughter. The cottonwood star represents kindness, and if one says kind words, they will find a star in the stem. As a child, Mary Louise was told that if you didn't find the star in the stem, then you had not been saying enough kind words. Her generous "star-gifts" to us proved the kind star quality of this most exceptional lady.
After such a mesmerizing tapestry of tales and tableaux, I was reluctant to leave story land and refocus on the meeting and activities.
(The presentation was open to the community, and several of Mrs. Defender Wilson's friends were among the guests. In my visit with her after the story time, she pointed out one of her friends. This dapper lady in her 90s was wearing a silver horse brooch — and she had spent her morning riding the favored animal!)
We Reflect on Culture and Teaching.
A call to order from our facilitator brought us back down to earth for the denouement to a perfect dramatic presentation. Dr. Houston handed out sheets of paper and asked us to reflect on how Mrs. Defender Wilson's narrative related to our topic: "Culturally Relevant Teaching for American Indian Children."
We jotted down ideas to start the discussion. Several points related to the No Child Left Behind mandates. Are the assessments for NCLB equitable? Do they measure what educators consider important concepts and skills? Are they designed to take into consideration the multifaceted school populations and the diverse ways of knowing these cultures offer? If any answers are in the negative, then how can our profession affect change?
Our brief discussion left much to be resolved, but we agreed that reflection and discussion are valuable components of the Leadership Academy and should become an integral part of every aspect of the program.
Bidding farewell to our hosts and guests, we boarded the yellow school buses for the next event of the afternoon, a field trip to On-a-Slant Indian Village, overlooking the Heart and Missouri Rivers. But that's a story for another day. This one is finished.