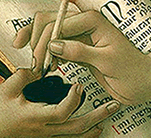 Assignment:
Writing a
Bio Poem
in the
Target
Language.



The
2012
Poems




Animada, creativa, chistosa, sincera

Pariente biológico de una familia
y miembro adoptivo de muchas otras

Aficionada de la correspondencia, los viajes y el humor
Quien se sienta emocionada, satisfecha y muy dichosa

Quien necesita la risa,
las palabras dulces y a veces el silencio


Quien tiene miedo de la soledad,
de ser atrapada y de fracasar

Quien da gracias, las sonrisas y el tiempo

A quien le gustaría ver muchos paises,
los amigos lejanos y el futuro

Residente de Missouri, de Arkansas, de Costa Rica, del mundo


---
1 "Ális" was what my host mom in Costa Rica always called me, and it's the name that I now tend to use when introducing myself in Spanish.
2 This is the literal Spanish translation of my last name.

Lively, creative, funny, sincere

Blood relative of one family
and adopted member of many others

Lover of mail, travel, and humor
Who feels excited, content, and very blessed

Who needs laughter,
sweet words, and sometimes silence


Who fears loneliness,
being trapped, and failing

Who gives thanks, smiles, and time

Who would like to see many countries,
far-off friends, and the future

Resident of Missouri, of Arkansas, of Costa Rica, of the world


---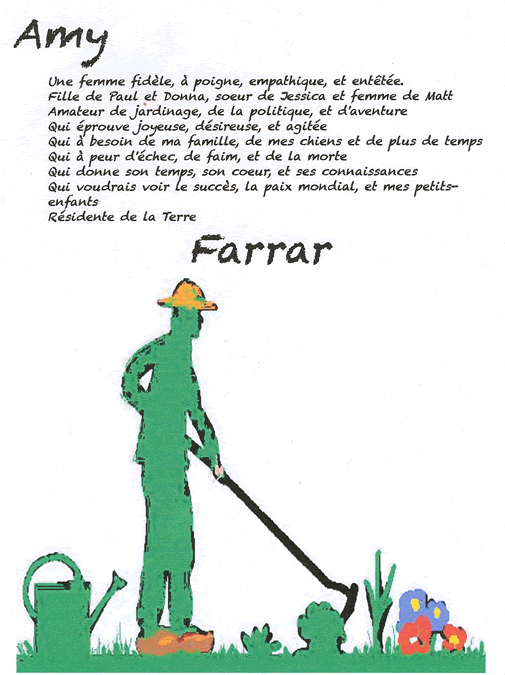 ---



Fidèle, drôle, exubérante, acceptante
Qui est la mère de deux Chihuahuas
Qui adore les animaux, les chaussures, et Lil Wayne
Qui se sent joyeuse, curieuse, et quelquefois solitaire

Qui a besoin des amis, d'une femme de ménage,
et de sa téléphone portable

Qui a peur des aiguilles, des oiseaux, et des lesbiennes
Qui donne l'attention, l'affection, et le temps aux autres

Qui aime voir les Pyramides d'Egypte,
la Grande Muraille de Chine,
et une femme dans la Maison Blanche

Qui habite à Rogers


---



Der zuverlaessig, entschlossen, mutig, und tapfer ist

nur wenn er nicht wetterwendisch, furchtsam,
aengstlich, und besorgt ist

Der mit jedem Mensch der Welt verwandt ist
Der bis ueber beide Ohren in seine Frau verliebt ist

Der sich manchmal wohl, manchmal nicht wohl,
und manchmal so lala fuehlt


Der die Liebe, den Lebensinhalt, und,
eines Tages, auch den Tod braucht

Der seinen vaeterlichen GroBvater bald sehen moechte

Der sich nicht besonders ungern
am Rande einer Katastrophe befindet



---

Who is dependable, resolute, courageous, and brave

only when he is not unpredictable, timid,
anxious, and afraid

Who is related to all mankind, but loves his wife most

Who sometimes feels good, sometimes bad,
and sometimes just soso

Who needs love, purpose, and, someday death too
Who would like to see his father's father one day soon
Who doesn't particularly mind standing
on the edge of ruin
now and again


---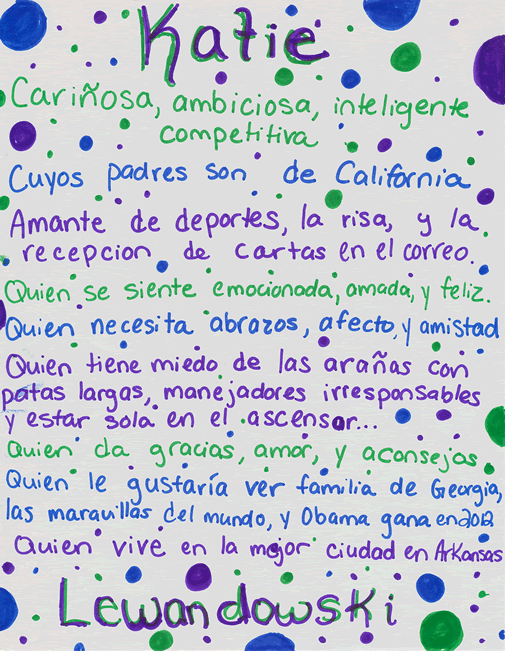 ---



Libre, apasionada, paciente, e una poquita loca

Hija de una mujer,
a quien le encanta enseñar a los niños también

Aficionada de cada lengua, cada cultura, y el aprendizaje

Quien se siente nerviosa, ansiosa,
y más que todo, emocionada sobre llegar a ser una maestra

Quien necesita el sol, sus amigas, y mucho café
Quien teme a el agua, las arañas, y doctores
Quien da consejos, sonrisas, e abrazos

A quien le gustaría ver Machu Piccu, las pirámides,
y todas las maravillas del mundo


Residente de un encantador pueblito
que se llama Fayetteville



---

Free, passionate, patient and a little crazy sometimes
Daughter of a woman who loves teaching kids too
Lover of every language, culture, and learning

Who feels nervous, anxious, and most of all,
excited to become a teacher

Who needs the sun, her girls, and a lot of coffee
Who fears the water, spiders, and doctors
Who gives advice, smiles, and hugs

Who would like to see Machu Piccu, the pyramids,
and all the wonders of the world

Resident of a charming little town called Fayetteville


---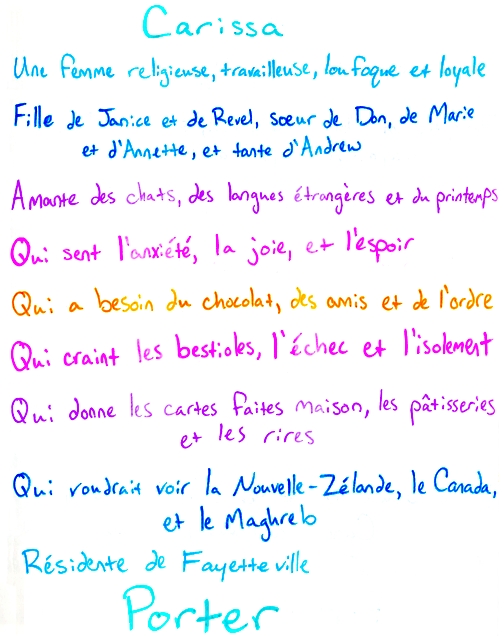 ---
---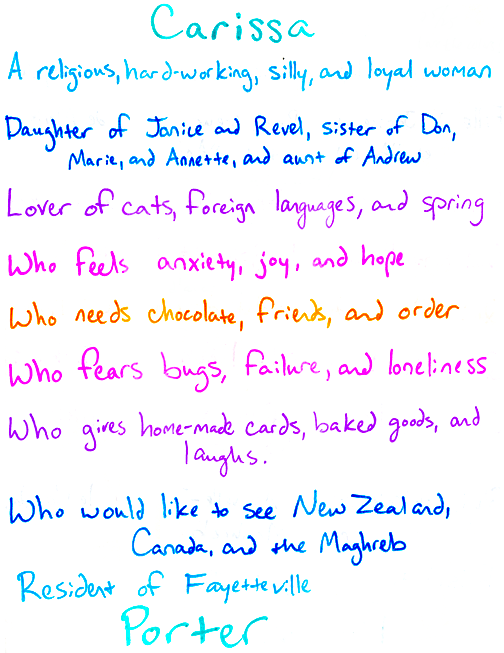 ---




Cariñosa. Apasionada. Fuerte. Aventurera.
Hermana de Mariana y Juan.
Amante de Dios, y aficionada de la naturaleza, y baile.

Quien se siente alegre, bendecida,
y anticipación para el futuro.


Quien necesita sus amigos, tener una finalidad,
y a veces, solo chocolate.

Quien tema lo desconocido, la pérdida, y las arañas.
Quien da su amor, su tiempo, y su apoyo a quien lo necesite.

Quien le gustaría ver a África,
ver sus amigos increíbles de España,
y ver el bilingüismo hacerse normal en los Estados Unidos,

Residente de Oregón y Arkansas.


---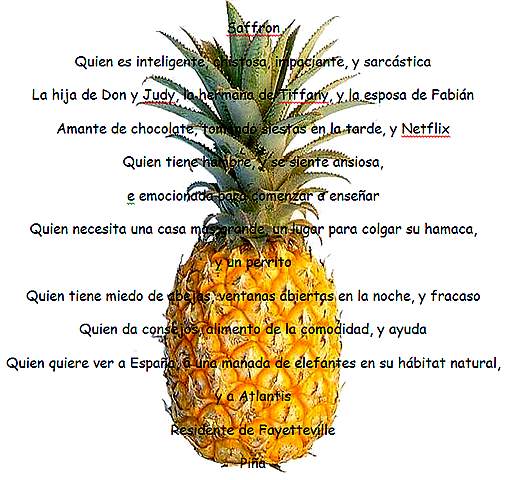 ---



Aventurera, segura, ingeniosa, y simple
Pariente de Whitney, mi hermana mayor

Una amante de su familia,
los animales, los viajes, y la libertad

Que se siente agradecida, felicidad, y determinación
Que necesita Dios, compañerismo, y cariño
Que tiene miedo de fracaso, rechazo, y el dolor
Que da esfuerzo, consejo, y alas
Que la gustaría ver el futuro, éxito, y el mundo
Residente del Rogers, Arkansas


---

Adventurous, secure, resourceful, and simple
Relative of Whitney, my older sister
Lover of her family, animals, trips, and freedom
Who feels grateful, happiness, and determination
Who needs God, fellowship, and affection
Who fears failure, rejection, and pain
Who gives effort, advice, and encouragement
Who would like to see the future, success, and the world
Resident of Rogers, Arkansas


---


Another point miscomprehended by people who are clumsy at languages is that one does not need to learn a whole language in order to understand some one or some dozen poems. It is often enough to understand thoroughly the poem, and every one of the few dozen or few hundred words that compose it.
— Ezra Pound, "How to Read," 1929