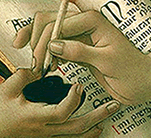 Assignment:

Writing a
Bio Poem
in the
Target
Language:

The
2013
Poems



Cohort classes for the Master of Arts in Teaching Program (MAT) at the University of Arkansas begin in the summer semester with two classes: Issues and Principles of Teaching and Special Methods of Instruction. Both classes focus on theory and practice. The Issues and Principles course looks at general theories of learning, and the Special Methods classes examine content-specific methodologies and theories in each of the five core areas: English, Foreign Language, Math, Science, and Social Studies.
Students in both courses are introduced to the Danielson Framework of Teaching, a model used by many states, including Arkansas, to evaluate teacher performance. The framework serves other purposes as well. It is used with our MAT students to assess their performance during a year-long internship in two different school settings.
The framework also serves as a means for novice interns to reflect on and consider how teaching is much more than providing content knowledge to a diverse group of learners, who may or may not share a passion for English, Foreign Language, Math, Science, and Social Studies. Danielson's framework provides a comprehensive map of four domains needed to be a successful practitioner in the educational context:
Domain 1: Planning and Preparation
Domain 2: Classroom Environment
Domain 3: Instruction
Domain 4: Professional Responsibilities
The Bio Poem assignment in Special Methods serves many purposes. For in-service teachers, it provides biographical information about the student and information about the student's proficiency in the target language — information useful for all of Danielson's domains. Students can share their poems to establish a sense of community in the classroom. They can peer-edit each other's poems for an instructional task. They can publish them to share with parents and community.
For future teachers, writing a Bio Poem serves many of the same purposes — establishing a learning community, peer editing, publishing for sharing with community — but it also provides a model for use in their own classrooms. My MAT students are asked to think about how to differentiate the assignment to reach all levels of proficiency, from beginners to advanced. I also ask that they translate their poem into their first language to gain an appreciation of how translation can change the intent and meaning between the first language and the target language.
Incorporating poetry into the foreign language class offers many advantages. I am a poetry aficionada, so I am on a mission to convince my students that they are all poets. Any poetry assignment can serve as a linguistic assessment, but it can be even more beneficial. Poetry in the classroom can become a means to other ends: building a learning community, getting to know your students, and developing an appreciation, perhaps a love for literature's most poignant genre.
Here are the Bio Poems written by my students in the Special Methods of Instruction in Foreign Languages 2013-2014 cohort. Thanks, future teachers, for allowing us to share your work with the community. Well done!
Dr. Bowles
22 July 2013


Compasiva, Única, Divertida, y Aventurera
Hermana de cuatro hombres
Hermana de cuatro hombres
Quien se siente bendecida, agradecida, y alegre

Quien necesita una vacación,
mucho dinero para viajar, y un trabajo

Quien le teme a las serpientes, tiburones, y agujas
Quien da galletas, abrazos, y sonrisas

Quien le gustaría ver paz,
el fin del hambre, y educación para todos

Residente de Fayetteville, Arkansas




Compassionate, Unique, Fun, and Adventurous
Sister of four brothers
Lover of sunny days, trips, and naps
Who feels blessed, grateful, and happy
Who needs a vacation, lots of money to travel, and a job
Who fears snakes, sharks, and needles
Who gives cookies, hugs, and smiles

Who would like to see peace,
the end of hunger, and education for all

Resident of Fayetteville, Arkansas




Honesto, cariñoso, responsable, amistoso
Hermano de Sarita y Alejandro Saavedra
Amante del fútbol, niños y pupusas
Quien se siente amado, apreciado y afortunado
Quien necesita comida, amor, y deportes
Quien teme a las alturas, culebras, y payasos
Quien da amor, respeto, y honor a Dios

A quien le gustaría ver un Clásico
entre F.C Barcelona y Real Madrid,
la muralla de China, y un extraterrestre

Residente de Rogers, Arkansas




Honest, loving, responsible, and friendly
Honest, loving, responsible, and friendly
Lover of soccer, kids, and "pupusas"
Who feels loved, appreciated and fortunate
Who needs food, love, and sports
Who fears heights, snakes, and clowns
Who gives love, respect and honor to God

Who would like to see a classic match
between F.C Barcelona and Real Madrid,
the Wall of China, and an alien

Resident of Rogers, Arkansas




Compasiva, Amable, Amistosa, Curiosa
Pariente de mis padres cariñosos
Aficionada de Jesús, mi familia y amigos, y mis perros
Quien siente emocionada, ocupada, y un poca cansada
Quien necesita Jesús, chocolate, y la familia
Quien teme ahogarse, los insectos, y los tornados
Quien da tiempo, estímulo, y oídos abiertos
Quien da tiempo, estímulo, y oídos abiertos
Residente de Arkansas




Compassionate, Kind, Friendly, Curious
Relative of my loving family
Lover of Jesus, my family and friends, and my dogs
Who feels excited, busy, and a little tired
Who needs Jesus, chocolate, and family
Who fears drowning, insects, and tornados
Who gives time, encouragement, and open ears

Who wants to see ancestors,
the Pacific Ocean, and Heaven

Resident of Arkansas




Sencillo, leal, trabajador y creativo
Hijo, sobrino, y primo de una familia muy querida
Amante de la verdad, la enseñanza, y de la literatura
Quien siente alegría, pasión, y curiosidad
Quien necesita tiempo, amigos, y música

Quien teme la profundidad del mar,
la pérdida de los recuerdos, y la falta de amor

Quien da consejos, sonrisas y ánimos
Quien le gustaría ver Istanbul, Tokyo y su propia familia
Residente de Arkansas
Nació en Ecuador




Simple, loyal, hardworking and creative
Son, nephew, and cousin of a very loving family
Lover of truth, teaching, and literature
Who feels joy, passion, and curiosity
Who needs time, friends, and music

Who fears the deep sea,
loss of memory, and lack of love

Who gives advice, smiles and encouragement
Who would like to see Istanbul, Tokyo and his own family
Resident of Arkansas
Born in Ecuador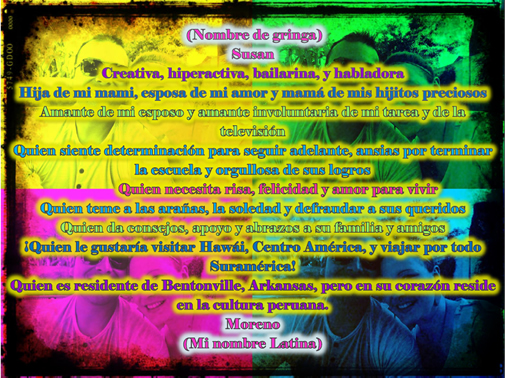 Kindly click the image
to see a full-size version of Susan's Bio Poem.
---


Un hombre inteligente, divertido, trabajador y valiente…

Hijo de Oscar y Imelda
y el hermano de Ibett, Evelyn y Diana…

Amante del fútbol, la cultura y la música...
Que se siente amado, feliz y agradecido...
Que necesita la familia, Dios, y los amigos…
Que le teme las arañas, las alturas y la soledad…
Que da amor, sonrisas y apoyo…

Quien le gustaría ir a España,
ver los templos Aztecas y un día ver la Copa

Mundial en persona…
Residente de Rogers, Arkansas




I am smart, funny, hardworking and brave...

Son of Oscar and Imelda,
brother of Ibett, Evelyn and Diana...

Lover of soccer, culture and music...
Who feels loved, happy and grateful...
Who needs family, God, and friends...
Who fears spiders, heights and loneliness...
Who gives love, smiles and support…
Who would like to go to Spain,

see the Aztec temples
and one day see the World Cup in person...

Resident of Rogers, Arkansas




Gallarda, altiva, dulce, y aventurera
Hija de mis padres, hermana de dos
Amante de la vida, la naturaleza, y los sueños
Quien siente alegría, dolor, y esperanzas

Quien necesita el aire fresco de los bosques,
el refugio de la familia,
y los misterios escondidos en las páginas de un libro


Quien teme olvidar los bellos momentos de la vida,
perderse de las buenas amistades,
y dejar atrás a un alma en la búsqueda de su propósito


Quien regala cálidos abrazos, risas contagiosas,
y deseos de volver a ser niños sin cuidado


Quien quisiera ver los cerros verdes del Nayar,
el amanecer en la Toscana,
y el surgimiento del ciudadano mundial

Residente del planeta Tierra



Graceful, proud, sweet, and adventurous
Daughter to my parents, sister to two
Lover of life, nature, and dreams
Who feels happiness, pain, and hope

Who needs the forest's fresh air,
the family's refuge,
and the mysteries hiding in the pages of a book


Who fears forgetting the beautiful moments of life,
losing out on the good friendships,
and leaving behind a soul in search of its purpose


Who gives warm embraces, contagious laughs,
and the desire to once again become children without a care


Who would like to see the green hills of the Nayar,
the sunrise in Tuscany,
and the emergence of a world citizen

Resident of Planet Earth



Another point miscomprehended by people who are clumsy at languages is that one does not need to learn a whole language in order to understand some one or some dozen poems. It is often enough to understand thoroughly the poem, and every one of the few dozen or few hundred words that compose it.
— Ezra Pound, "How to Read," 1929