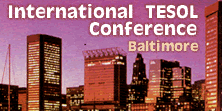 WEBMASTER'S NOTE:
Mrs. Bowles, Mrs. Schaefer, and Mrs. Sera attended the annual International Convention of TESOL (Teachers of English to Speakers of Other Languages) in Baltimore, Maryland, in March, 2003. Mrs. Bowles filed a daily dispatch about their experiences.
It's Back to Reality in Arkansas
After a Stop at the Electronic Village and
A Surreal Flight on a Strange Old Plane.
DISPATCH NUMBER FIVE
Sunday, March 30, 2003, at 8 p.m.
Ms. Schaefer was the first one up (again) on Saturday, our final day in Baltimore. We were all awake, and I remember telling them about my dream before I fell briefly back asleep. I was the second one up because I wanted to visit the Electronic Village and the Publishers Exhibit again before we departed.
I stopped off briefly at the corner deli for a bagel, smoothie, and an espresso. Nothing compares to a toasted chewy bagel, so I made it a habit to stop by there everyday. The servers at the deli had a wonderful unusual accent peculiar to the Baltimore area and were quite nice as well. We all three managed to grab a bite there several times.
Learning Platforms and Web-Based Teaching.
The Electronic Village was a large room full of PCs and Macs. You could look at different software and websites as well as meet the designers and authors. What I discovered in my focus on using technology in the classroom was that most instructors use "learning platforms," an academic term for software designed specifically for classroom use. Most instructors have little time or interest in designing their own sites, so they employ learning platform software for specific exercises and lessons. However, the software almost always creates a closed communications environment. In other words, a student needs a password and a university E-mail address to access the exercise or activity. UCA uses WebCT, which is a learning platform software. Some universities use Blackboard.
I also learned that most websites are static, which means they don't change very much. The same information appears from week-to-week. Corndancer is a unique site because it is communicative, dynamic, and accessible to anyone. Fresh information is posted almost every day, sometimes three or four times a day. You can be an IEP student anywhere in the world and use Planet IEP. Moreover, you can read about other languages and ideas. A visitor's web experience is not limited to English as a Second Language.
An Appropriate Text for Writing.
Before returning to the hotel, I visited the Publishers Exhibit and ordered several books. I've decided to use a textbook for Level Two Writing in the fall. One of my favorite authors, Keith Folse, was there and gave a presentation on his new series, Blueprints. His ideas about writing coincide with mine, so I think the book will be very useful. I've been waiting a long time for an appropriate textbook to appear.
Did you know that when you become a freshman, most of the writing you will do is summary and analysis? You won't be writing about yourself or using narration, according to his Mr. Folse's research. Blueprints focuses on how to paraphrase, summarize, and synthesize.
I Trigger the Alarm!
Our flight back to Arkansas was changed to an earlier departure time because the military had requisitioned our original late afternoon flight, so we had to leave the hotel by 10:15 a.m. We took a cab to the Baltimore/Washington International Airport and arrived in plenty of time to check our bags and get to the gate. However, I set off the metal detector and had to be checked with the wand. I had asked them if I should remove my jewelry, but they said no. I knew the alarm would go off, and sure enough it did.
The attendant sternly directed me to another area and ordered me to sit down. She first checked my feet (my shoes were off), and then she had me stand up and place my feet on these footpads on the floor. She was nice, but formal. She checked my legs first, inside and outside, and then had me hold my arms straight out and checked them, over and under. Then she checked my torso, and the wand beeped at my belt. Both of the security agents were in agreement that it was my belt, but there was one more step to complete. She patted me down (just the torso), and let me go. I was relieved, a little nervous, and a little amused.
Flying just isn't fun anymore. I guess if I lived in Washington or New York, I would really be paranoid, too. I didn't want to think too much about Nine Eleven, but it was always just slightly in the back of my mind.
Airports can be interesting if you are observant and like to watch people, but I'll confess that I was ready to be back in Arkansas, so I didn't pay a whole lot of attention to my fellow travelers until we got to our gate. There I struck up a conversation with a fellow English teacher who was going back to Minsk, Belarus. She was flying out of Atlanta to Paris, Vienna, then Minsk — and she was worried that she wouldn't make her connection. We didn't have boarding passes for our flight from Atlanta to Little Rock, so we were also a bit concerned about making our connection.
An Episode of Surrealism.
Fortunately there were seats on the Atlanta-Little Rock flight, but we were in the next-to-the-last row. It was the worst flight of all! The plane was older, and we were in the row one of the jet engines. On top of that, there was a small, anxious child in the seat in front of us, who cried and stayed in a panic the entire trip.
We maintained a sense of humor, especially when the flight attendant suddenly appeared around the galley, gesturing wildly. We thought he was in the military because of his haircut, but he was showing us how to use the oxygen mask. It was obvious that the airplane was older because the other planes we had flown displayed all the instructions on video monitors, sans the animated attendant.
I joked that we were on the "Delta Force" flight instead of a "Delta" flight. More surprises: All the attendants were male. I'd say that the two-hour flight was a episode of surrealism. How did we endure it? Ms. Schaefer read a mystery novel, Ms. Sera graded papers, and I read the Washington Post and dozed.
Were we ever glad to touch Arkansas soil! Ms. Sera's husband was there to greet her, and Dr. Schaefer was there to greet us. The drive home was swift and uneventful, and I was surprised to find the weather in Conway cooler than in Baltimore — and the grass here sure is greener!
Driving up to Cricket Song was just as exciting as flying in to Baltimore. There's no place like home!
---
A Sampling of Baltimore's Rich History
Accentuates Intensive Conference Sessions.
The Afghani Meal Was Exotic and Delicious.
DISPATCH NUMBER FOUR
Friday, March 28, 2003, at 10:30 p.m.
It's the fourth day in Baltimore. The weather has changed again to cool and overcast with a bit of intermittent rain. Ms. Sera and I are in the room waiting for Ms. Schaefer to return from her presentation.
Tonight we dine on Afghani food. I'm anticipating an exotic and delicious meal. You may not know that I spent six weeks in Afghanistan in 1976. I loved the country and the people. There wasn't a whole lot of variety, but I did try mutton korma and pulau, and ate lots of melon, grapes, dried fruits, nuts, and yogurt, and drank pots and pots of green tea.
Ms. Schaefer just walked in and said her discussion was very productive. Not only did she share her information about recruiting, but she also got some good ideas from other coordinators and directors. She's very pleased and very hungry. Hooray, we can go eat now!
. . . .
Historic Mount Vernon Cultural District.
We're back from dinner at the Helmand Restaurant. We took a cab to get to the Mount Vernon Cultural District, but after dinner we walked back through peaceful streets steeped in history and heritage. The roots of the historic district extend back to 1857 when George Peabody founded the Peabody Institute.
A 178-foot-high marble statue of George Washington, built in 1815, dominates a marvelous neighborhood. I think it is one of the most beautiful urban areas in the USA. Tonight old George floated in a slight fog above the cobblestone streets and nineteenth century townhouses. We passed some intriguing eateries and heard live music in a couple of venues It was a perfect evening for a stroll in a lovely city.
The restaurant, located in one of the original townhouses, was small, intimate, formal, and unique. We could hardly decide on what to eat, but we finally selected three different main dishes so that we could share and sample a variety: lamb, beef, and vegetables with basmati rice and three different appetizers. The food was spicy, sharp, and pungent. We were in paradise.
New Ideas and Inspiration.
Now we are back in our room discussing the day's sessions. My focus today was writing. I decided I would change from technology in the classroom to the classroom itself. One of the benefits of attending a conference is the new ideas and inspiration you get from your peers.
Ms. Sera focused on using performance arts in the classroom: music, drama, humor, and songs. Ms. Schaefer took a break from administrative sessions and attended several presentations that related to the classroom: a session on reading theory, one on teaching the passive voice, and another on using the TV sit-com Friends in the classroom. Do any of you watch Friends?
A Tour of the USS Constellation.
I passed up lunch today so that I could tour the USS Constellation, the first commissioned ship in the U.S. Navy. It was launched in the 1850s. I was impressed with the size of the ship (four decks), the length and width of the ropes (thicker than my arms), and the rigging for the masts. The steering wheel was as tall as me and three times as wide. The berths for the sailors were tiny and the beds so small. I had to duck my head several times below deck because the ceilings are so low.
I couldn't imagine being on that ship at sea in times of war. It's hard to believe the USS Constellation has survived. There must have been a dozen cannons on the second deck. Our guide explained the procedure for loading the cannons. He said they were very accurate. At noon everyday, one cannon on deck is loaded and shot with a blank charge.
Mist began to float through the cooling air before I had a chance to walk around the harbor area, so I headed back to the hotel to get ready for the afternoon.
I wish I had more time to explore Baltimore. I would liked to have gone to the Walters Art Museum, but this was a "working" vacation, so we took advantage of the expertise offered by our peers and those in the field who research language learning and acquisition.
Tomorrow is Saturday and we return to Arkansas. It won't be long until we see you again. Hope you are enjoying your break!
---
A Kaleidoscope of Languages and Accents
Brightens Our Peaceful, Global Gathering
Of Students, Teachers, and Researchers.
DISPATCH NUMBER THREE
Friday, March 28, 2003, at 8 a.m.
No one rolled out of bed bright and early on day three of the convention. However, once we were up, we were fast!
We had looked through the convention program book — over 250 pages of workshops, presentations, colloquiums, and discussions — and made our choices for the day. The convention is actually held in two buildings: the convention center and the Sheraton Hotel. TESOL International is an incredible collection of teachers, researchers, and students from around the world. I've heard so many wonderful languages and accents, and seen folks of all ages, colors, and dress. Teachers are a peaceful lot, motivated by the desire to share information and bring people together under a common cause. If only this motivation could extend into the rest of the world.
It was another beautiful day in Baltimore as we crossed Pratt Street to the convention center. My first order of business was to visit Starbucks. Mrs. Bowles must have her coffee. I ordered the grande Americano and it certainly perked me up.
Sharing the Good Word.
Invigorated, I went down to the first level of the huge convention complex and set up the laptop at the IEP members' booth. My job there is to answer questions about Intensive English Programs throughout the USA and to encourage other teachers to join our interest section. The booth provides a good way to share information with other IEP teachers and find out about their programs. I also got to show our Planet IEP website to a lot of visitors. Many of them navigated to the Photo Gallery and took a peek at our pizza party.
I had to leave the booth by 11 a.m. to take the laptop back to the hotel and meet Ms. Schaefer and Ms. Sera at the poster exhibit to set up our display about using postcards in the classroom: Wish You Were Here. We set it up quickly — and before we knew it, we were mobbed by our fellow TESOLers, who loved the idea and praised us for having the best idea and display. A journalist from a French magazine asked us to write an article. We were very pleased and want to present the idea again. We even saw a student from UCA, Stephanie, who is an education major in Mrs. Carlin's class. It's a small world.
The poster session lasted until 2 o'clock. We hadn't paused for lunch yet, so Ms. Sera and I took the poster materials back to the hotel and stopped by a little deli for a quick bite to eat. Ms. Schaefer was a little more organized than us and had already gotten her lunch, so she was at the session, "How Not to Run An IEP." Ms. Sera attended a practical session about different listening styles: decisive, reflective, and receptive.
Get ready students. You will hear all about what we've learned in class soon.
My last session focused on the teaching of writing. My favorite author, Keith Folse, gave a presentation about his new series, Blue Prints. I'm convinced he is on the right track about learning to write in another language. I'm going to use his book next semester. Just think, a book for Level Two writing!
Thai, Salmon, Sante Fe, and Navajo
Fortunately, there were no late sessions, so we were able to share an early dinner. We left the hotel at 6:30 and walked down to the Inner Harbor. There are several nice shops and restaurants. We had been advised to eat at the Cheesecake Factory, and were lucky to get a table right away. It was a lively bar and restaurant with friendly and attentive servers. Ms. Schaefer ordered the Thai wrap, Ms. Sera had the grilled salmon, Meredith (Ms. Sera's friend) the Santa Fe salad. I chose the Navajo sandwich. YUMMY! Of course, we ended our culinary experience with... cheesecake! (Oh, Ms. Sera just told me her salmon had been marinated in miso sauce.) We split two flavors of cheesecake: simple and white chocolate raspberry. One of the delights of traveling is the tasty variety of food.
The walk back to the Days Inn was much slower than our earlier dash to the restaurant. We said our goodbyes to Meredith, then wrapped-up the day by discussing our sessions and planning for Friday's events. Ms. Schaefer has her discussion Friday night, so we will keep our fingers crossed for her.
---
A Long Day of Pursuing the
Finer Points of Classroom Technology,
Ends with a Wonderful Indian-Style Feast.
DISPATCH NUMBER TWO
Wednesday, March 26, 2003, at 11 p.m.
Ms. Schaefer was up before daylight, well before Ms. Sera and me. She wanted to go to the 7:30 a.m. session — and she did! The two of us sleepy heads waited until the sun was up before we hopped out of bed and ventured out into the mild sunny morn.
My favored theme for the first day of sessions was "Using Technology in the Classroom." Macmillan Publishers out of Britain hosted the first session called "Practical Materials for Internet Research," so get ready to try out some new websites next week.
After that session, I grabbed a brew and a bagel from Starbucks, where I ran into two colleagues from northwest Arkansas, Grace Davis and Leslie Moore, former and current presidents of ARKTESOL. We decided to rendezvous after the last session for dinner at Bombay restaurant. Indian tonight!
I worked at the IEP members' booth during the lunch hour and met several fellow teachers from IEPs across the nation. Everyone is concerned about the declining enrollments across the country. We're brainstorming about what to do to keep current students and recruit new ones. Times are tough everywhere.
Using the Web to Connect.
There wasn't time enough to eat lunch because I wanted to attend another session, "Using the Web to Connect IEP Students." Three instructors from three different universities have their writing students create webpages to communicate with each other. It was really a great presentation. Inspiring, too.
The third session was a good idea on paper, but the presentation was a little dry and repetitive. Win some, lose some.
The last session focused on using webpages in a reading class. I got a couple of good ideas from it, too. I also got wet because by this time, the spring weather had reverted to the overcast, rainy, cool atmosphere typical of a winter's day. I didn't have my umbrella with me, so I scurried back to the hotel to pick up my computer and call the webmaster. I remembered to get my umbrella, too.
I made it back to the convention center in time for the IEP members' section meeting. It was strictly business: electing officers and discussing topical issues related to teaching, professional development, and recruiting. Ms. Sera joined me for this one, so we had a few minutes to catch on up the news. Ms. Schaefer was attending the Program Administrators members' meeting, so we wouldn't see her until dinner time.
Finally it was time for my presentation. Thanks to the webmaster, I had CDs of the website for all participants, including teachers from elementary school through higher education. Hopefully we will get some new members in the Corndancer virtual community. The presentation went very well. All the technology worked and the participants asked lots of questions. I felt relieved, excited, and confident, as well as proud of Corndancer and the possibilities for communication with other institutions.
Curries, Kormas, Raita, Samosas....
When I walked out of the room, there was Grace and Leslie, so off we went to our hotel. The weather was at least 20 degrees cooler, but dry. We met Lynn, Sera, and one of Sera's friends, Meredith, formerly of Pine Bluff, Arkansas, who now teaches at a community college in Florida. We bundled up and walked briskly a few blocks to the Bombay restaurant for an incredible dinner of curries, kormas, raita, samosas, nan, chapati, tandoori, roti, basmati rice, and spicy sauces. It was a meal fit for a queen! My mouth still waters just thinking about it.
One fine thing about large cities is the wonderful variety of food. I have my eye on a small cafe called Kabul Kebab. I could eat Indian-style food everyday!
Our walk back to the hotel was much slower, so we had time to admire the architecture, a mixture of colonial and federal styles interposed with modern steel and glass. We also saw the trolley tracks and the metro signs. I would like to ride the metro, just because.... No special reason except it's fun, but alas tomorrow will be another busy day. We have our poster session. "Wish you were here," so wish us luck and we wish you were here!!!!
---
After a Smooth Flight through Atlanta,
We Explore the Mysterious Harbor and
Taste the Delights of Downtown.
DISPATCH NUMBER ONE
Tuesday, March 25, 2003, at 9 p.m.
Your teachers have arrived safely in Baltimore, home of the Orioles and Ravens. The big 757 bird dropped out of the sky around fourish in the afternoon to a sunny, warm welcome in Baltimore. Ms. Schaefer and I left a sunny, warm Conway at 8 a.m. and met Ms. Sera at the Little Rock airport for the flight to Atlanta. After a brief lunchtime layover, we flew on to Maryland. The flights were uneventful and uncrowded. I hadn't flown since 1999, so the changes were enormous. Security was strict from the moment we walked through the airline doors. I had to take off my shoes, belt, and jewelry, but the attendants were courteous and respectful.
(STUDENTS: Look for phrases and clichιs you might find when you read travel stories.)
During my in-flight reverie, I recalled the first time I flew when I was in the fifth grade. We had to walk across the tarmac and climb a set of portable stairs to enter the propeller plane. Flying in the sixties was a rare and elite event; one dressed for the occasion as if one were going to church or a formal party. I was traveling with my grandmother and cousin to Houston, Texas, to visit my aunts and uncles. From that moment on I've had the travel bug.
For that reason, I can never sleep a few days before a trip. I get excited, and anticipate the journey to another place — the unknown, the new, the mysterious.
A Taste of Baltimore Seafood.
So, what is mysterious about Baltimore? It's a harbor town, with all the mysteries and surprises of the seaport. We are staying one block from the water. This evening we crossed several channels that run into the city from the harbor as we strolled along the boardwalk to our restaurant of choice in Little Italy, Moe's Crabs and Pasta.
Seafood is ubiquitous in Baltimore, a city famous for its crab cakes, or for anything made with crab. Many of you may remember that I'm not a seafood fan, so I graciously agreed to go despite my "reservations." I could always eat something else, right? Well, Ms. Sera and I were a bit more cautious in our choices: Ms. Sera had Maryland crab soup and a crab cocktail (not a drink, but an appetizer), and I had a Caesar salad and fettuccine alfredo. Ms. Schaefer was much more daring. She had a house salad and steamed crabs in a garlic sauce. The waiter brought the crab in a big bowl with a tool for cracking the crab claws. Ms. Schaefer valiantly struggled with these unwieldy creatures long after Ms. Sera and I had finished our dinner. She was exhausted! The food was wonderful, but it was really messy for Ms. Schafer.
The Delights of the Inner Harbor.
Our hotel, the Days Inn, is across Pratt street from the convention center, so it is very convenient. The center also has interesting architecture — open, airy, and mostly glass. It covers two city blocks. Usually there are about eight-to-nine-thousand participants at an International TESOL Convention, so it can become crowded quite quickly.
If you walk north on Pratt Street, you reach the Inner Harbor, a renovated area of unique shops, restaurants, and the National Aquarium. There's a huge disco place with five different dance floors! We definitely plan on going there... NOT! There's a Hard Rock Cafe, a Barnes and Noble bookstore, ESPN Sports Center, and a wonderful old ship, the USS Constellation, in the harbor. It's the only surviving Civil War ship still floating. Every day they fire the cannon. The ship was first launched in 1854.
Look up Baltimore on the Internet and try to find us! Goodnight from Baltimore.
---