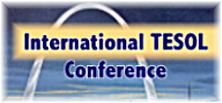 WEBMASTER'S NOTE:
Mrs. Bowles, Mrs. Schaefer, and Mr. Marshall attended the International TESOL Conference in St. Louis, Missouri, from February 27 to March 3, 2001. Mrs. Bowles sent several reports to the website about their experiences. The reports are archived here.
---
Despite the "Throwed Rolls"
And a Snowstorm, the Intrepid Trio
Arrives Safely in St. Louis.
DISPATCH NUMBER ONE
Tuesday, February 27, 2001, at 10 p.m.
Your teachers left Conway at 8:15 a.m. Tuesday and traveled to Beebe before heading north through driving rain on Highway 67-167 to the Missouri border.
(STUDENTS: Look for phrases and clichés you might find when you read travel stories.)
Turning east on Highway 60, the intrepid travelers stopped for lunch at Lambert's Roadside Cafe in Sikeston, Missouri. Lambert's is a down-home eatery famous for its "throwed rolls." They're called "throwed rolls" because the waiters actually throw, or toss the rolls across the room to you. You have to be a good catch to eat your rolls at Lambert's.
BONUS POINT CHALLENGE NUMBER ONE: The first student to guess how many "throwed rolls" Mr. Marshall ate gets that many extra points. E-mail your guess to the Webmaster, ebenezer@corndancer.com
Their hunger satisfied, your teachers ducked the "throwed rolls" on their way out of the famous restaurant and headed north on Interstate 55 toward St. Louis.
Just within the city limits, they hit a snowstorm!
The Gateway Arch, a St. Louis landmark, was barely visible in the muted afternoon light and falling snow, but the Mississippi River couldn't be missed. It dominates the downtown landscape. Fortunately, their destination, the Holiday Inn Select, was easy to find and right across from the Convention Center. (NOTE: To see a picture of the Gateway Arch, take a look at the Level One Writing Homepage.)
Checking into the hotel was a chilly affair, but the concierge was friendly and helpful. We noticed several visitors wearing TESOL badges and carrying TESOL bags. We heard a variety of international languages being spoken in the lobby. (TESOL stands for Teachers of English to Speakers of Other Languages.)
As soon as we put away our luggage, we headed out into the snow and crossed Ninth Street to pick up our registration material at the Convention Center and check out the lay of the land. The America Center actually covers more than three city blocks. Construction in the area detracts from the cityscape, but the Mississippi River and the Arch are only seven blocks away.
People watching was our next priority. We looked over the 300-page program booklet to plan our daily schedule and watched the parade of humanity pass by.
With the dinner hour upon us, we struck out into the cold for a cup of Joe and a small repast. BONUS POINT CHALLENGE NUMBER TWO: In what famous chain restaurant did your teachers have dinner? Clue: one of the two words in the restaurant's name is also part of the name of your IEP website. Send your answer to ebenezer@corndancer.com
We did notice that all the waiters and waitresses were wearing beads. BONUS POINT CHALLENGE NUMBER THREE: Can you tell me why they wore beads? Clue: the answer is easy if you think about New Orleans instead of St. Louis. Again, send the answer to ebenezer@corndancer.com
Dinner done, we headed back to the Convention Center, where we ran into some fellow ESL teachers from Arkansas. We visited a while about the upcoming convention. Bidding them farewell, we hurried back to the warmth and comfort of our Inn to get some rest. We plan to get an early start on Wednesday, the first and exciting day of the International TESOL Conference.
---
The Conference Begins
With a Flurry of Meetings
And Dinner at LaClede's Landing.
DISPATCH NUMBER TWO
Wednesday, February 28, 2001, at 9 p.m.
We woke up at six to greet the cold, 30-degree morning. There was no time for breakfast because we had our first session at 7:30 a.m.
My favorite presentation involved grammar — of course! Mrs. Schaefer said her most helpful session was entitled "International Student Adjustment in Small Rural Towns."
After four straight morning sessions, we met for lunch and walked to the Saint Louis Centre Mall for a quick sandwich before returning for a long afternoon of presentations.
At 5 o'clock we met 43 fellow Arkansas TESOL members for a reception and dinner at the Spaghetti Factory restaurant in LaClede's Landing on the right bank of the Mississippi River. The restaurant is located in a historic structure, which housed the first hotel west of the Mississippi River and was built in 1820. It was really an interesting venue with antique furniture, stained glass, and original hardwood.
BONUS POINT CHALLENGE NUMBER FOUR: Guess what kind of teaching book Mrs. Schaefer bought? Clue: It relates to Mrs. Schaefer's favorite subject. Send your answer to the Webmaster, ebenezer@corndancer.com
Congratulations to Tony Ganbat for answering all three Bonus Point Challenges in yesterday's Dispatch. Tony's diligence and cleverness earns him 10 extra points to use at any time he needs them! The correct answers to the three questions: 4 "throwed rolls" ... Planet Hollywood ... Mardi Gras.
---
A Busy Day of Sessions
With Authors and Academics
Ends with a Wonderful Thai Dinner.
DISPATCH NUMBER THREE
Thursday, March 1, 2001, at 10 p.m.
Attending the conference reminds me of my student days at UCA. You wake up early in the morning, tired from the previous day's classes (sessions). At a conference, it can be even more intense because the sessions are crammed into four busy days. But after a cup or two of coffee, you're ready and eager to go.
The TESOL Conference presentations are divided into four different types: concurrent sessions, academic sessions, academic strands, and intersections. There are also featured speakers and poster presentations. (Mrs. Schaefer's poster presentation will be Saturday at noon. It looks great.)
Conference participants can choose from a variety of interesting sessions, so the night before you sit down in your room and study the next day's choices. The list of sessions for tomorrow, for instance, numbers in the hundreds.
Prominent authors and respected academic professionals conduct many of the sessions, especially the most popular ones, so you try to get to the room early for a good seat. Latecomers often have to sit on the floor. Pens and pad in hand, you write furiously and focus on the material so you can remember it when you get home to share the knowledge with your colleagues.
You only have 15 minutes between sessions to find your next class and take care of any errands or tasks.
At 11:30 this morning we met at the Poster Presentations area so we could have lunch together and discuss the morning's classes. Today we ate at "Curry in a Hurry," an Indian restaurant four blocks from the Convention Center. The spicy aroma of the curry, the exotic tastes of the entrees, and the fresh-baked naan bread were overwhelming because we were famished.
Lunch was rushed just a bit because we had to walk back to the convention center for our 1 o'clock sessions.
If a session is cancelled, we go to the exhibitors' room and browse textbooks and software. This room is as big as the Farris Center on the UCA campus — and today it was quite a madhouse. Participants were crowding into exhibitors' booths, looking at textbooks, discussing sessions, and rushing off to their next conference activity.
At 5 o'clock we met for a stroll. We walked along the Mississippi River promenade to the Gateway Arch. Mrs. Schaefer and Mr. Marshall were going to take the tram to the top of the arch, but it was already closed. It was a big disappointment to them. As for me, just looking up made me dizzy. I would have stayed behind — with my feet firmly on the ground!
The arch, one of America's best known landmarks, is made out of stainless steel; it's huge, soaring, and smooth. The promenade is lined with trees; this evening the birds were everywhere and making a lot of noise with their song and chatter. The Mississippi River is very high and swift because of so much recent rain. I enjoyed watching the driftwood race by.
We walked back to LaClede's Landing, a restored historic district, turned north toward the Convention Center, and stopped to have dinner at a Thai restaurant named Sen. After an extended wait for our table, we were seated and promptly served spicy, delicate Thai dishes: a yellow curry of vegetables and rice; pad thai with crispy noodles, chicken and peanut sauce; crispy tofu with vegetables in a light ginger sauce; and the Singha Platter, a wonderful mix of spring rolls, fried shrimp, and fried corn patties. The dinner was delicious, filling, and wonderful.
We walked back to the Holiday Inn Select to plan our sessions for Friday and do our homework. (Friday night we plan to attend the van Gogh Exhibit at the St. Louis Art Museum.)
Congratulations to Jeongwook for answering Wednesday's Bonus Point Challenge. Jeongwook correctly guessed that Mrs. Schaefer bought a grammar book. She earns three extra points!
---
Technology's Capriciousness
At the St. Louis Art Museum
Douses the Lights on van Gogh.
DISPATCH NUMBER FOUR
Friday, March 2, 2001, at 11 p.m.
Students, you'll never guess what happened today.
As you may recall from yesterday's dispatch, we had plans to join two of our colleagues from northwest Arkansas, Grace Davis and Leslie Moore, for a dilettante's pilgrimage to the van Gogh exhibit.
We met at the hotel and drove to Forest Park where the St. Louis Art Museum is located. Your teachers were in a jovial mood and ready to relax after a most stimulating day of intensive sessions at the conference.
We arrived a few minutes before the six o'clock tour, so we had some time to people watch and check out the museum café, where we planned to have dinner.
As we handed our tickets to the docent, we received headphones and a mini-recorder to hear some background information about the Painters of the Petit Boulevard.
The artwork was glorious.
The first room featured one of van Gogh's self portraits, executed in his famous clipped brush strokes and vibrant colors. Other artists included Bernard, Seurat, and Pissaro.
The five of us settled into our personal tour and leisurely began to wander from room to room, negotiating the crowd of captivated art connoisseurs. Just as we were entering the fourth room, the lights flickered.
Several people gasped.
Then the lights went out again.
We were left in total darkness before the emergency lights came on. Everyone froze. The guard reacted swiftly. "Follow me," he urged. "Everyone, just follow me." A beam from his industrial-strength flashlight guided the hushed onlookers through a narrow door into the fifth room, where we halted while he investigated this mystery.
We waited, confident that the lights would come back on. They never did.
We were guided swiftly from the sixth exhibit hall through the museum store and into the grand foyer, where patrons gathered from every wing of the museum. For the next half hour we were left standing in small groups, puzzled by technology's capriciousness and disappointed that we were unable to reenter the world of Montmartre of the late Nineteenth Century.
After speculating if van Gogh was van Gone, we listened sadly when one of the museum docents came to inform us that the building was being evacuated and we would have to leave. We wondered if we were in the middle of a heist. Would the lights come on and some of the paintings be gone? Was one of the docents really a thief in disguise? Or was it simply a cruel quirk of failed technology?
Knowing we couldn't return to see this impressive collection of avant-garde art, we bade farewell to the darkened pavilion and drove out of the park and back into the city.
---
The Drive Back to Arkansas
Gave Us the Opportunity
To Compare Notes about IEP.
DISPATCH NUMBER FIVE
Sunday, March 4, 2001, at 11 p.m.
The enthusiasm that we felt after our long week carried us through the eight-hour drive back to Arkansas on Saturday. We compared notes on our individual sessions and discussed ways to improve our teaching and the IEP.
Most importantly, we discovered that other IEPs share similar challenges and triumphs with us.
Ms. Schaefer's Poster Presentation, "Who Wants Some Extra Points?" was very popular. Several professionals dropped by to ask questions and comment on the game. It was a great conversation starter. We enjoyed meeting other teachers from the USA and abroad.
Students, the authors of some of your textbooks presented several of the sessions we attended! Anita Sokman, author of Kaleidoscope 3, showed us exercises that we can use to help you retain new vocabulary. Guess who was in one of my sessions? Answer: Betty Azar, author of The Fundamentals of English Grammar.
One of my most interesting and provocative sessions addressed academic language skills needed by students after they graduate from IEP. This study was conducted by Drs. Wei Zhu and Jeffra Flaitz of the University of South Florida.
I can't wait to discuss these findings with you in class. See you there.
---