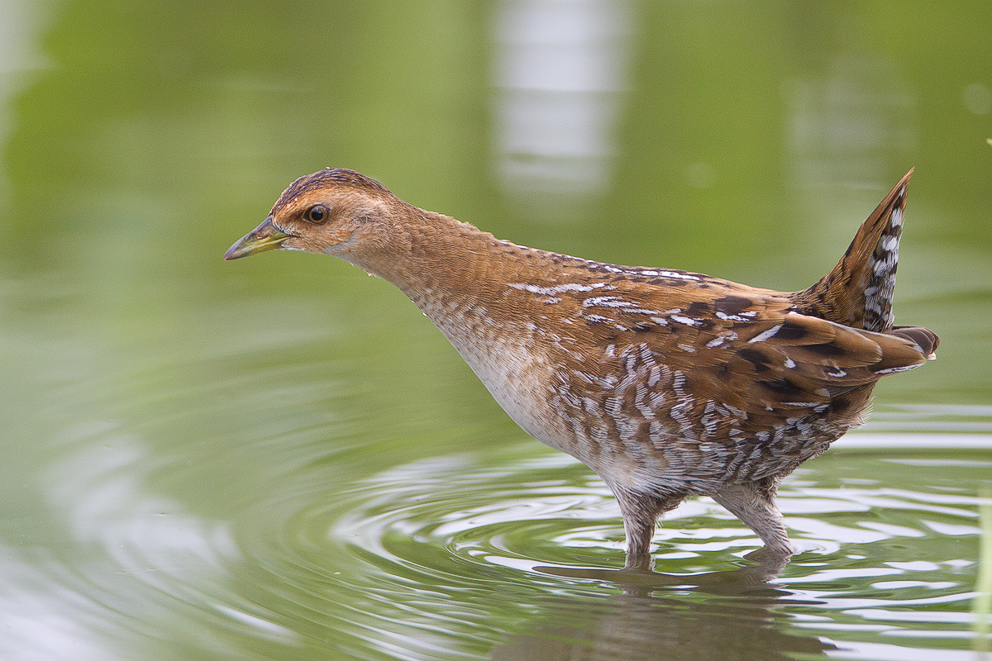 Baillon's Crake ∞ Porzana pusilla
Long Valley, Hong Kong • 11 November 2013
Photograph by Andrew Hardacre

By Andrew Hardacre
Posted from Hong Kong on 5 March 2014

The bird we know today as Porzana pusilla, Baillon's Crake, has gone through many taxonomic and name changes over the years. Originally described by Pallas in 1776, it was named after Louis Antoine François Baillon, (1778-1855). M. Baillon "developed an interest in capturing and keeping live birds and also amassed a considerable collection of bird skins," Barbara and Richard Mearns wrote in Biographies for Birdwatchers [Academic Press 1988]. "Baillon sent a number of specimens to Louis Vieillot, including in 1819, a small crake, which Vieillot named Rallus Bailloni."
John Gould wrote in his 1837 work, The Birds of Europe, Volume 4, that "M Temminck (was led) originally to select the term stellaris for this species; but he subsequently proposed to change stellaris to Baillonii, as a compliment due to the celebrated naturalist of Abbeville ; and this latter name has been received and adopted." Perhaps because it is the more recent research, the Mearns may be held out as correct.
In 1804 the species was referred to in a Hungarian publication as "The DWARF Crake," Ortygometra pusilla. Ortux is Greek for quail. Gould's work referenced above, having duly adopted Baillon's Crake, puts it into the genus Zapornia and captions it as Zapornia Baillonii, Leach. Zapornia was a genus containing many of the rails, rallidae. I do not find it in current use, according to the Birdlife International checklist.
Riding the Rails of Taxonomy
The precise roadmap of how science arrived at today's species name eludes me. Porzana pusilla intermedia is attributed by the Mearns to Hermann in 1804. The Hungarian publication, however, cites HERM. 1804 as naming it Ortygometra pusilla intermedia, "...the kind that is native to western Europe." (Translation courtesy of Google Translate. See original source at this url: http://vmek.uz.ua/00600/00604/html/kotet00000/fejezet00036/h100149/h200221/h400226/h500229.htm
Handbook of the Birds of the World Alive still recognizes intermedia as one of the six subspecies of Porzana pusilla. The species name translates simply as very tiny crake. (Source: A Dictionary of Scientific Bird Names by James A. Jobling | London | Oxford University Press 1991).
This is entirely apposite as the bird is barely 18cm long and weighs perhaps 35g. This is smaller even than Little Crake, Porzana parva. When I was photographing the bird you see here I was surprised at how tiny it looked. I was more familiar with Spotted Crake, Porzana porzana, which can weigh in at a mighty 87.5g and is 24cm tip to tail.
So, I could offer you a taxonomist's smörgåsbord of scientific names and you could probably choose one from each of the genus and species menus to form a name that has circulated over the last two centuries and more. If then you choose to do as I did and look back at the history, I can assure you of many a pleasant and harmless hour.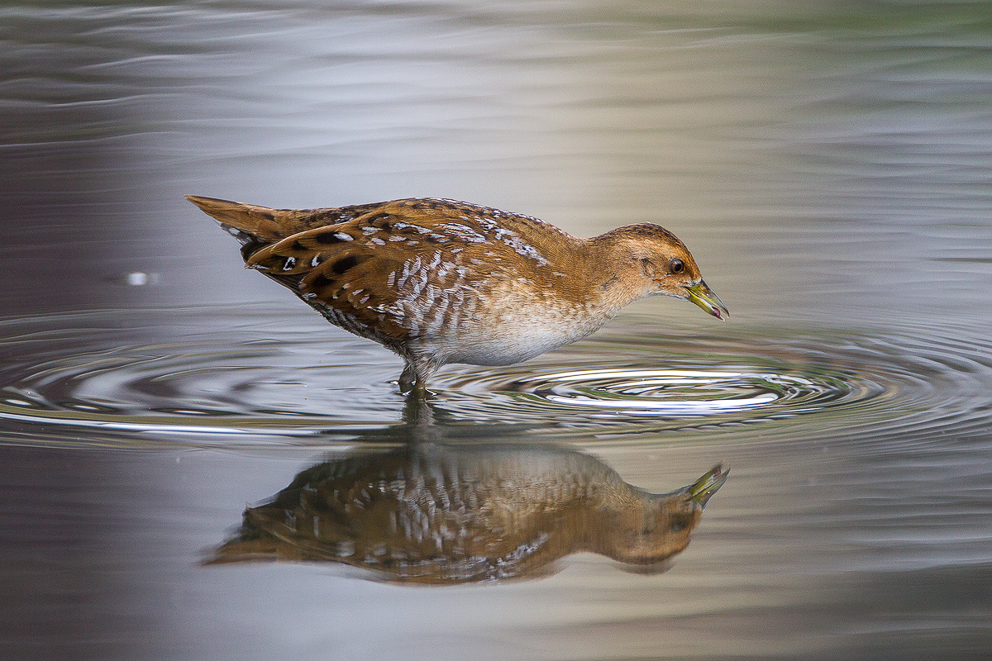 Baillon's Crake ∞ First Winter Female
Long Valley, Hong Kong • 11 November 2013
Photograph by Andrew Hardacre
Habitat
B. E. Smythies in the 4th edition of Birds of Borneo [Sabah Society 1981] tells us that Baillon's Crake 'occurs in freshwater to saline wetlands, especially in dense floating vegetation near deep water edges." The bird, he writes, "is secretive and partially crepuscular; and feeds on adult and larval aquatic insects."
The bird I photographed was almost certainly a migrant. The habitat matches Bertram Smythies's description. However, shortly after my photograph was captured in the rural wetlands, another Baillon's Crake turned up in the middle of the urban jungle in Hong Kong Park. The park's ornamental ponds have turned up oddities in the past. I photographed a Yellow Bittern there in June 2009 on the same day I observed a Black Bittern.
Hong Kong Park is one of the busiest parks in the metropolis. My office at the time was perhaps only 10 minutes away on foot. I arrived in the city early one morning and, wearing my office attire, hot-footed it to the park to take my photos before the work-day proper began. I was far from alone. Bird enthusiasts were everywhere to be seen. So Baillon's Crake can turn up in the most unlikely of places.
Nevertheless, Prideaux John Selby in his 1833 magnum opus, Illustrations of British Ornithology, Vol. II. Water Birds agrees: "This Crake, like the others of the genus, is an inhabitant of swamps, and the reedy margins of lakes or smaller pools…."
The Game Birds of India, Burmah, and Ceylon [Volume II | A. O. Hume and C. H. T. Marshall | Calcutta 1880] describes the crake's habitat in more detail:
For, although you may at one time or another find them anywhere, where there is water and cover, on the banks of streams, in irrigated gardens or corn crops, swamps and pieces of water of any kind the banks of which afford grassy, sedgy, or herbaceous cover, there is no such certain find for this species as patches of the wild rice (pusaiee) or the grassy margins of fields of cultivated rice, whether on the plains or in the hills. [p.204]
In stark contrast to the fulsome descriptions of yesteryear, the superb A Field Guide to the Birds of Borneo by Susan Myers [New Holland 2009] simply says: "Habitat: marshes, swamps, paddyfields, ponds."
And there is no gainsaying that. It illustrates elegantly how we have moved over the centuries from the large, unwieldy, heavy tomes of beautiful but occasionally flawed plates and detailed descriptions to the simple functionality of the modern field guide. Concise text, small illustrations, key identification features highlighted, distribution maps for the modern traveller, details of subspecies and races, and in some instances information on confusion species. I would not wish to be without either.
Hong Kong Park
March 4, 2014 ∞ Photo by the Boss via iPhone 4S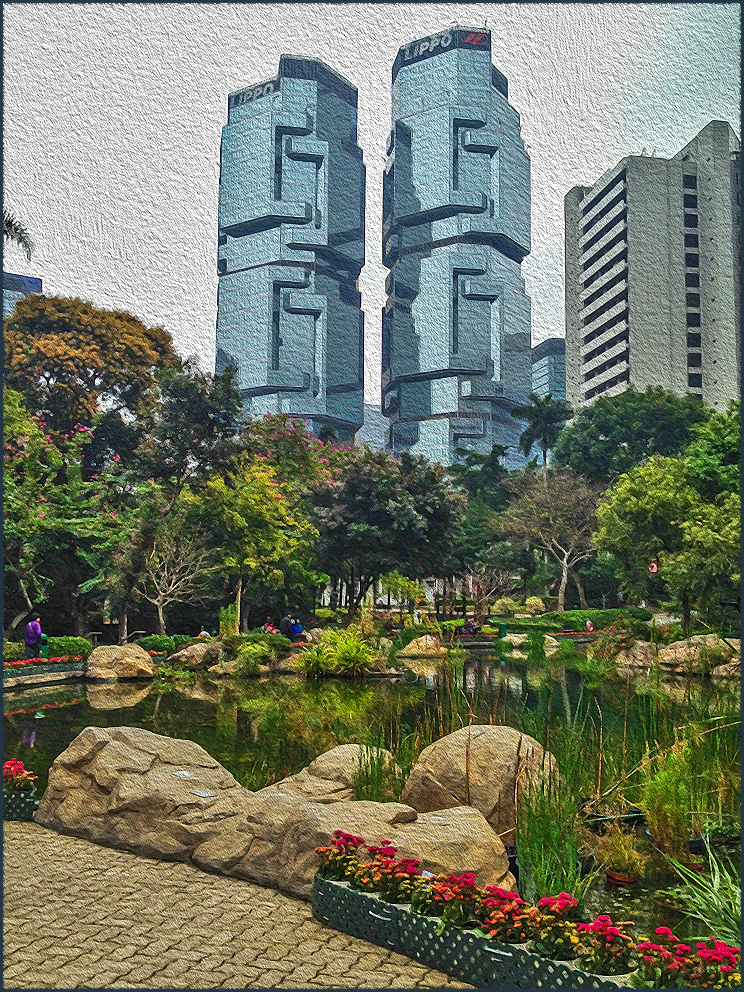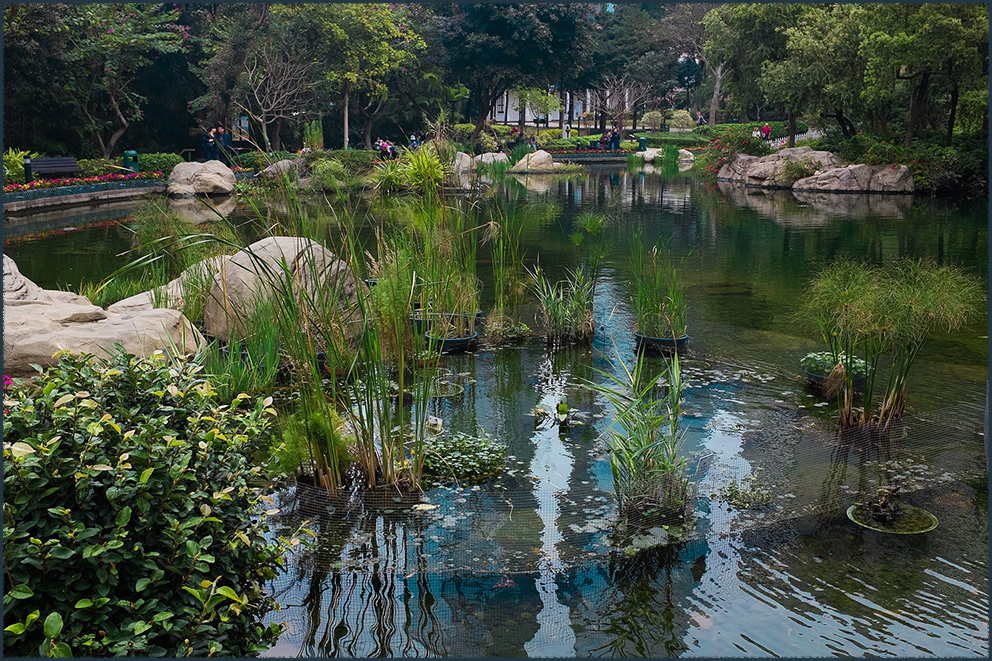 Birdland in the City
Hong Kong Park • 4 March 2014
Surrounded by Hong Kong's iconic buildings — the twin towers of the Lippo Centre
rise skyward in the top view — Hong Kong Park provides about 80,000 square meters
of green space in the central city. The park attracts a spectacular flock
of interesting and sometimes rare species for the birders who make frequent visits there
in hopes of seeing the next special avian attraction.
The wetlands character of the pond provides a refreshing respite
for straggler crakes, who pause at the park for a splash and a bite.
∞
Photograph by Andrew Hardacre
∞
The Holiday Dance
The Holy Mass is ended, and the priest is gone away,
The dinner-hour is over and the youngsters are at play,
The pansy and the wall-flower are blooming all so gay,
And I'll go out, and wander through the beauties of the May
On yonder snowy sloe-bush the cuckoo takes her stand,
She "speaks" of flowers and sunshine to our teeming western land;
And down in yonder "Inch" where the yellow kingcups blow,
The Corn-crake invites me, so I'll take my hat and go.
. . . .
The editor in a footnote addresses the term "Inch:" "Meadow lands lying low by the banks of streams and rivers in Ireland are generally called 'Inches,' particularly if at all insulated by the adjoining stream. Such situations are favourite haunts of the rail or 'Corn-crake.' " (p.501)

In an earlier footnote the editor writes: "The reader will be aware that 'corn-crake' is the rustic name for the land rail, and no person reared in the country, but must be familiar, and always delighted, with the curious cry of this singular and well-known bird." (p.379)

We realize Mr. Keegan's Corn-crake is a crake of a different species from our Baillon's, but we couldn't resist the lure of some old poesy. Close-enough, we suppose, for poetic license.
∞
LEGENDS AND POEMS
By
John Keegan
Now First Collected
Dublin: Sealy, Bryers & Walker | 1907
∞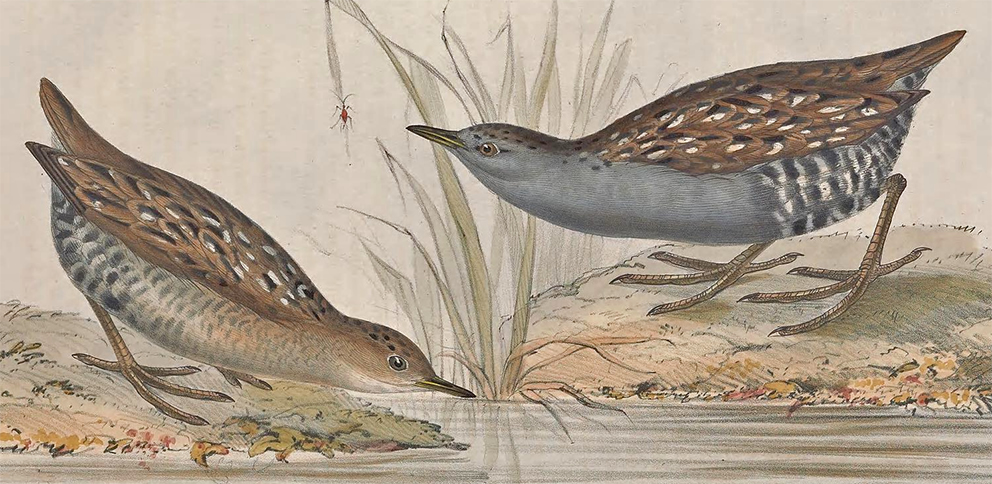 Zaporna Baillonii (Leach)
"Drawn from Nature & on Stone by J & E. Gould"
∞
Plate 344 of 1837. Digitized by Smithsonian Libraries from The Birds of Europe by John Gould
When John Gould studied the crake early in the 19th century, he assigned it the nomenclature "Zaporna Baillonii, Leach." William Elford Leach (1790-1836) toiled in the British Museum's Zoological Department between 1813 and 1821, where he earned a reputation as an eccentric but effective custodian of the museum's extensive collections. We can surmise with some confidence that Mr. Leach's work with the museum's bird collection led to his name begin attached to Mr. Gould's text in The Birds of Europe.

The following passage from Volume IV of The Birds Of Europe typifies the depth of observational analysis practiced by 19th century ornithologists. The observations also explain why our Baillon's Crake at Hong Kong Park differs in appearance from the crakes shown in Mr. Gould's stellar illustration. Ours is a first-winter female, not a mature bird. The blue-grey coloring in the plate above is typical of adult specimens. Mr. Gould writes:
"In adult males the forehead, eyebrows, sides of the neck, and the whole of the under surface are of a dark-blue grey, almost approaching to black on the belly and flanks, which are barred with white ; the top of the head, back of the neck, and all the feathers on the upper surface of the body, of a rich olive brown, the centre of each feather more of less pervaded with black ; those of the middle of the back, scapulars, wing-coverts, and tertials splashed with pure white ; the primaries are dark brown, and extend only to the middle of the tail-feathers, which are also dark like the primaries, but edged with olive brown, the marginal markings becoming narrower as the bird increases in age. Beak green ; irides hazel ; legs flesh colour, but darkest in adult birds. Several examples averaged seven inches in length, from the point of the beak to the end of the tail.
"Adult females differ but little from the males, except that their general colours are less vivid. Young birds have the chin and throat white, the neck, breast and belly mottled with reddish brown, dusky black and dull white ; abdomen and flanks less distinctly marked by black and white, the alternate bars not so well defined, and the two colours much less decided."
E D I T O R ' S N O T E :
Page numbers are not printed in Mr. Gould's text.
∞
THE
BIRDS OF EUROPE.
By
JOHN GOULD, F.L.S., &c.
In Five Volumes
VOL. IV.
RASORES. GRALLATORES.
∞
London :
Printed by Richard and John E. Taylor, Red Lion Court, Fleet Street
Published By The Author, 20 Broad Street, Golden Square.
1837.
∞




Crake on the Links
BAILLON'S CRAKE IN MERIONETH


"AFTER a storm on January 6th-7th, 1932, a Baillon's Crake (Porzana p. intermedia) was picked up on the Aberdovey Golf Links and brought to me. I sent it to Professor J. H. Salter of Llanbadarn, Aberystwyth, for identification.
"This bird appeared to have met its death by contact with the telephone wires.
"As far as I can ascertain there is only one other authentic record of this species in North Wales, one in November, 1905, in Caernarvonshire. (See Forrest, Fauna of North Wales and Zoologist, 1905, p. 465). —E. H. T. Bible."
∞
British Birds, Vol. 25, issue 10: March 1932
∞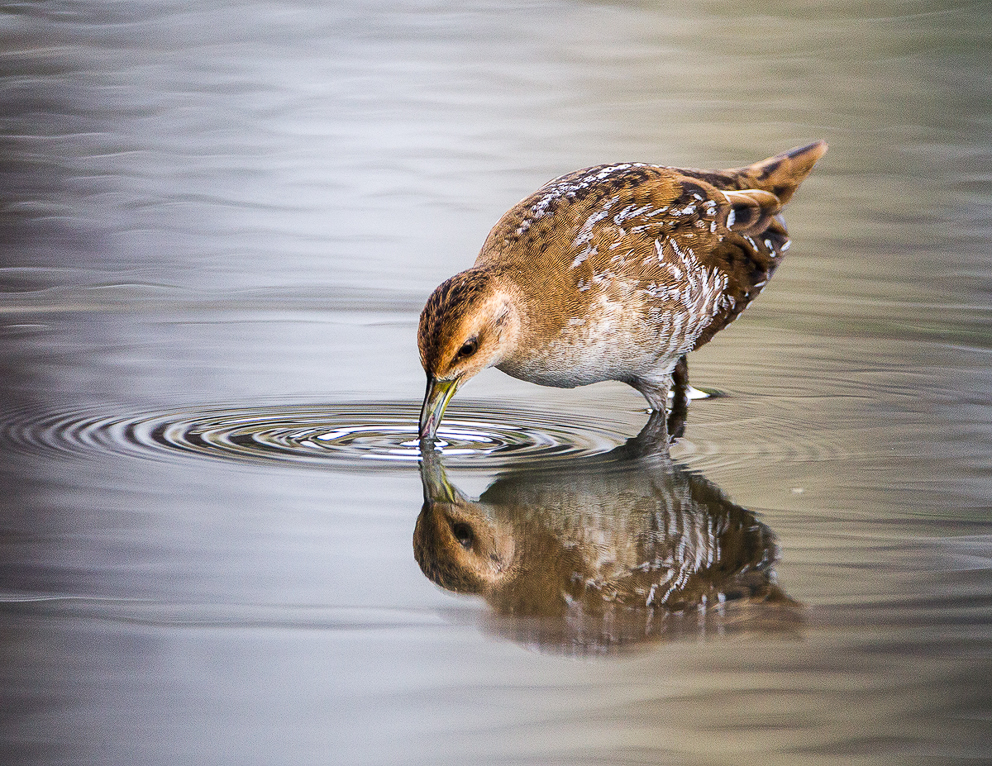 Marsh Crake ∞ Water Crake ∞ Insignificant Little Crake
Long Valley, Hong Kong • 11 November 2013
Photograph by Andrew Hardacre
∞
Crake Down Under
Other names:
Marsh or Water Crake, old names, the second one used by Gould in 1848, through Marsh Crake was still the formally recommended name in 1926 (RAOU 1926) and was in wide use until the 1978 RAQU list opted firmly for the internationally used Baillon's Crake; Little, Litte Water, Little Marsh Crake, for its minute size, reflected in the species name — Australian Little Crake was used by RAOU in 1913; Little Spotted Crake, as it does resemble a small version of the next species; Pallas' Crake, rarely used in Australia, for Pallas, an eminent German 18th century naturalist who did much Russian work.
Porzana pusilla (Pallas, 1776) [ por-ZAH-nuh p∪ - SIL - luh ]:
'insignificant little crake', see genus name, and from Latin pusillus, very small or insignificant — paltry, in fact! Hardly fair.
∞
from
Australian Bird Names: A Complete Guide
By
Ian Fraser and Jeannie Gray
Collingwood Victoria | CSIRO Publishing 2013
∞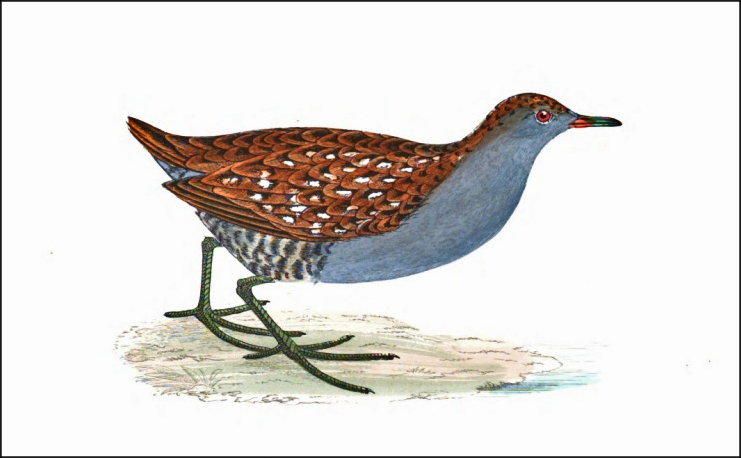 Crex. Creko—To break,
to make or cause to jar or twang like a musical instrument.
So begins the description of Baillon's Crake
in A History of British Birds by Francis Orpen Morris (1810-1893).
"The name of this species was assigned to it by Temminck,
in honour of M. Baillon, an eminent naturalist of Abbeville, in Picardy,"
the Reverend Morris states. Prolific and successful, Rev. Morris wrote
about dogs, natural history, scientific nomenclature, insects, and Darwinism.
But he won his lasting reputation through his writing about birds
in a popular series of monthly folios published over seven years beginning in 1850.
Elegantly illustrated by Alexander Francis Lydon (1836-1917),
the folios were organized into six volumes and reprinted well into the 20th century.
A pristine set of early editions can can fetch upwards of $5,000 U.S. dollars
in today's bibliophilic marketplace. Online, the volumes are free for the viewing.
∞
Woodblock colour print by Benjamin Fawcett from a painting by Lydon.
Digitized by Google from A History of British Birds,
Volume the Fifth, Fourth Edition (1897) by The Rev. F. O. Morris.
An original hardcopy is held by Penn State University
and made available for online viewing by Hathi Trust Digital Library.

∞


Bird of the Reedy Margins was posted on Wednesday, March 5, 2014




Largely retired, Andrew Hardacre is an enthusiastic photographer across a wide range of genres, from wildlife to street. He grew up in rural Britain but has traveled the 7 continents in search of birds and photographs. Now settled in rural Hong Kong, he continues to indulge his passion for books, wildlife and photography.

Andrew Hardacre
You can reach Andrew by e-mail at 57andrew@gmail.com


All downhill from here | Whatever comes to mind.......
Andrew's blog showcases a wide range of his interests: photographs and commentary inspired by the natural world and the creatures who inhabit it. You'll also find some compelling character studies of our fellow humans.

57Andrew on flickr
OK, the editors here at Crow's Cottage are biased in Andrew's favor, but these images are special! If you study the gallery for a while, you'll find our Stonechat amongst the flickr flock of beautiful birds. You'll also see world-class photographs of dragonflies, amphibians, insects, moths, dogs, and members of the human family.