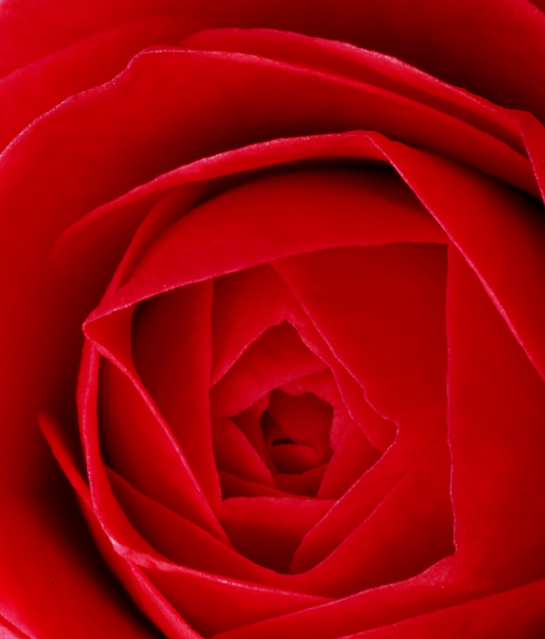 Sunday, February 17, 2008
In the flower family, the camellia is the redheaded stepson. The one who defies conventional flower wisdom. The one who thumbs his nose at what should be rightfully expected from a self-respecting flower. Camellia, you are a bad, bad boy.
While his kith and kin burst forth with splendor in warmer months, the smug camellia stands sullen and merely green. Deep down in its mysterious, plotting genetic structure, a camellia knows it will share the limelight with no other bloom when the curtain goes up on its crummy-weather performance.
I say this, but not as a horticulturist or gardening enthusiast. Far from it. No manufacturer has been able to make yard and gardening tools to fit my hands. Empirical evidence based on 22 years of close observation leads me to that conclusion.
But first, just a twit of background material: With a near religious affinity for plants and gardening, the prior and original occupant of my domicile was diametrically opposed to my non-green nature. In 1986, she left a greenhouse, a portable storage building, a handsome pile of topsoil, pots, flats, and enough other horticultural accouterments to fill a couple of respectfully sized dump trucks. All of which were summarily ignored by me.
Visible evidence of her enthusiasm lingers despite my callous disregard. Primarily, what remains are woody plants that have sense enough to survive on their own with little or no interference from uncaring humans. One of these is a magnificent camellia bush — Is it a bush? Correct me if I am wrong — which resides just outside our kitchen window.
As the crispness of winter sets in, one notices a few small buds making their appearance in the tenderest parts of the plant. Their development is more than painfully slow. Far worse than watching paint dry. It is agonizingly, excruciatingly slow. I hate to admit that a plant can mess with my mind, but then what does the camellia care? It's waiting for some really foul weather to kick into its diminished version of warp speed. And it could care less if I am biting my nails during the wait.
Then after frosts, ice pellets, freezing rain, and all the other ill-humored vestiges of winter have hammered away at the camellia, it mutters, "Hide and watch, you tone-deaf organ grinders, it's show-time."
A bud or two begins to take shape. In a week or so, these first buds start to shed their protective covers.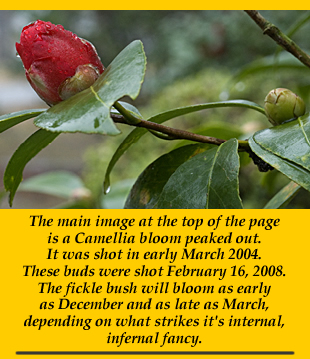 They tease us with small crimson splashes. The blooming is much like a steam engine, slowly building momentum as it chugs away from the station. One glorious morning, the first fiery bloom matures. Then another. Then another. Then it's like Beethoven's Ninth Symphony when the choir kicks in. That mother starts popping blooms like there's no tomorrow. The bush is literally covered with dazzling red blooms. You can't cut 'em and bring 'em to your spouse as a peace-offering fast enough to diminish the prolific supply.
The climax of the show will sometimes last two to three weeks. As a curtain call, the camellia sheds petals, and then the ground below the bush takes on the characteristics of a carpeted runway upon which any person of royalty would be proud to make a triumphal entrance.
After watching this bush for a number of years, the message finally became clear. Here is a creature which knows its own time and place, and gets there on its own schedule. The camellia does not try to be something it isn't. It does something really spectacular that no one else does, and at a time when its closest relatives lie dormant. With satisfaction in a job well done, it gracefully takes a bow and rests until its self-appointed time comes around again. And anyone who comes in contact with it is richly rewarded.
N O T E S:
Main shot Nikon D100 / Mircro-Nikkor f2.8 55mm AI (manual lens). Bud shot, Nikon D200, same beat-up old lens. Tripod on both.

Friday, March 7, 2008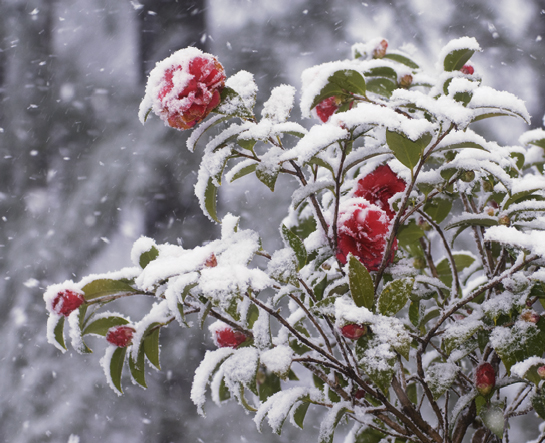 Prima facie evidence a few weeks later....
Perhaps it is divine intervention. Well, not really. Because if it is divine, it is not intervention, it is merely the plan unfolding, and since we were not privy to those plans, we falsely believe that it is intervention. That being said, a few weeks after I revealed the rouge flower's hardy lifestyle, we in Pine Bluff, Arkansas, were on the business end of a seven-inch snow event. And there is the camellia, laughing up its crimson sleeve, flashing its blooms amidst the frozen downpour. Prima facie evidence of its gritty mantra. I should only be so tough.
N O T E S:
Nikon D200 / Nikon 18-70 G Zoom / Hand held.

Friday, March 14, 2008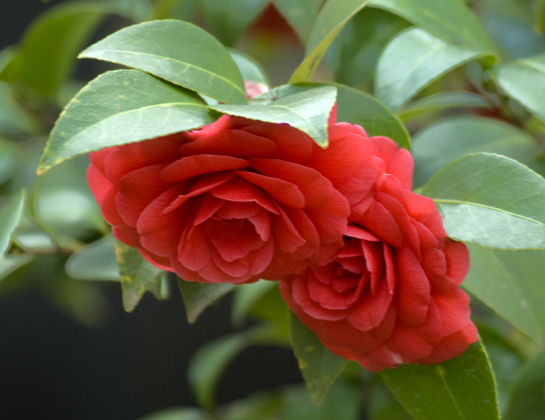 Snow, schnow.... I will not be denied.
One week after being inundated with snow, the killer camellia continues on its genetically programmed course. We should be so tough already.
N O T E S:
Nikon D200 / AF Nikkor 80-400 f4.5-5.6 D / Post processed in Photoshop CS3 Extended.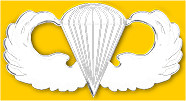 Click the jump wings
to see the previous Photo of the Week. . . .