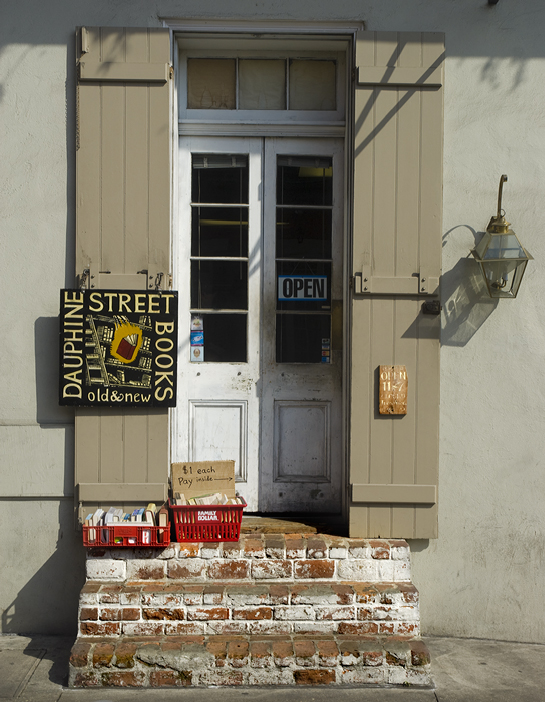 Sunday, June 1, 2008
Label this as something you don't expect to see.
But then considering where it is, the French Quarter in New Orleans, you probably should expect to see things you don't expect to see. Even better, the afternoon sun in April could not have been better. Just enough sun angle, creating just the right shadows to define what we see.
At first glance, there is confusion and yet more improbability. The sign says "open," but there are no door knobs or handles to facilitate entrance. Perhaps they expect you to stand in the middle of the street and blurt out, "Beam me in Scotty." Turns out, this is a former side entrance. The front door is 30 feet or so to your right as you look at the image. Architects call it adaptive reuse.
The proprietor must be a trusting soul. Had I not been worn to a frazzle, I would have probably engaged said entrepreneur in a conversation to verify this suspicion. Aching feet overwhelmed curiosity in this case. I am still casting nasty aspersions upon myself walking away after the shot.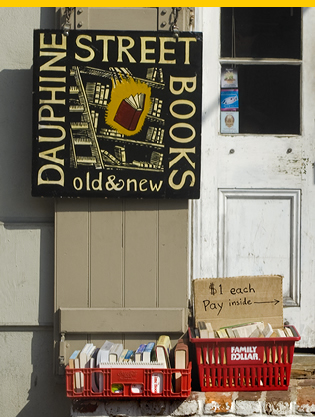 The handmade store sign and field-expedient point-of-purchase display are perfect for the location. One rarely sees a bookstore sign with a book doing a Batman imitation. The books, for the most part, are a collection of things to read while gracing the porcelain throne. Objects of temporary curiosity. Nary a resident of the New York Times best seller list was ensconced in the display.
On second thought, perhaps the whole scene is de rigueur for the environment in which it resides. Frank Lloyd Wright said a building should look like it belongs in its environment. If any arrangement ever looked like it belongs in its environment, this is it. It made me smile and it made me stop. Sometimes, when you are hoping for the unexpected, you aren't disappointed.
N O T E S:
Nikon D200 / AF-S Nikkor 18-70 f 3.5-4. G ED / hand held /
Post-processed with Photoshop CS3 Extended and Genuine Fractals Print Pro.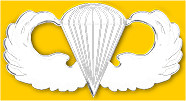 Click the jump wings
to see the previous Photo of the Week. . . .