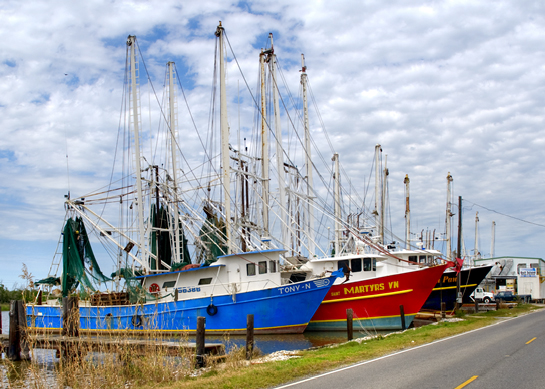 Sunday, July 13, 2008
This bizarre on-street parking arrangement is in Dulac, Louisiana. Don't hang your head too far out the window while you are cruising this boulevard. Your noggin could collide with an anchor, which would always be the winner in such a confrontation.

The Google map shows the road ending at Dulac. The map is wrong. Just a few miles down the road is Cocodrie, Louisiana — and the road definitely ends there. Next stop: Cuba.
If you have a hankering to see shrimp boats, you can get your fill at warp speed in Dulac. The town, like many in South Louisiana, is built around a brackish carotid artery: the bayou. They probably have more drawbridges per hundred people than anywhere else on the planet. I stopped counting at four. I wonder if Guinness has a record for that. If so, Dulac should be a hot contender for top honors.
These craft apparently occupy the upper strata of the Dulac shrimp boat pecking order. They are attractively painted and well maintained. You see others that would probably be dangerous crossing Grandpa's stock pond, much less dealing with the harsh conditions encountered in shrimping. Shrimping is the genetic code for the community. Virtually everything there revolves around the whims of a small crustacean and the environment in which it thrives. Or doesn't.
Shrimping hit the pop tune charts in 1951. Singer Jo Stafford recorded "The Shrimp Boat Song." (Remember, records ... those round plastic things with a big hole in the middle?) The tune, which lamented the worries and celebration of shrimper spouses and girlfriends, was immensely popular.

To hear the tune, click the black and blue
45 rpm disk.


And to see the lyrics, click the purple and yellow 33 rpm disk.
Perhaps all of this gives you an idea for dinner. If so, the good people of Dulac echo the sentiments of Fred Bartles and Ed Jaymes, "Thank you for your support."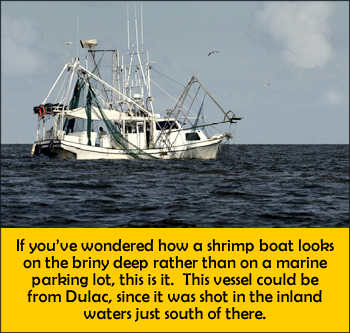 N O T E S:
Nikon D200 on both, hand held. AFS Nikkor 18-70 f3.5-4.5G ED on the parking lot. VR Nikkor 80-400 f4.5-5.6 on the smaller shot. Both post processed with Photoshop CS3 extended.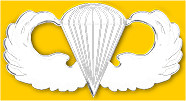 Click the jump wings
to see the previous Photo of the Week. . . .