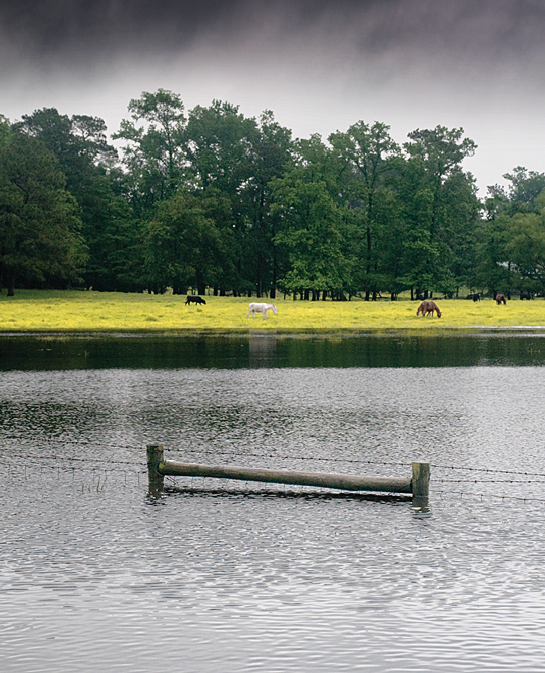 Sunday, May 10, 2009
Those of you who follow this weekly offering know that I prefer to foist a fresh subject in your direction each week. This week I blew it. I made a trip in the rain, and now I'm compelled to talk about it. My younger brother and I converged in El Dorado, Arkansas, this morning for Mother's Day. We joined our 93-year-old mother at her church. We were all smiles.
My trip to the reunion took a bit over an hour and a half in a steady rain — essentially the same wet, soggy conditions our end of the world has experienced on a daily basis for about the last three weeks or so. These damp, muggy circumstances are making it hard to think about anything else. While I fully realize that rain is indeed the hand dealt to us, and further, that there is no recourse but to play that slippery hand, my supplications to the Higher Power as of late are rife with some requests for relief. As Henny Youngman would have said, "It can'dt hoit."
Thus far, these supplications have been summarily rejected.
So, in a pounding rain I departed on the alternative route home, which ambles through Bradley County along a backroads path that crosses the Saline River north of Warren, a tomato town known affectionately to many as "War'n." The river was well out of its banks and flowing at a healthy clip, cresting not far from the bottom of the bridge over US Highway 63, formerly AR Hwy 15.
The flooded pasture you see above, still well populated with buttercups (our subject two weeks prior), is a mile or so north of the bridge. The water shown here is not backed up from the river. Rather, it is impounded in a low spot, making a temporary lake that is trickling toward the river. Never fear, my fellow friends of animals: The livestock is not trapped. There is higher ground to the right out of the photo.
The point is, we continue to have our knuckles rapped and stand humbly on the receiving end of soaking reminders that we are not in charge.
OK, I give. You win. You da' boss. Now please stop it already. Ah, er ... pretty please?
N O T E S:
Nikon D300 AF-S Nikkor Hand held, 18-135mm f3.5-5.6 G ED, 1/320@f 9.0, ISO 400, (focal length 70 mm, 35mm equivalent, 105mm) Post processed in Genuine Fractals Print Pro 6.0 and Photoshop CS4 Extended.

But wait! There's more! Bring your wading boots to our blog, Weekly Grist for the Eyes and Mind, and see more pictures and soak up more observations.
Click the jump wings
to see the previous
Photo of the Week.

Click the camera
for an index to every
Photo of the Week.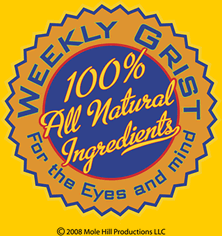 Most of the time, there is more to the Photo of the Week story than can be told in an essay. And most of the time there are more pictures to be seen. Presuming that some folk will enjoy being privy to this trove of information, I have created a blog, "Weekly Grist for the Eyes and Mind," where I am showing and telling "the rest of the story." There are also some blatantly commercial mentions of some of the things we do to earn our beans and taters. Click on the Weekly Grist logo and go to the blog. — J. D.