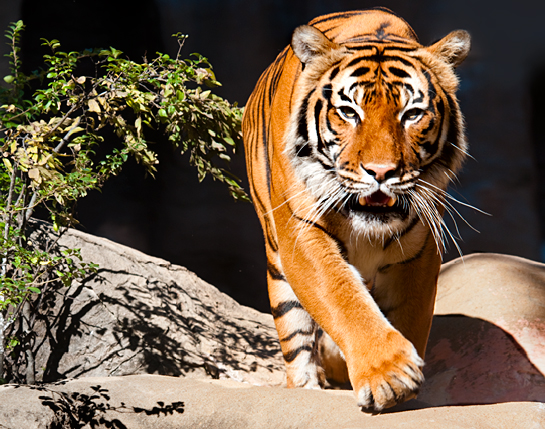 Sunday, October 18, 2009
Enjoy the glimpse of this fine Maylayan tiger. There aren't many left. According to some resources, there are between 600 and 800 surviving in the wild in Malaysia and Thailand. This tiger is a resident of the Little Rock Zoo, which provides the big cat and his (or her) partners with a no bars habitat created for tigers.
At the risk of sounding like a Grinch, let me assure you this is not Tony the Tiger. This is one of Mother Nature's perfect predators, successfully occupying the top of the food chain. In the wild, she kills only to eat and feed her young and attacks when threatened — essentially the same procedure we employ, though for the most part, we don't participate in the grisly stuff. She is a dedicated, caring, and protective parent. Some of us humans are. All tigers are.
Predators provide a valuable service. They help keep the balance of nature, well, balanced. Where there are no predators, prey animals can get out of hand. Ask some of the folks at Hot Springs Village, the nation's largest gated community, about the recent proliferation of white tail deer. They were everywhere. Feasting on gardens and flower beds. Creating traffic hazards and generally making well-honed nuisances of themselves. For these people the Bambi cuteness factor was long gone.
Deer are prey animals and a food source for predators. In the case of Hot Springs Village, there are no predators to keep the population in check. The population has lately been brought under control to some extent by the Arkansas Game and Fish Commission enlisting the help of skilled bow-hunters to take the place of natural predators. The venison harvested by the archers is properly butchered and donated to food banks for the needy. Since man is the ultimate predator, I surmise that is most appropriate.
Regardless of the admiration or contempt with which we perceive God's critters, they all fit into a grand scheme. The chase to understand that grand scheme is a continuing, centuries old pursuit for scientists and nature enthusiasts. However, for those of us not imbued with scientific credentials, it is no stretch to unequivocally state that we have messed with Mother Nature, and she in turn is visiting her ire upon us. Duck and run.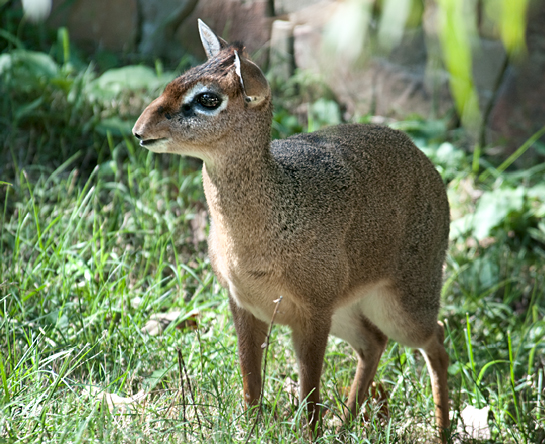 At the other end of the size and ferocity scale from the Malayan tiger is another resident of the Little Rock Zoo, the Kirk's Dik-dik, a small antelope. Folks, I am not making this up, and despite my occasional venture into raucous and bawdy conversational epithets, I make an honest attempt to keep these pages in such a condition that you can show them to your Momma. In any case, this little critter is an African native and tips the scales at 15 pounds when mature. There is some scientific conjecture that pairs of these antelopes are monogamous. And of course, on the "AWWWWWWWWWW" and cute scale, they are off the chart.
N O T E S:
Nikon D300, Nikkor VR 70-400mm f4.5-5.6 D ED, hand held on both shots. Tiger, ISO 200, 1/320 @ f7.1, focal length 185mm. Kirk's Dik-dik, ISO 200, 1/125 @ f5.6, focal length 400 mm. Post processed with Photoshop CS4 Extended and Genuine Fractals print pro.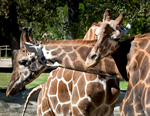 See more critters on our blog, a couple of affectionate giraffes, two kinds of otters, a pensive siamang and couple of curious lemurs, all from the Little Rock Zoo. Go to Weekly Grist for the Eyes and Mind to see these animals.


Click the jump wings
to see the previous
Photo of the Week.

Click the camera
for an index to every
Photo of the Week.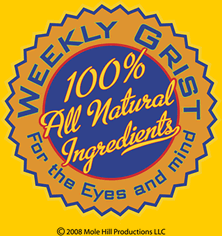 Most of the time, there is more to the Photo of the Week story than can be told in an essay. And most of the time there are more pictures to be seen. Presuming that some folk will enjoy being privy to this trove of information, I have created a blog, "Weekly Grist for the Eyes and Mind," where I am showing and telling "the rest of the story." There are also some blatantly commercial mentions of some of the things we do to earn our beans and taters. Click on the Weekly Grist logo and go to the blog. — J. D.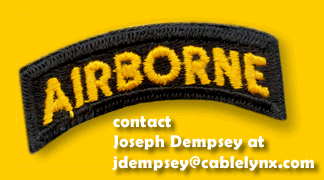 ---
---
---
---
---
---
---