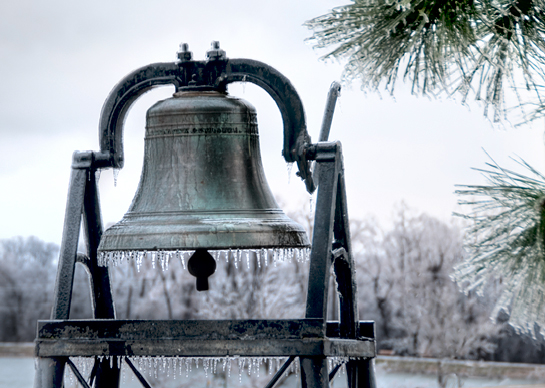 Sunday, January 31, 2010
Well, not really.... This ice crusted bell sits in the back yard, so to speak, of the Dexter Harding House in Pine Bluff, Arkansas, a visitor information center and the office of Pine Bluff Downtown Development, Inc. The house is a restored remnant of Dexter Harding's home, the first nail of which was driven sometime in the 1850-1860 range in Pine Bluff. The bell started its life journey in 1888 at Buckeye Bell Foundry operated by the Vanduzen & Tift Company of Cincinnati, Ohio.
My sketchy research revealed that the bell was originally installed on a riverboat — no doubt a stern-wheeler of that era. Eventually, by hook or crook, it landed as a plantation bell near Altheimer, Arkansas, and finally has found a permanent home at the Dexter Harding House. I wish I could fill in the dots between Cincinnati and the Dexter Harding House, but my efforts have come to naught thus far.
Suffice to say, this dearth of information does not diminish the image of the bell. After all, it's not just every day that one sees, or much less has the opportunity to photograph a bell with a cool patina and festooned by icicles for his friends' visual enlightenment.
There's not much of a moral to the story either, except to say that we (being contemporary human beings) are grateful to those (who preceded us) for preserving the bell and the house. Otherwise we'd be discussing something else on a day when it was appropriate to see and discuss the Dexter Harding bell and house.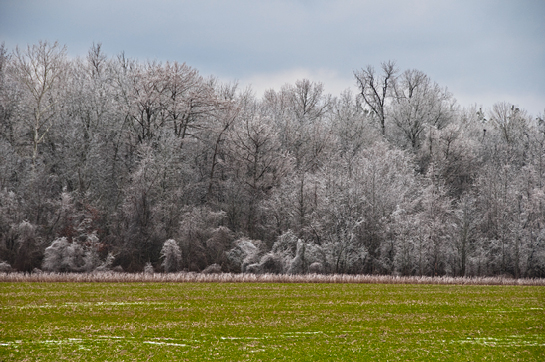 As one might guess, an ice storm provided the background props for the bell and for this field of newly sprouted winter wheat 20 miles or so to the south of the bell. As a plant, winter wheat is as tough as Russian boot leather when it comes to poo-pooing the elements. In another few weeks, this wheat will be ankle-high or better and well on its way to a starring role on your table as a biscuit, pancake, or sandwich.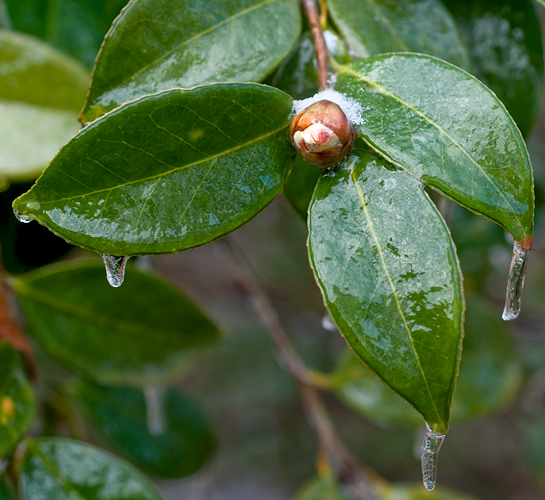 The Continuing Saga of the Camellia
Speaking of tough vegetation, right at two years ago we posted a story about one of the toughest members of Mother Nature's family, to wit: a camellia at my kitchen window. The ice storm that festooned the bell also covered the camellia with a frozen shroud, which, on lesser plants, is a death sentence. Not so with the macho-camellia. The plant, with its legendary resolve to survive, survived nicely, thank you very much.
As I was departing to embark on this trip, I ran across my friend, Jon Phillipi, who was taking his morning constitutional. After a brief exchange, we agreed that it would be meet for him to join the trip. There's more to this trip — and we photographed much of it, including some locomotives and a cousin to the camellia. See our blog link below. Jon is an award-winning jewelry designer, artist in many fields, auto enthusiast, and raconteur of the third magnitude. The hot air generated by the two occupants of the truck nearly turned it into a lighter-than-air vehicle.
N O T E S:
Nikon D100, ISO 200, tripod mounted, Bell and field- Nikkor VR 18-200mm f3.5-5.6 G ED, both shots composited. Base exposure, bell 1/13 @ f5.3; Field f7.1 @ 1/320; Camellia, AF Micro Nikkor 60mm f2.8 D, 1/15 @ f13; Post processed with Adobe Photoshop CS4, Extended and Genuine Fractals Print Pro.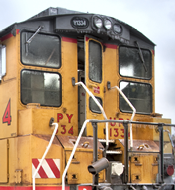 But wait, there's more:
Some locomotive pictures and the camellia's cousin await you on our blog, Weekly Grist for the Eyes and Mind. Click here to go there. How cool.



Click the jump wings
to see the previous
Photo of the Week.

Click the camera
for an index to every
Photo of the Week.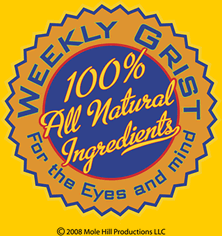 Most of the time, there is more to the Photo of the Week story than can be told in an essay. And most of the time there are more pictures to be seen. Presuming that some folk will enjoy being privy to this trove of information, I have created a blog, "Weekly Grist for the Eyes and Mind," where I am showing and telling "the rest of the story." There are also some blatantly commercial mentions of some of the things we do to earn our beans and taters. Click on the Weekly Grist logo and go to the blog. — J. D.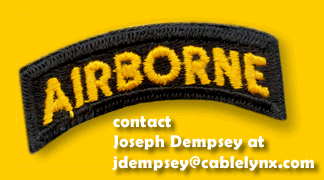 ---
---
---
---
---
---
---