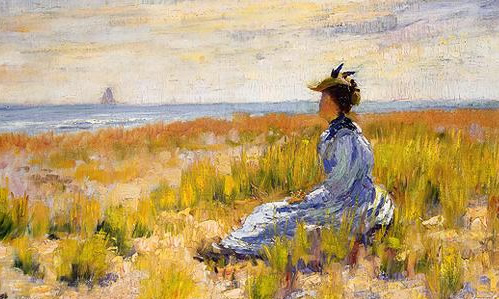 Our Favorite Teachers Were Forged
In the Crucible of Passion and Purpose.


Lineage 10-18-10

By Freddie A. Bowles
Fayetteville, Arkansas


Think back to your favorite teachers. What do you remember about them? Was it how they looked and carried themselves? What they taught? Or how they treated you? Most likely, your answer relates to the last question.
Of all of my teachers, I remember A. C. Moncrief. Passionate, inspirational, demanding, and funny, Mr. Moncrief taught my English, journalism, and physical education classes at Shawnee High School in the Mississippi River delta town of Joiner in eastern Arkansas. He was also coach of our girls' basketball team and adviser to the school newspaper staff.
Bringing Unity to a Community
In an Time of Social Upheaval
A University of Arkansas Razorback with two years of Peace Corp service, Coach Moncrief landed in the rural delta with passion and purpose. He united our small farming community through his love of sports during the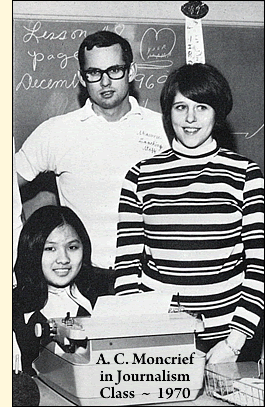 days of desegregation, a difficult time when most extra-curricular activities were slashed from the school calendar in fear of, I suppose you could say, "fraternization."
Coach Moncrief led our football team, the Shawnee Indians, to a pair of startling victories over our traditional rival, the Wilson Bulldogs. Shawnee's triumphs were especially meaningful because they came at the end of the rivalry and broke a string of twenty consecutive losses to the larger and richer school at Wilson. The year after I graduated, the two schools were consolidated at a new campus in the middle of a cotton field off Interstate 55.
Coach took a group of us to Memphis for three consecutive years to compete in the Quiz Bowl, a televised academic competition for journalism students — and we always returned for the finals. He even convinced our regional college, Arkansas State in Jonesboro, to donate athletic equipment to our track team so that our star runner could have a fighting chance to break the state record in the 100-yard dash.
It may seem a Herculean task for one man, but A. C. Moncrief found success through determined commitment to excellence in learning and excellence in leadership. His teaching career began with a clear vision of sharing his passion for literature, writing, and sports — and it worked. At Shawnee, we were the traditional number two school in Wilson's shadow, so we tried harder — a theme Coach borrowed from a popular Avis car rental commercial to inspire us to break the two-decade stretch of loses to the Bulldogs.
Thanks to Coach Moncrief and almost every single teacher in our tiny rural school, I decided to become a teacher, too. My calling to teach has not waivered since that spring day in 1970 when I joined my twenty-three fellow graduating seniors to bid the last, sad goodbye to Shawnee High.

I carry that lineage of good teaching and passionate caring and commitment with me now. The old school building is gone and many of its graduates have passed-on to the great schoolhouse in the sky, but the purpose it represents remains strong and vital — to inspire others to love the act of learning, to show them how to become the best they can be, and to encourage them to share their own purpose and passion with others.
A Theme Designed to Stem Attrition
In reflecting on my old school, I am reminded of a theme adopted by my friend Terrell Peace to guide his recent term as president of the Association of Teacher Educators (ATE). Terrell announced the theme, Re-Igniting the Passion and Purpose for Teaching, during his inauguration address in Chicago at the annual ATE meeting in February.
Terrell told us that during a discussion with his wife Nancy, who has taught for twenty years with the last twelve in first grade, they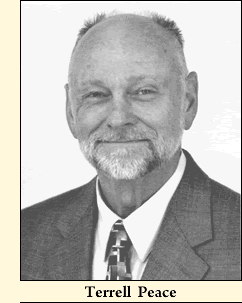 bemoaned the dire attrition rates for teachers — as many as 50 per cent leave the profession within five years — and wondered what might be done to break that dismal trend. Why do some stay and others leave, they asked. They surmised that a teacher's decision to stay in the classroom arises from a combination of two defining factors. One is maintaining fire, passion, and love for the profession. The other is nurturing the purpose, the vision, and drive for teaching.
Having found his theme, Terrell sent out a call for members and guests of ATE to consider sharing their own vision of how they interpreted the theme and to submit proposals for the summer meeting in Kansas City and the annual meeting in Orlando. Terrell created several strands in his call, including the "X-Factor" in teaching, 21st century learning, and self-efficacy. Over 200 participants arrived in Kansas City this past August to share their interpretations of President Peace's theme.
How Shall Your Dash Be Defined?
At the President's Brunch, Dr. Peace identified four benefits that will surely arise from passionate teaching:
1. Passion will allow us to overcome adversity. "It's about having the guts and the integrity to be true to your vision," he quoted from Bill Strickland's Making the Impossible Possible.
2. Passion will allow us to accomplish the extraordinary. Dr. Peace has created his own motto to illustrate this benefit: "Live passionately. Accomplish the extraordinary."
3. Passion will fuel our vision. Dr. Peace believes that passion makes our vision tangible and sensory.
4. Passion will determine what we do with our
dash—. Dr. Peace reminded us of each human's finite nature, our brief sojourn in time and space. He pointed out that we are born with no choice of when or where, that the beginning of a lifetime is a known factor. For each of us, life on earth is designated with a marker followed by a dash. Freddie Alexander Bowles, 1952-? We don't have a choice about when the dates enclosing the dash will be etched in, but we do have a choice about how we choose to use our time. It's best to use it wisely and with passion.
I pause and consider my life and my profession. I am both teacher and a student, presently engaged in another academic semester. With other members of a shared classroom, I prepare once again for mid-term and nine-week exams. No better time than now to remember those who inspired some of us to become teacher educators, or inspired others of us to choose a career path equally rewarding and fulfilling. Let us re-ignite our passion and purpose today.