Welcome, IEP Students
and Ms. Sera.
Hello, everyone, and welcome to Planet IEP. Some of you are already familiar with the site, and some of you are new, so this may be your first visit.
Planet IEP is, first of all, a learning tool for students at UCA who are trying to improve their English. It's also a community of people from all over the world who have been students and teachers in IEP or who have friends and families that read the website.
Please take the time to explore the site. Ms. Sera has sent me, Mrs. Bowles —the web mistress, several of your advice letters. You have really given her some good advice about eating French fries and making friends!
I really miss teaching in the IEP this semester. Many of you have not met me, but you can see me in Irby in the mornings because I teach two classes of German on Mondays, Wednesdays, and Fridays. You can spot me in a beret if the weather is cold! I hope you have a wonderful semester and learn a lot of English. Say hello and introduce yourself if you see me in the hall.
Ms. Sera's Class
Gives Her Advice.
Find out how Ms. Sera can cure her French fry addiction and how her new student can make American friends. Click this sentence to visit the Reading Room for some sound advice.
A Beautiful Island
and Two Peninsulas.
A special announcement for new stories in the Reading Room: Irmina Fabricio, Level Three Student from Cuba, writes about her home country of Cuba, A Beautiful Island, and Hun Loon, Level Three student from Malaysia, writes about his home country of Malaysia in Two Peninsulas. Many thanks to Irmina and Hun Loon for their contributions to Planet IEP.
Yuki's Essay is a Hit.
Yuki Hayata's essay about Japanese High Schools had the most readers in December, 2003. Congratulations, Yuki! You are a great writer!
IEP Babies.
Three new babies were born in the last few months to former IEP students Lucero, Ogi, and Nobuko. The first person to guess the babies' names gets Bonus Points in Ms. Sera's class!
More News
from Students from Afar.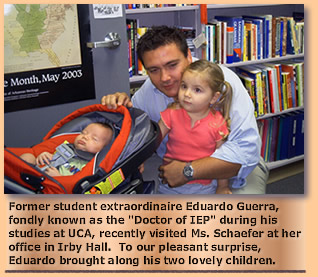 Planet IEP has received news from several "graduates." It's always nice to hear from students who have moved to another state or country or have returned home. Li Qiang is working for a US fireworks company in China, so he spends his time commuting between China and the US. Now that's a long commute. Mai Tashima has transferred to a school in Missouri to study design. She sends a goodbye to all her friends and classmates at UCA. Jungmin Park writes from Korea that her Mom visited Conway (we guess to visit Minsoo, Jungmin's brother) and that she is studying for the TOEIC test, a university requirement there. Good luck, Jungmin! Dr. Souidi Anasse is now working for the Arkansas Health Department. What a success story! From IEP to MD. Anne Chukova finished summer school at UCA and has returned to Russia. She sends her goodbye and hopes to return next fall to UCA. We hope so, too!
Got Boredom?
Check Out the Important Dates.
If you are getting cabin fever (boredom), then read the Important Dates information below. Several opportunities are offered on campus for students to get involved and beat the ennui.