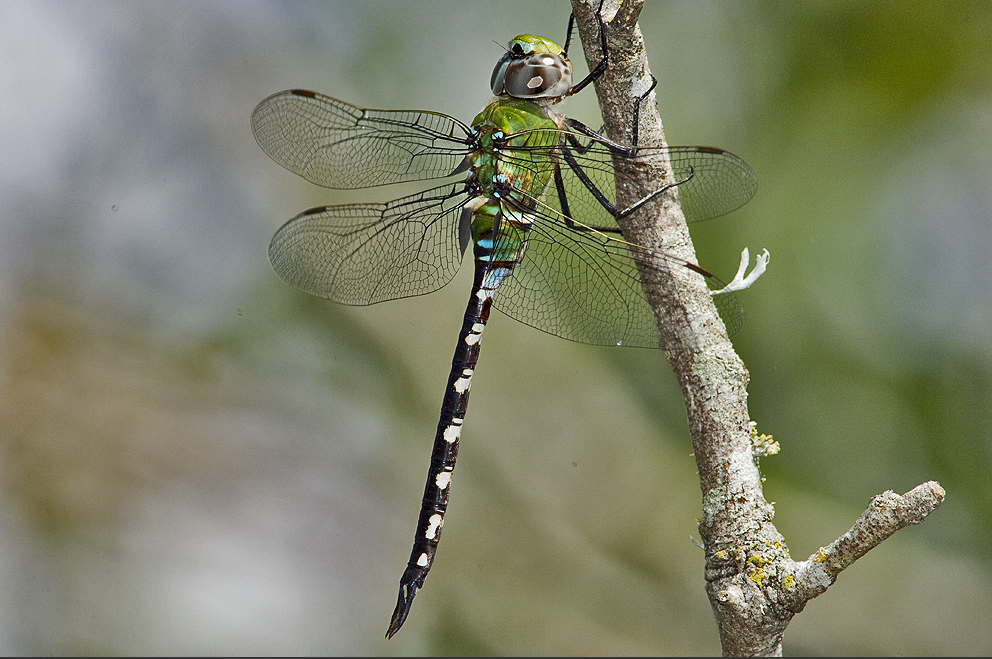 Amazon Darner ∞ Anax amazili
At Hornsby Bend in Austin, Texas • July, 2006
Photograph by Bob Thomas

By Bob Thomas
Posted on August 30, 2013, from Fayetteville, Arkansas

Once upon a time many years ago in July of 2006 — that's a long time if you're a Dragonfly — this huge, green, winged creature flew right in front of me as if to say, Hey, I'm here! Camera in hand, I was walking along a trail at Hornsby Bend in Austin, Texas, in search of Odonata when I spied the specimen on the wing. I followed.
The Dragonfly darted into some thick vines and branches about 20 feet to my left. Excited, I maneuvered into the thicket. After some loud stomping on sticks and the noisy moving of vines and branches, I was happy to discover that he was there waiting for me — a miracle!
Making as little additional movement as possible, I set the tripod in place and got the shot. Matter of fact, I got about 100 shots. I wasn't going to let the opportunity pass without gathering as many images as possible in hopes of a keeper of two. My best guess was that I was looking at a female Comet Darner, a species that had eluded me for years, so I was thrilled to get the photos. Nice angle and a great background.
Quickly, I sent my best image of the encounter to be vetted by the authorities. Shortly thereafter I got a response. And wow, wow, wow! I had misidentified the darner, a welcome error. In fact I had photographed an Amazon Darner, a species that has been observed in the United States only about a half a dozen times ever, and none this far North of Mexico.
Word spread quickly. The next day, wildlife photographers came racing out of the woodwork to see if they could capture their photograph of the beast called Anax amazili. As far as I can tell, my encounter was unique. Apparently the Amazon Darner did one flyover…. and then he was gone.
Lucky me!


Elusive and Rare was posted on Friday, August 30, 2013


Neon Skimmer | Libellula croceipennis


Pale-Faced Clubskimmer | Brechmorhoga mendax

Bob Thomas
You can reach Bob by e-mail at rthomasode@gmail.com