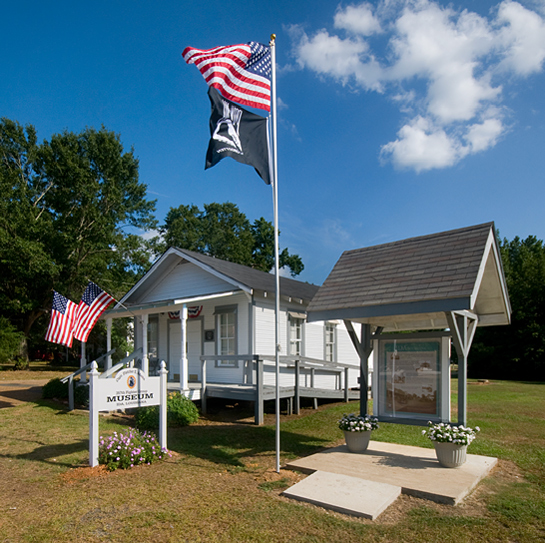 The Captain Fletcher E. Adams 357th Fighter Group Museum
~ Ida, Louisiana ~

Sunday, July 25, 2010
On Saturday, July 24, the population of tiny Ida, Louisiana, may have quadrupled. The event that set Saturday's population surge in motion happened 66 years ago on May 30, 1944, near Celle, Germany. On that fateful day, Captain Fletcher E. Adams' P-51B, the "Southern Belle," sustained enough damage from a German ME-109 attack that Adams had to bail out. His chute deployed and he made a normal descent. Unfortunately, he fell into the hands of some hard-core Nazis, who murdered him.
Captain Adams, raised in Ida, was 22 at the time and had left a pregnant wife at home. He was the leading Ace of his unit, the 357th Fighter Group flying out of Leiston Airfield in England. Captain Adams notched nine kills. His active career as a fighter pilot lasted just over three and a half months. He had taken his initial check rides in a P-51 on December 28, 1944.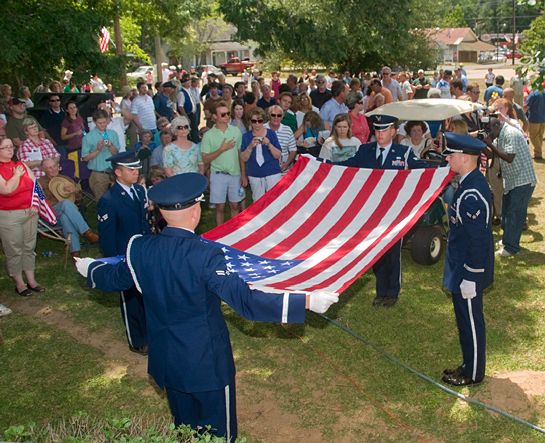 As part of the museum dedication, the honor guard from Barksdale Air Force Base presented the colors. Here the honor guard folds the flag for presentation to Aline Adams, widow of Captain Fletcher E. Adams.
Fast forward to the 21st century. Ida Mayor Smokie Maddox's son, Joey Maddox, had an idea. Why not turn the Ida Museum, a former post office and wood-working shop, into "the" museum of the 357th Fighter Group, Adams' legendary unit. The 357th was remarkable in its accomplishments:
It was the first P-51 unit to escort U.S. Army Air Corps B-17 and B-24 bombers over Europe.
It had the highest number of Aces, 43. Five of these were triple Aces and four were double Aces.
During two days of the Arnhem airborne landing in 1944 (the movie A Bridge Too Far), the 357th downed 50 enemy aircraft.
On one day, January 14, 1945, "The Big Day," pilots of the 357th dispatched 55½ enemy fighters in a little over two hours, a record that still stands among Air Force fighter units.
The unit racked up 695 combat air victories.
[For the uninitiated, an Ace is a pilot who has shot down at least five enemy aircraft in combat.]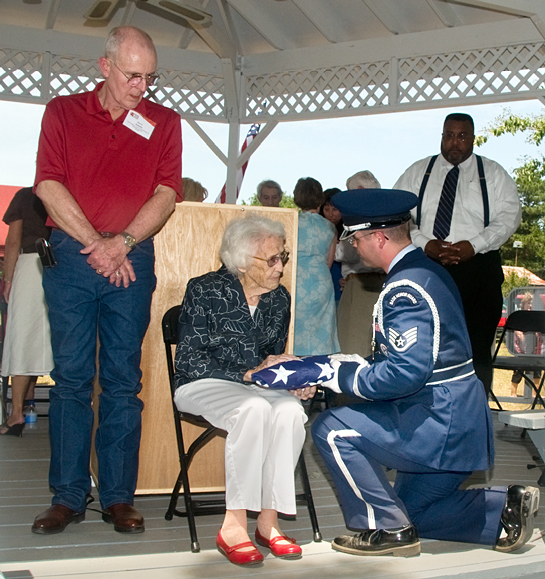 A sergeant of the honor guard presents the folded flag to Mrs. Aline Adams, widow of Captain Fletcher E. Adams. Jerry, the Adams' son (wearing the red shirt), stands behind his mother.
The museum was dedicated and opened on July 24. Four surviving pilots and one crew chief from the 357th attended the event. Pilots are General Frank Gailer, Jesse Frey, Joe Shea, and General Chuck Yeager. The crew chief is Pasquale Buzzeo of Minneapolis. In addition to Mrs. Aline Adams, two other pilot's widows attended: Millie Roberson, widow of Lt. Arval "Robie" Roberson, and Claudeane Sublett, widow of John Sublett.
A little over a year ago, Joey Maddox's idea for the museum got some serious aiding and abetting from graduate students Jenny Hay and Gentry Hanks of Louisiana State University, who were passing through Ida on their way to Little Rock for an academic conference. They noticed a sign on Carroway's General Store touting milkshakes. They stopped for a shake, but the store was not open. On their return trip, they dropped in again, but this time the milkshake machine was malfunctioning.
As a result of this milkshake mishap, the students met Joey's father Smokie and they talked. Turns out, Maddox's dream ran a parallel course with the academic pursuits of Hay and Hanks. Time for "let's make a deal." And so they did. Leading the charge, Hay and Hanks successfully applied for a grant from the Louisiana Endowment for the Humanities.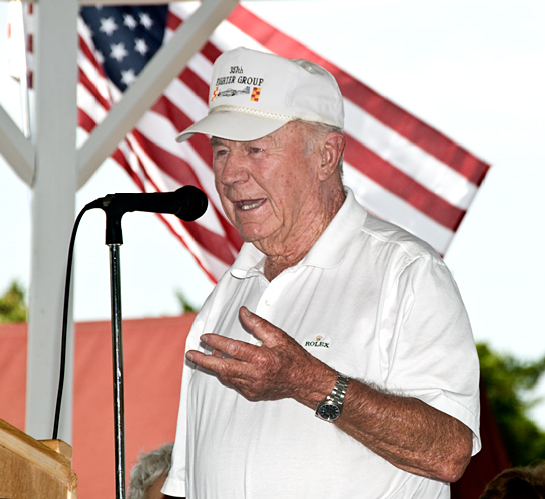 General Chuck Yeager, a double-ace plus veteran of the 357th and the first human being to pilot an aircraft which broke the speed of sound, speaks to dedication attendees. The West Virginia native is at home in a small town. "I came from a town of 400," he said. Commenting on his experiences, he observed that "there is no such thing as a clean war."
Local enthusiasts, 357th veterans and aficionados, and a host of friends came forward with artifacts and support for the museum. The work got underway and the museum happened. And the people came. Ain't life grand!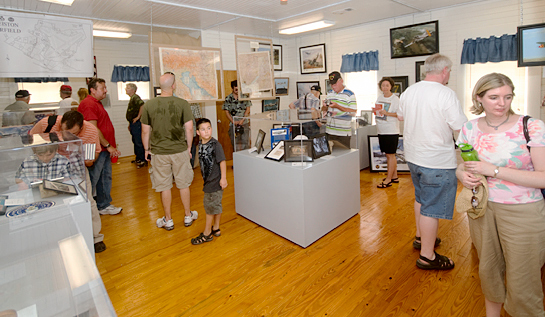 The museum opens and the first visitors sample a world class collection of 357th Fighter Group and P-51 memorabilia. Apparently someone dropped the ball and failed to tell Smokie Maddox and friends that you can't put a world class museum in a small town. Just as well. Smokie and his crew would have summarily poo-pooed that inaccurate and ill-placed suggestion anyway.
N O T E S:
Nikon D-300. ISO 200, all. Flag shots, Nikkor VR 70-400mm f3.5-5.6 D ED, with SB-800 flash. Folding, 1/200@f7.1; presentation 1/250@f11. Museum interior, Sigma 10-20 f4-5.6 EX DC HSM, with SB-800 flash, 1/60@f6.3. Exterior shot, tripod, no flash, same lens, 1/400@f10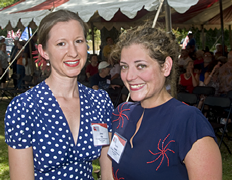 BUT WAIT, THERE IS DEFINITELY MORE.
See more pictures of the dedication and museum interior, an Ida store, les' girls who get grants, and a lot more at Weekly Grist for the Eyes and Mind. Click here to go there. Be sure and look for our weekly high-resolution gallery link at the bottom of the page when you get there.


Click the jump wings
to see the previous
Photo of the Week.

Click the camera
for an index to every
Photo of the Week.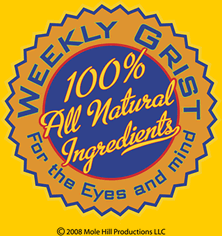 Most of the time, there is more to the Photo of the Week story than can be told in an essay. And most of the time there are more pictures to be seen. Presuming that some folk will enjoy being privy to this trove of information, I have created a blog, "Weekly Grist for the Eyes and Mind," where I am showing and telling "the rest of the story." There are also some blatantly commercial mentions of some of the things we do to earn our beans and taters. Click on the Weekly Grist logo and go to the blog. — J. D.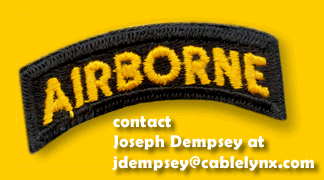 ---
---
---
---
---
---
---
---