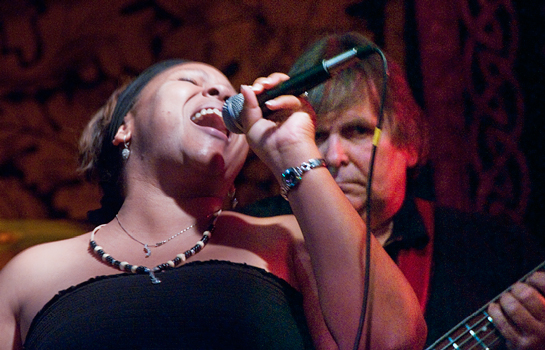 Velvet Red, a professional blues singer from Beale Street in Memphis,
belts it out with revival fervor. Leering in the background is Leo Goff,
a world class bass player, paying close attention to Velvet's lead.
Leo, a man of size, is not nearly as fearsome as his appearance.

Sunday, September 19, 2010
There are times one finds it nigh impossible to remain still. I'm not referring to the tormenting itch ushered in by boring sermons, self-aggrandizing C.Y.A. meetings, and other forms of stationary torture. I'm talking about raising the hair on the back of your neck, adrenalin-pumping, Jack Russell Terrier, Border Collie, whirling dervish, thrill ride excitement that crawls under your hide and effectively shuts down your "be-still" system. Mind you, these are the good times.
Last Thursday night at Neil's Bar and Grille, still ensconced in mid-town Memphis at 1835 Madison Avenue, I was temporarily infected with the aforementioned condition. The event was one of the twice-monthly Thursday night jam sessions sponsored by the Memphis Blues Society. I was in Memphis to photograph some museum pieces. Fortunately, the client's spousal unit is treasurer of said Blues Society and alerted us to the impending torrent of tunes and lyrics.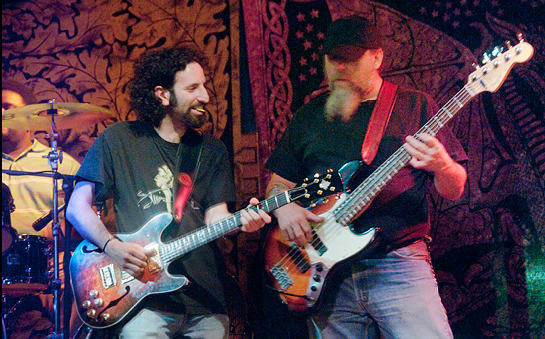 Guitarist Greg Gumpel and bass player "Evil" have made a spiritual connection. Their brains and fingers are in lock step. The force (and the audience) is definitely with them.
The band was an impromptu aggregation of professional musicians, save the drummer, who is an I.T. guy. He held his own with the pros very nicely thank you very much. They were not playing what they were paid to play, they were playing what they wanted to play. The good stuff.
The "blues" have altered their genetic code and receptor neurons to communicate in a manner not known to mere mortals like the rest of us. Lest we trip over our own feet, we ought not attempt to explain this phenomenon. Rather, leave that exercise to the eggheads cloistered in academia, and rare back and pat your foot, nod with the rhythm, tap your fingers, and maybe even drag out the old air guitar. Euphoric moments like this are fleeting. Grab them while you can.
N O T E S:
Nikon D300 hand-held; ISO 3200, AF-S VR Nikkor 18-200 f3.5-5.6, 1/20 @ f5.3 all. Post processed with Adobe Photosop CS5 Extended and Genuine Fractals Print Pro.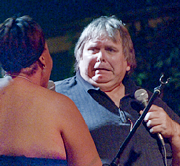 MORE PICTURES,
more blues at Weekly Grist for the Eyes and Mind as the story continues. Click here to go there. And be sure and click on "But Wait, there's more" after you get there for even more pictures from the session of blues.


Click the jump wings
to see the previous
Photo of the Week.

Click the camera
for an index to every
Photo of the Week.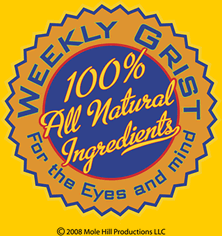 Most of the time, there is more to the Photo of the Week story than can be told in an essay. And most of the time there are more pictures to be seen. Presuming that some folk will enjoy being privy to this trove of information, I have created a blog, "Weekly Grist for the Eyes and Mind," where I am showing and telling "the rest of the story." There are also some blatantly commercial mentions of some of the things we do to earn our beans and taters. Click on the Weekly Grist logo and go to the blog. — J. D.