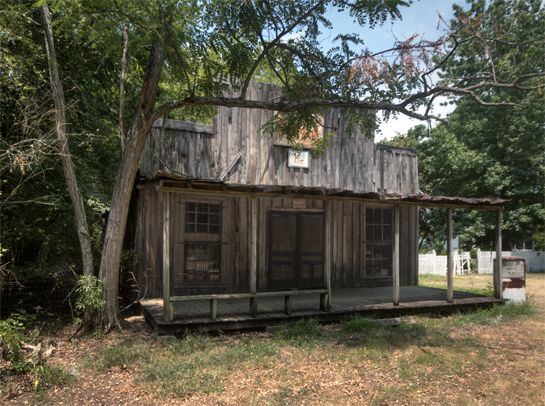 Thomas Grocery at Tarry
Sunday, July 22, 2012
While Tarry, Arkansas, was never a metropolis, back in the day — we're talking the first half of the previous century here — it was a bustling L.A. (lower Arkansas) town. Tarry had four stores, a school, a big gin, a lodge, a nice spring-fed fishing pond nearby — and probably an officially recognized town drunk.
That was back in the day. Today, with the old town bypassed by the main highway, you've gotta be going there to get there so to speak. A couple of the stores, long empty, and the gin building still stand. The feature of this story is Thomas Grocery. Back in 2009, we wrote about West Grocery, the other still-standing store. Find a another story on West Grocery at Weekly Grist for the Eyes and Mind.
We know for a fact that Thomas Grocery was alive, well, and selling goods in 1922. We strongly suspect that the store had been in business long before that. I stumbled across the Thomas Grocery in the early sixties, not long after my arrival here in LA. I dropped in on several occasions for an RC Cola and a Moon Pie, one of the basic southern food groups. We are told that the business ceased operation in the late eighties or early nineties. For its age, it appears in good condition. In its time, it was the post office, school bus stop, and gossip central for the community.
It's the same old story. The social and business dynamics of mid and late twentieth century lifestyles pulled down the left turn signal, whipped into the passing lane, and zoomed around small town America at warp speed. Unfortunately, more was left behind than stores, schools, and businesses. A lot of values that were drummed between the ears of children in Tarry and millions of other small towns were summarily abandoned — and today we are paying the price for that.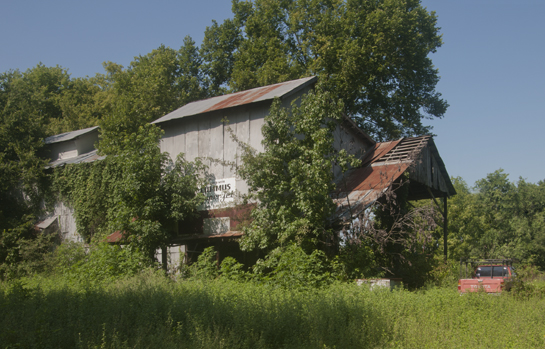 Not far from Thomas Grocery, at around three stories tall, what's left of the former Clowers Gin still stands, guarded by a healthy growth of LA weeds. Like most other unused buildings of any size, it is now a stopgap repository of jettisoned personal property, parked there before being finally junked, sold, or stolen.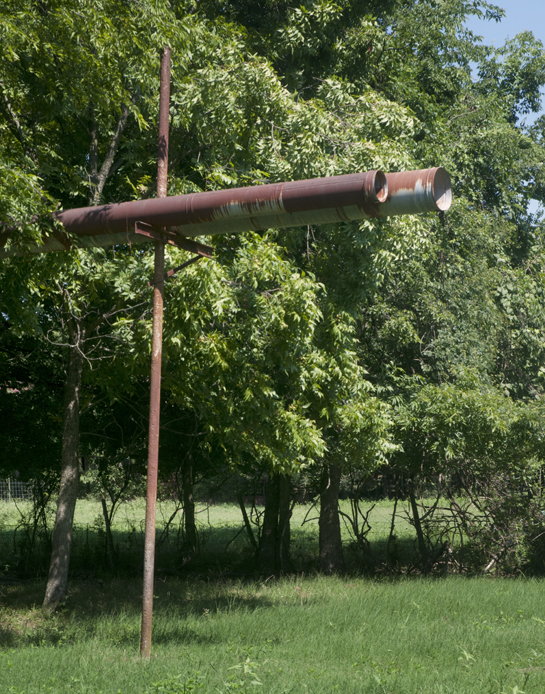 Although these tubes have the ominous appearance of paintball cannons that hurl projectiles the size of a volleyball at the neighbors, the original purpose was benign and utilitarian. See the explanation below.
As most people know, a gin separates cotton lint from cotton seed. It spits out seed on one side and lint on the other. But there is a third by-product known to me as "cotton trash," which consisted of stray leaves, boll parts, sticks, weeds, rocks, Prince Albert cans, or whatever else made it into the cotton trailers. A blower system in the gin picked up said trash and blew it to a trash pile, usually a hundred feet or more from the gin, where it was ignited. Those things would smolder for weeks and stank to high heaven. The pipes above are what's left of the trash transfer system at Clowers Gin.
What was Tarry is gone and won't come back. Tarry, like hundreds of thousands of similarly now decimated American communities, had something to offer that you can't buy. Hopefully, there is enough of it still floating around in the gene pool to make a difference. We simply need to nurture the genes.
PS: The fishing pond survives today.


N O T E S:
Nikon D300, ISO 200, tripod mounted, Nikkor VR 18-200mm f3.5-5.6 G ED; Thomas Grocery, 1/160@f10; gin, 1/250@f11; exhaust tubes, same as gin.

BUT WAIT,
THERE IS A BUNCH MORE
at Weekly Grist
for the Eyes and Mind:
a few looks at an unusual old barn, corn crib, and a determined tree.
Click go and enjoy.
Free to all, no-fat, no carbs,
no shipping charges. OK to view less shoes, shirts, or anything else.


Click the jump wings
to see the previous
Photo of the Week.

Click the camera
for an index to every
Photo of the Week.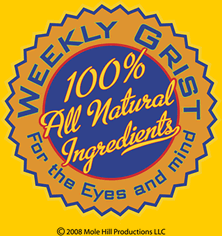 Most of the time, there is more to the Photo of the Week story than can be told in an essay. And most of the time there are more pictures to be seen. Presuming that some folk will enjoy being privy to this trove of information, I have created a blog, "Weekly Grist for the Eyes and Mind," where I am showing and telling "the rest of the story." There are also some blatantly commercial mentions of some of the things we do to earn our beans and taters. Click on the Weekly Grist logo and go to the blog. — J. D.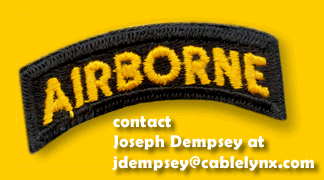 ---
---
---
---
---
---
---
---