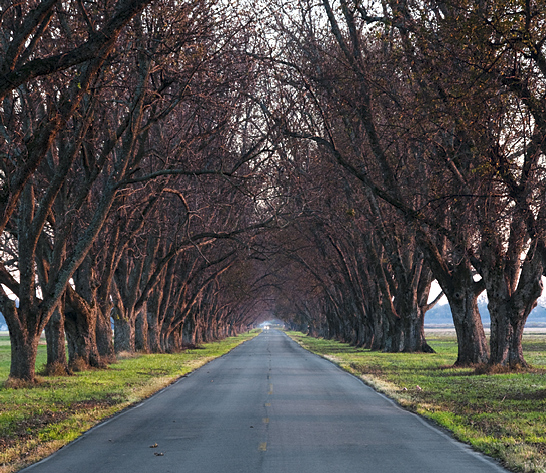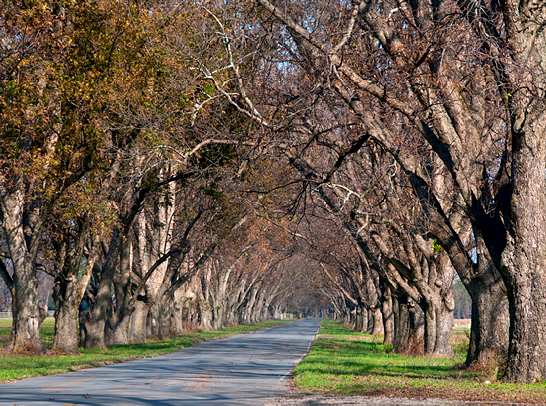 Sunday, March 24, 2013
A U T H O R ' S N O T E :
Here's another look at a scene available only in winter, the pecan tree tunnel near Scott, Arkansas. In warmer months, the tree foliage blocks out the interesting detail of the trees. The shots you see are from two succeeding days, from opposite directions — evening on the top and morning on the bottom. For Arkansas folks or others close enough for a day trip, I include the location of the trees. They are a sight to see 12 months out of the year and well worth the trip, bare or fully leaved. There are some good "Hubcap" hamburgers nearby as well.

See the link below to get the rest of the story at Weekly Grist for the Eyes and Mind, where I manage to back my truck into a ditch, which requires help to get on the move again.

Enjoy yourself,

Joe



Originally Published on Sunday, November 8, 2009
When I first saw these pecan trees, they were a mere 70 years old, give or take an annum or two. Now they have eclipsed 100 and are showing no evidence of adverse conditions past the ordinary wear and tear one would associate with staying outside all the time. The trees, quietly awaiting discovery, are rooted on either side of Arkansas Highway 161 south of the village of Scott.
There aren't many tree tunnels left, and this one is one of the best. It is not a high traffic location, so you can take your time driving through. Though the scenery is great and there are some nice agricultural touristy things and a popular eatery at Scott (William J. Clinton is partial to its offerings), Pigeon Forge it ain't, so you can relax and soak in all of the good stuff.
Depending on the time of day, the trees take on a different appearance, as is clearly demonstrated from the paired images above, which were captured yesterday, November 7. The vista of the evening shot is from north to south. The morning vista is from south to north. In both cases, you are looking in the opposite direction of the other shot, if that makes sense.
The trees are telling us a couple things, to wit: If you don't like what you see, check back later — and conversely, if you don't check back, you may miss what you like. This blows holes in the old "first impression" thingy. You may like the second look better than the first. Or, you could develop a neurosis trying to decide which is best. Hopefully not.
N O T E S:
Nikon D300, both shots tripod mounted, Nikkor VR 18-200mm f3.5-5.6 G ED. Morning (daylight) shot. ISO 200, 1/400 @ f10. Evening (dusk) shot, ISO 400, 1/25@f9.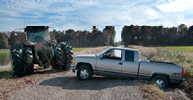 See more as we meander (again) around the Delta on our blog, Weekly Grist for the Eyes and Mind. See a once-proud plantation home, now crawling with vines, an old store building on a farm, some colorful rail cars, a stand of trees in water, and a large John Deere tractor attached via chain to the front of my pickup.


Click the jump wings
to see the previous
Photo of the Week.

Click the camera
for an index to every
Photo of the Week.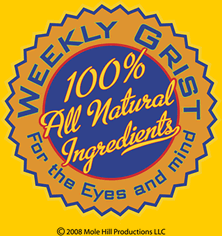 Most of the time, there is more to the Photo of the Week story than can be told in an essay. And most of the time there are more pictures to be seen. Presuming that some folk will enjoy being privy to this trove of information, I have created a blog, "Weekly Grist for the Eyes and Mind," where I am showing and telling "the rest of the story." There are also some blatantly commercial mentions of some of the things we do to earn our beans and taters. Click on the Weekly Grist logo and go to the blog. — J. D.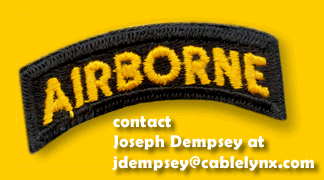 ---
---
---
---
---
---
---
---