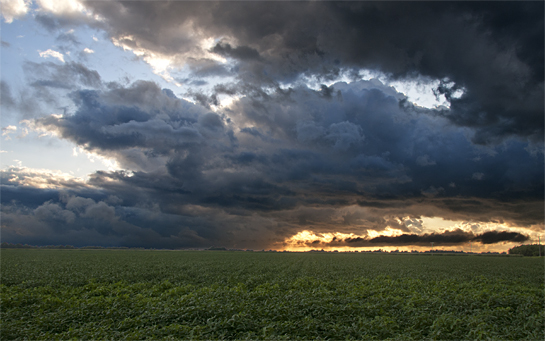 Late in the afternoon in July near Lake Dick, Arkansas, I saw this storm brewing. As I dismounted and set up the tripod, I whispered words of gratitude to the Higher Power. Yes, it was blind hog finds acorn, but the first step was leaving the comfort of your living quarters.

Sunday, March 10, 2013
I'm not so certain that I completely agree with the old maxim, "The best things in life are free." At the expense of sounding curmudgeon-like, I've found during the several years I have been on Mother Earth that a price tag is attached to just about everything. Granted, some "things" of high value come at a bargain.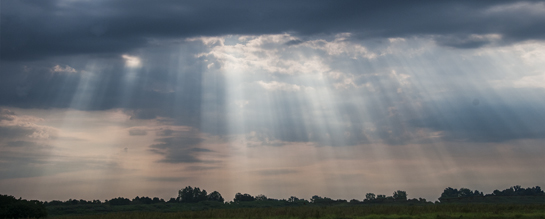 I had to pull off in the parking lot of a truck stop at Dardenelle, Arkansas, to get this shot after doing a 180 on a state highway. I saw the clouds cracking open to let morning sun stream through some remarkable clouds. I was about 10 minutes or so late arriving for a high school reunion on nearby Petit Jean mountain — and nobody noticed.
Most people will agree that aesthetic experiences resulting in dropped jaws and bristled back-of-the-neck hair do indeed have great value. Agree or disagree, that is the premise if this epistle. For those of you who have seen a good sampling of my images, you will probably agree I am a sky, weather, cloud, sunset freak. Save one, I shot all of the pictures you see at 15 miles or less from my home. The one that wasn't close by was on a trip — a target of opportunity.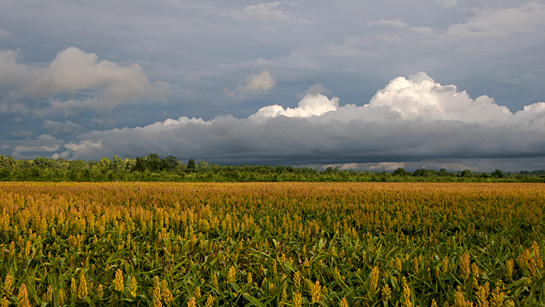 I was on my way to conduct some business (fortunately not on a tight schedule) late in the afternoon last July when I saw this scene. The crop is maize, and it is "pert-near" ready for harvest. The clouds and the angle of the sun were perfect for about five minutes, a millennium in atmospheric time-on-target. This is probably about four miles or so from my driveway.
The costs for these experiences were, in order of importance, getting off my duff and sallying-forth, a bit of gasoline, and some wear and tear on an already well-worn pickup truck. Given what I found, in the words of any checkered-sport-coat costumed salesman, "Boy, this is a bargain at twice the price."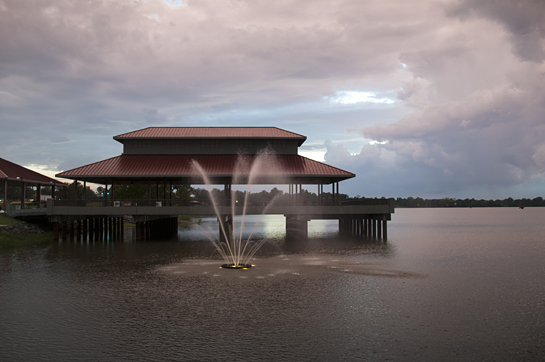 I went after this one pretty well knowing what I was going to get when I got there (if I got there in a timely fashion). I did arrive in the window of opportunity at Saracen Landing on the shores of Saracen Lake in Pine Bluff, Arkansas. This image is pure evidence that visual drama does not necessarily have to have bright sun and pretty blue skies. On this day our fair city was being passed over by the tailings of a weakening hurricane. Thank goodness for technology. After looking at the angry skies, I had a clue. A quick look at Internet radar confirmed my fondest suspicions.
The cool thing about skies, weather, cloud, and sunsets is that they are original equipment for all of us who are able to get outdoors. Further, it is not rocket science to decide a window of time when the most dramatic moments will occur. The caveat is, the longest specific scene you will see is usually measured in seconds. Most of what you see on this page went away shortly after the shots. My message: Spend less. See more.
N O T E S:
Nikon D300 Tripod mount all. At Lake Dick: VR Nikkor AF D 80-400 f4-f5.6, ISO 200, 1/200@f7.1 At Dardenelle, AFS VR Nikkor 18-200 f3.5-5.6, ISO 200, 1/800@f9; At maize field, VR Nikkor AF D 80-400 f4-f5.6, ISO 200, 1/400@f6.3; At Saracen Landing, VR Nikkor AF D 80-400 f4-f5.6, ISO 320, 1/13@f4

SEE MORE
skies, weather, and clouds
at Weekly Grist
for the Eyes and Mind.
Still close to home and cool,
on a budget.
Click to see and enjoy
more of the "elements."

Click the jump wings
to see the previous
Photo of the Week.

Click the camera
for an index to every
Photo of the Week.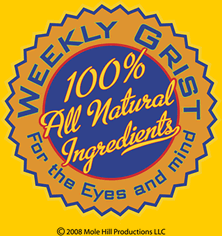 Most of the time, there is more to the Photo of the Week story than can be told in an essay. And most of the time there are more pictures to be seen. Presuming that some folk will enjoy being privy to this trove of information, I have created a blog, "Weekly Grist for the Eyes and Mind," where I am showing and telling "the rest of the story." There are also some blatantly commercial mentions of some of the things we do to earn our beans and taters. Click on the Weekly Grist logo and go to the blog. — J. D.