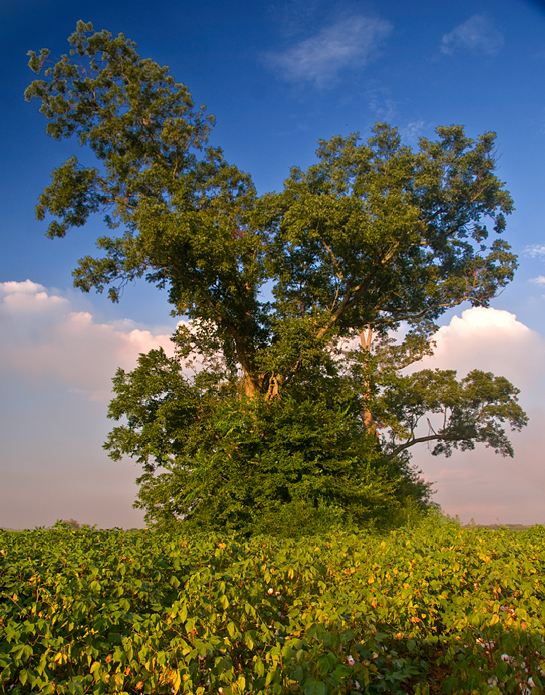 Sunday, August 29, 2010
During turbid late summer months, you could sell shade in the Delta, provided you could figure out a way to deliver and collect. In populated areas, shady spots in parking lots are prized and sometimes bitterly contested, particularly those which offer a respite from scorching late afternoon rays. Scurrying for shade, however, is nothing new in the South. It started long ago.
Our rural forbearers similarly coveted shade. And that gives rise to the easiest way to spot an old abandoned "home place." The shade trees are still there. If you cleared land for your family farm, you left a few shade trees around the house site. If your land was already cleared, you looked around for a place where a tree or two might be left to build home sweet home.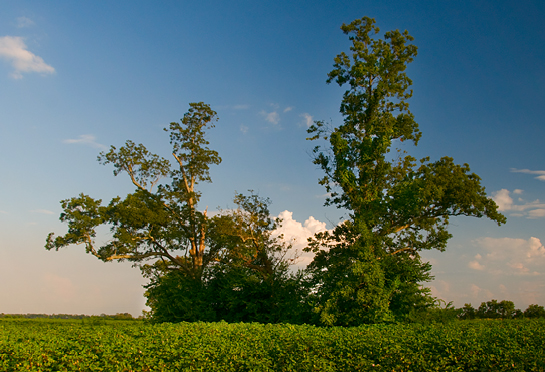 When you see trees like these on Townsend Road, west of Tamo, Arkansas, in the middle of a field of cotton, beans, corn, milo, wheat or other crops, imagine a house, a well, a chicken house, a barn — perhaps two barns, one for mules and horses and another for cattle — and last, but certainly not least, an outhouse. Also imagine a couple of dogs, some house and barn cats, and a family of humans. Because it's almost certain they were all there. Most former residents agree that such upbringing "builds character."
In many cases, the old place was left standing, when deaths, foreclosures, or other compelling conditions created the need or desire for the residents to move to "town." Initially, the home places were not plowed or cultivated. After all, it was — was being the operative word — "home." Over the years the buildings crumble and the crops come closer to the still standing shade trees until finally, the trees are the only remaining vestiges of the former residents.
It appears that farmers draw the line at felling old home place trees, since you see them by the hundreds throughout the Delta and the rest of the agricultural south.
But look fast and look well . . . . The genre may not last much longer.
N O T E S:
Nikon D300, ISO 200 for all; wide tree shot, AF-S VR Nikkor 18-200 f3.5-5.6, 1/200 @ F 7.1; Second tree shot, same lens, also F 7.1 @ 200. There was a good breeze moving limbs so multi-exposures were out. Composites made using faux-multi exposures in Adobe Camera Raw. Post processed with Adobe Photoshop CS4 Extended and Genuine Fractals Print Pro.

SEE THE SUNSET END
of this trip at Weekly Grist for the Eyes and Mind. Just when I thought there was nothing left to shoot, up jumps opportunity. Luck? Yes! See a couple of cool late-late afternoon pictures here.


Click the jump wings
to see the previous
Photo of the Week.

Click the camera
for an index to every
Photo of the Week.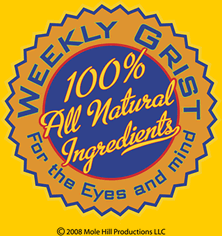 Most of the time, there is more to the Photo of the Week story than can be told in an essay. And most of the time there are more pictures to be seen. Presuming that some folk will enjoy being privy to this trove of information, I have created a blog, "Weekly Grist for the Eyes and Mind," where I am showing and telling "the rest of the story." There are also some blatantly commercial mentions of some of the things we do to earn our beans and taters. Click on the Weekly Grist logo and go to the blog. — J. D.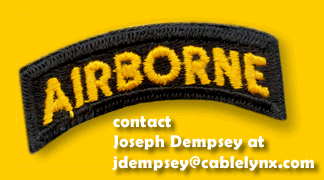 ---
---
---
---
---
---
---
---