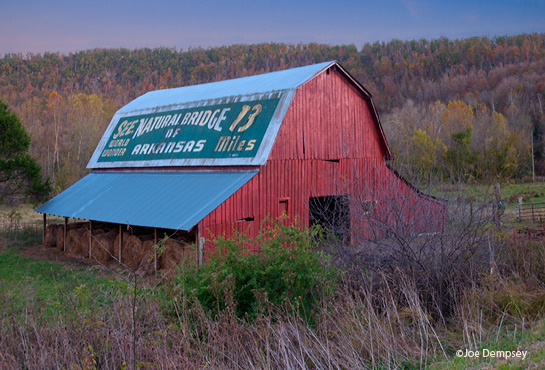 I'd like to have a dollar for every time this old barn on U.S. Highway 65 south of Marshall, Arkansas, has been shot. It has all the best things you want in an old barn: It's red, it has a sign on the roof, and you simply can't miss it. My picture joins the ranks of thousands before it. The message here is simple. A lot of folks appreciate a brush with reminders of days gone by.

Sunday, November 7, 2010
They're not building many wooden barns anymore. These structures, in many cases crafted from trees felled on the property, exude character and charisma unmatched by contemporary metal barns, which are put together from kits shipped-in from somewhere else.
I'm not saying modern barns are bad things. Far from it. They serve a useful purpose. They are there because they present the best economic solution for a job that must be done. When the old wooden barns were built, the same economics likely prevailed. But . . . .
It's a safe bet that the builders of these now venerated structures did not come close to guessing that their handiwork, decades later, would ascend to a position of high regard. Like the aforementioned forbearers, I cannot fathom that these current clunkers will be later venerated. But that will be for my grandchildren to decide. I will lose no sleep over it.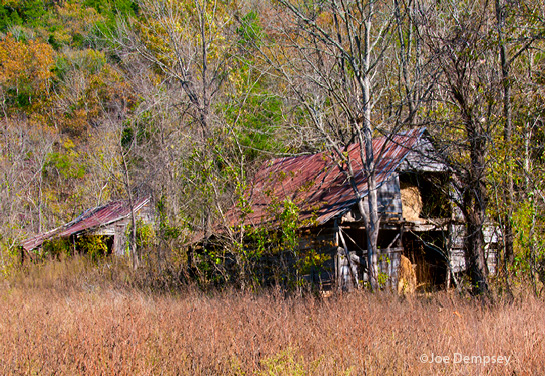 Way back in the boondocks, north of Lurton, Arkansas, I happened on this old home place. The house in the background is abandoned and overgrown. Although the old barn shows signs of aging, it is fully functional as a hay storage facility, just as it was originally ordained.
The essential purpose of a barn has not changed. It stores feed and equipment — and in some cases serves as a shelter for livestock, thus the piquant bouquet. In a frugal society, this portends well for old barn survival.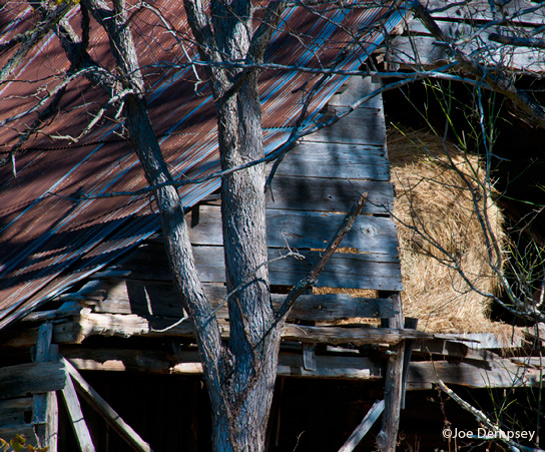 Here's a closeup of the barn above. Note the round bale of hay in the loft. I am told those suckers weigh in the neighborhood of 1,000 to 1,500 pounds. Be glad you were not part of the crew assigned to store this bale.
Those abandoned and still standing barns in rural areas are probably still standing because they are not situated in the path of "progress." See 'em while you can because they are collapsing every day.
N O T E S:
Nikon D300, ISO 200, Tripod mount all / Barn with sign, AF-S VR Nikkor 18-200 f3.5-5.6, 1/25@f3.5; Barn in field, same lens, 1/80 @f14; Closeup 1/80@f14.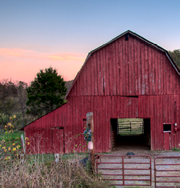 SEE ANOTHER PICTURE
of the red barn on Weekly Grist for the Eyes and Mind plus an old house with a neat old well, a bridge, and more.
Click here to go there.


Click the jump wings
to see the previous
Photo of the Week.

Click the camera
for an index to every
Photo of the Week.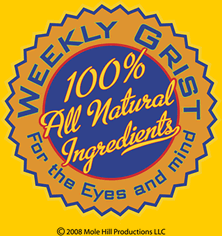 Most of the time, there is more to the Photo of the Week story than can be told in an essay. And most of the time there are more pictures to be seen. Presuming that some folk will enjoy being privy to this trove of information, I have created a blog, "Weekly Grist for the Eyes and Mind," where I am showing and telling "the rest of the story." There are also some blatantly commercial mentions of some of the things we do to earn our beans and taters. Click on the Weekly Grist logo and go to the blog. — J. D.