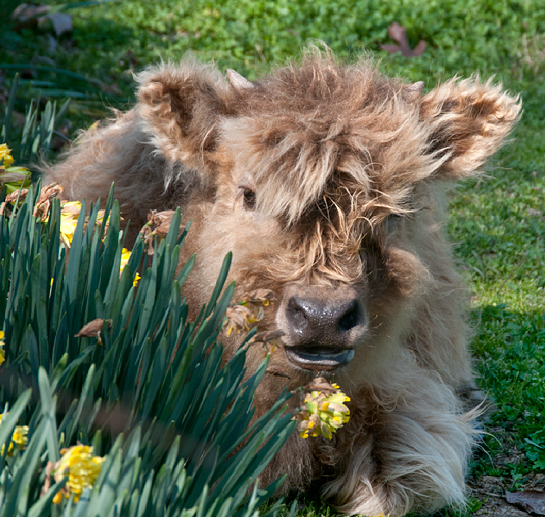 Comfortable in his surroundings and with people, this young Scottish Highland bull calf is not impressed by the presence of a large, pushy, itinerant photographer and writer. Can you blame him? It is a balmy spring afternoon and our bull is surrounded by his family in a flower bed with an abundant food supply close at hand. He could care less.

Sunday, March 20, 2011
I ran all the traps I could while following a new lead on a story and pictures this weekend, only to see the probability of successful news gathering fizzle out like a week-old root beer. It was not the first time.
Fortunately, I was not far from the farm of Jimmy Michael and his loveable, shaggy, Scottish Highland cattle. So I made my way down the gravel of County Road 77 in Grant County, Arkansas, to see if Jimmy's January prediction to see spring calves would hold true. It did.
When we first met a couple of months ago, I could see that Jimmy held his cattle in high esteem. Jimmy names each of his bovine charges, but the youngster pictured above is yet to be so tagged, so for all intents and purposes he will be known as "he" or "him." His cute factor is high — I would say right up there with a shaggy puppy. Just add a few hundred pounds or so. Definitely not lap material.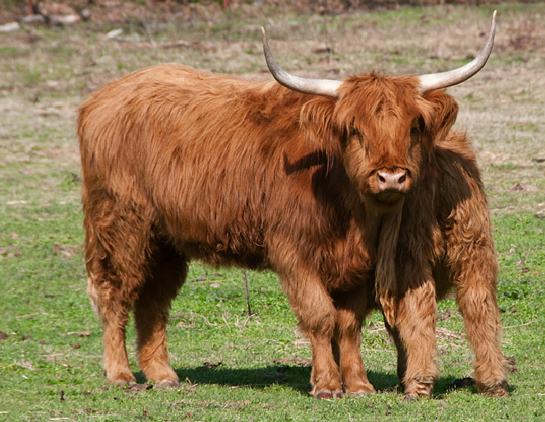 Out in the pasture, Blondie, one of Jimmy's cows, tends to her calf, a heifer (to city folks, that's a girl). It's an idyllic scene and one which removes us from the gloom and doom we see and hear on the news channels.
Spending a few moments in the country surrounded by trusting critters on a fine spring day provides therapeutic relief from the warp-speed of societal norms of the day. Geographically, the interstate, rife with breakneck speeders, road rage, cell-phones and crazy people, is just a few miles away. Spiritually, the distance can be measured in light years. Fortunately the trip is short.
N O T E S:
Nikon 300, hand-held, ISO 200 both. Standing calf, 1/250@f6; Blondie and progeny, 1/320@f9. Post processed with Perfect Resize Pro and Photoshop Extended CS5.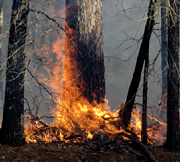 SEE MORE OF OUR CALF
at Weekly Grist
for the Eyes and Mind.
Also see a couple of cool moon-shots and the blaze of a "controlled-burn." It's lo-cal, high in fiber and you can show it to your mamma.
Take a gander!


Click the jump wings
to see the previous
Photo of the Week.

Click the camera
for an index to every
Photo of the Week.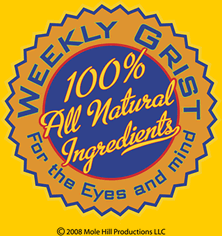 Most of the time, there is more to the Photo of the Week story than can be told in an essay. And most of the time there are more pictures to be seen. Presuming that some folk will enjoy being privy to this trove of information, I have created a blog, "Weekly Grist for the Eyes and Mind," where I am showing and telling "the rest of the story." There are also some blatantly commercial mentions of some of the things we do to earn our beans and taters. Click on the Weekly Grist logo and go to the blog. — J. D.