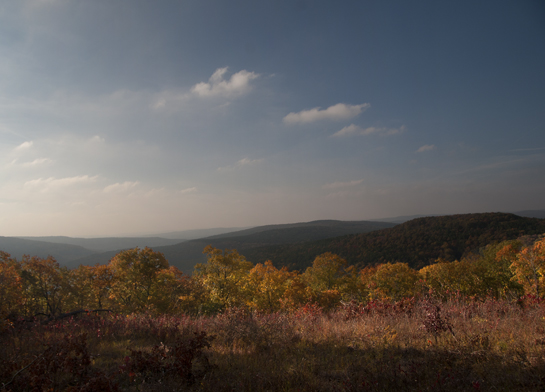 You gotta love it when a plan comes together. You are looking westerly here at the top of White Oak Mountain in Van Buren County, Arkansas. Recent overcast has burned off at precisely the right time, leaving a few fluffy remnants to properly decorate the atmosphere. The trees just off the crest in the foreground are slightly backlit against the mountains in the background. Eye candy if there ever was such a thing.

Sunday, November 6, 2011
I was anticipating a November 5th trip through the Ozarks like a hungry lion, ravenous after eyeing prey for the first time in a week. The forecast was for cloudless skies illuminated by a brilliant fall sun — textbook conditions for photographing fall leaves, which I was told by a reliable source were at or near peak. Hallelujah! Eureka! Zippitydoo-dah! Don't git no better'n this.
My first hint that I was sadly misinformed came in the morning with my first glance outside. Grungy, milky skies greeting my disbelieving eyes. "Oh well, it will burn off," I muttered under my breath.
After a lumberjack breakfast with a couple of my "fellow travelers," I headed out with high hopes for the burn off. But after a couple of hours and very few shots, things did not get any better. More muttering incoherently under my breath.
After two hours or so, I reached my ultimate target for the day, a county road starting from the north off Arkansas Highway 16 and running west of Rupert in Van Buren County, Arkansas. Dabney Road is what they call it now. My map calls it County Road 75. It meanders southwest and changes names several times before it pops out of the boondocks at Appleton onto Arkansas Highway 124 in Conway County.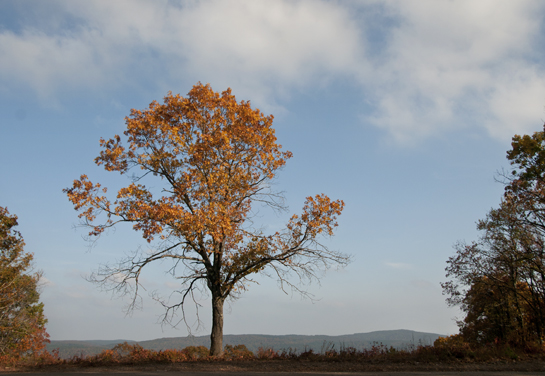 What a surprise! As I was tooling along White Oak Mountain Road, my eyes were glued west to see what was developing illumination-wise. I spied the scene you see at the top of the page and piled out of the truck to shoot it. I never bothered to look east. When I turned to head back to the truck, I saw the tree above and stopped in my tracks. Another lesson. Clearings on mountain tops are like railroad crossings. Look both ways dummy.
One of the names the road assumes as it winds through the boondocks is "White Oak Mountain Road." At that point it climbs the mountain and runs along the crest for a nice distance, offering some spectacular views. About the time the name segued to "White Oak Mountain," the overcast melted and I was forced to look in my side mirror and mutter under my breath, "Oh ye of little faith." It was the light, "the golden hour," for which photographers hunger and thirst. For the rest of the trip, ol' Sol' lit the way like gangbusters.
Shaking off my shame, I decided that if I was going to have an object lesson in faith, then having it delivered on the top of White Oak Mountain, surrounded by a display of brilliant fall leaves, would be one of my top choices. So I got my lesson in a preferred place. Now if I can only remember this lesson the next time. Given my human frailties, fat chance.
N O T E S:
Nikon D300, tripod mount, ISO 200, AF-S VR Nikkor 18-200 G ED all. Top picture 1/1600 @ f5.6; Tree picture 1/1600@f5. Post processed with Photoshop CS5 Extended.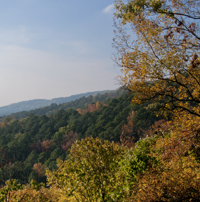 SEE MORE
of White Rock Mountain
and other fall foliage pictures at
Weekly Grist
for the Eyes and Mind.
It's just a click away.
No oak trees were harmed
in recording the images.
Guaranteed low-fat content.
No coupons required. Shoes and shirt not required to read and/or look. Click and go.


Click the jump wings
to see the previous
Photo of the Week.

Click the camera
for an index to every
Photo of the Week.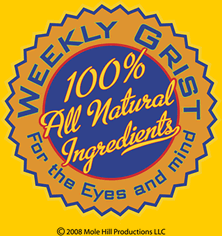 Most of the time, there is more to the Photo of the Week story than can be told in an essay. And most of the time there are more pictures to be seen. Presuming that some folk will enjoy being privy to this trove of information, I have created a blog, "Weekly Grist for the Eyes and Mind," where I am showing and telling "the rest of the story." There are also some blatantly commercial mentions of some of the things we do to earn our beans and taters. Click on the Weekly Grist logo and go to the blog. — J. D.