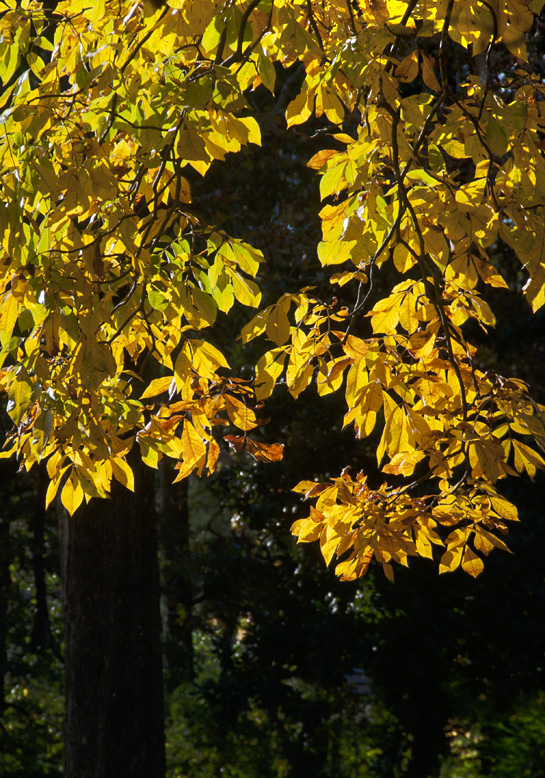 Sunday, November 20, 2011
I'm certain many of you will agree that most of the time hindsight is an exercise in buyer's remorse — "Oops! What was I thinking?" "I said what ...?" Or some other "You can't be serious?" moment. Maybe not. A question from my spousal unit pointed me in the direction of this discussion. She asked, referring to a large tree in our next-door neighbor's yard, "What kind of tree is that big one with the yellow leaves?"
"It's a hicker-nut tree," I replied, describing the tree in the southern mother tongue. Others may know it as a hickory tree. Bright yellow hicker-nut trees are easy to spot in the fall. After I answered the question, my memory bank activated and I remembered shooting back-lit pictures of the tree in late evening sun, which really accentuated Mother Nature's creation. I wanted to see those pictures.
The only trouble was I could not remember exactly when I shot it. The curiosity ratchet engaged and I began the search. It turned out to be pleasant hindsight. Several hours and many images later, I found the image you see at the top of the page. As I searched, I stumbled across many other images suffering from lack of exposure to the general population. One of which was the same tree and its neighbor in front of a lightning strike.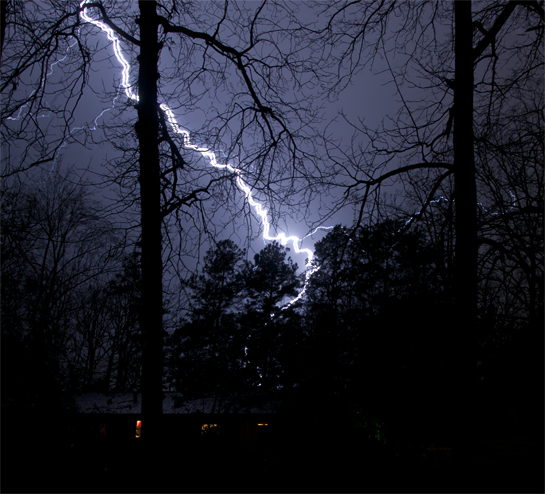 The tree to the right is the tree with the yellow leaves — six months later. Still naked from winter, the hickory and its neighbor increase the visual drama of a lightning strike. I shot this from my carport during an early spring thunderstorm. Getting shots like this is an exercise in patience. You set the camera on a tripod aimed and focused in the direction from which you expect to see the lightning, open the shutter, and wait. After the lightning strikes, close the shutter. This was one of more than 150 exposures to get a decent strike.
While hunting the original tree, I ran across the lightning strike and also found some late afternoon shots from atop Petit Jean Mountain at Arkansas' Petit Jean State Park. More of Mother Nature's handiwork.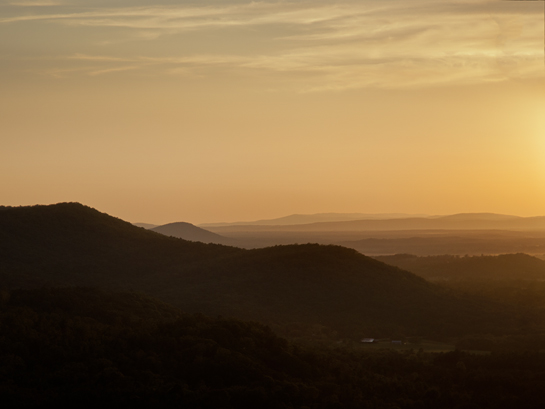 Looking west from Petit Jean State Park in early October of 2008. The atmospheric conditions are nearly perfect. Just enough haze to yield muted, defining bands of color while preserving enough detail that the viewer understands what he or she is seeing.
In this case, stepping back in time was a pleasant trip, which is not always the case. It gave me an opportunity to convert hindsight to foresight once I decided the subject of this week's discourse. Ain't life grand?
N O T E S:
Hickory tree, both pictures: Nikon D300 tripod mounted, ISO 200, Nikon AF-S VR Nikkor 18-200 G ED. Yellow leaves 1/160@f7. Lightning, 6.2 seconds at f8. Petit Jean sunset, Nikon D200, ISO 100, tripod mount, same lens, 1/350@f6.3. All post processed in Photoshop.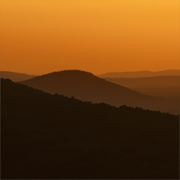 HINDSIGHT CONTINUES
at Weekly Grist
for the Eyes and Mind.
See more Petit Jean Mountain shots, an old well-shed, a pecan tree tunnel, and more. May contain nuts. Otherwise guaranteed phat-free and phun. Click and go.


Click the jump wings
to see the previous
Photo of the Week.

Click the camera
for an index to every
Photo of the Week.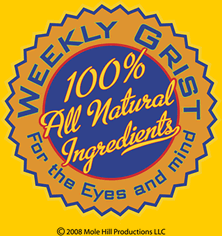 Most of the time, there is more to the Photo of the Week story than can be told in an essay. And most of the time there are more pictures to be seen. Presuming that some folk will enjoy being privy to this trove of information, I have created a blog, "Weekly Grist for the Eyes and Mind," where I am showing and telling "the rest of the story." There are also some blatantly commercial mentions of some of the things we do to earn our beans and taters. Click on the Weekly Grist logo and go to the blog. — J. D.