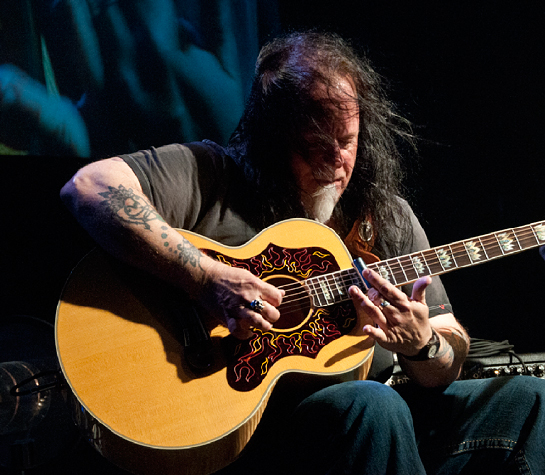 Bluesman guitarist Smokin' Joe Kubeck is making some fine sounds and has the attention of a large and appreciative audience at the 2011 Blues Music Awards ceremonies on May 5, 2011, at the Memphis Cook Convention Center. If you like blues, it was Nirvana — at least for a few hours. After that, you had to face Friday short on sleep. Small price to pay.

Sunday, May 8, 2011
The Blues per cubic foot was off the chart at the 2011 Blues Music Awards last Thursday. A talent-heavy slate of performances, sandwiched between award proffering to the genre's duly elected "best," made the six-hour plus program a top-of-the-mountain experience for Blues fans. And there were plenty of them. The room was packed. The Blues Foundation site will show you a list of award winners.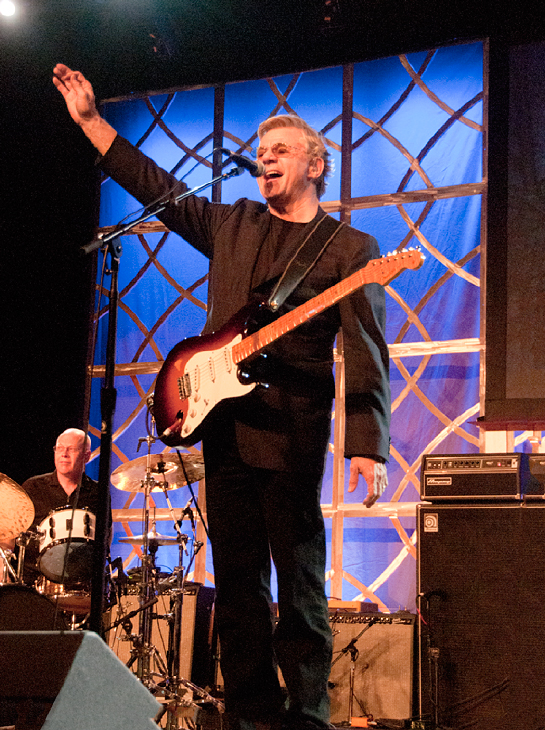 Steve Miller thanks the Blues Music Awards audience after he and his band concluded their set with Fly Like an Eagle. To my surprise, after their performance, the band gravitated to the empty table next to our group from the Memphis Blues Society. I had an opportunity to speak to Steve Miller. In a short conversation, I observed that his appearance and demeanor are more akin to that of a respected professor than a rock star.
The Steve Miller Band, led by — you guessed it — Steve Miller hisself, were the opening act for the program. The band were among the award nominees for their recent album, Bingo. They ended their set with the band's famous Fly Like an Eagle. Though the tune is not known as a blues piece, the blues audience was wildly appreciative of the song.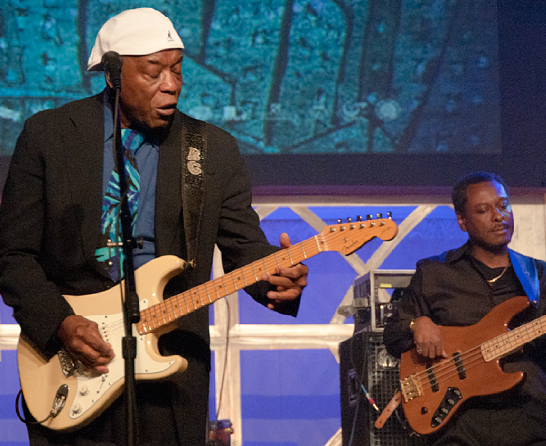 Buddy Guy at 74 still belts out an energetic blast of music, defying one to sit still. When Buddy plays, a foot must tap, a knee must jerk, a finger must wiggle in rhythm — that is, if you come to at least room temperature. As Buddy received several awards, he ruminated about his trip from cotton fields to the Hall of Fame. His fans are glad he made the trip.
Garnering five awards, Chicago Blues legend, 74-year-old Buddy Guy, rocked the house with his unique guitar style, including one long ride that left some of us gasping for breath. His performance included the Blues favorite Hoochie Coochie Man, first performed by Muddy Waters in 1954. Guy, admirably humble when he accepted his awards, gave credit for his accomplishments to Waters, Robert Johnson, and a respectable litany of his Blues predecessors. In Guy's case, greatness is sans ego. His awards included:
Album of the Year
Living Proof
Song of the Year
Living Proof
B.B. King Entertainer of the Year

Contemporary Blues Album of the Year
Living Proof
Contemporary Blues Male Artist of the Year

It's not often that one has the opportunity to share an enclosed space with a high concentration of the greatest in any venue. If you have your choice, make it Blues people.

N O T E S:
Nikon D300, AF S Nikkor 18-200mm f3.5-5.6 VR, ISO 3200 all; Smokin' Joe Kubeck, 1/80@f7.1; Steve Miller, 1/320@f4.5; Buddy Guy, 1/200@f5.3. Post processed with Perfect Resize Pro and Photoshop CS5 Extended.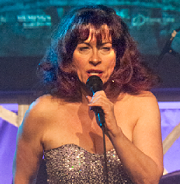 SEE MORE BLUES PICTURES
at Weekly Grist
for the Eyes and Mind.
Also you'll see some Delta flooding and a full-blown house fire.
Also while you are there,
check out our links to three galleries for 85 Blues Music Awards pictures.
Click and see more pictures and get another story.


Click the jump wings
to see the previous
Photo of the Week.

Click the camera
for an index to every
Photo of the Week.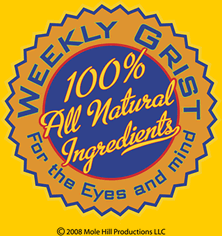 Most of the time, there is more to the Photo of the Week story than can be told in an essay. And most of the time there are more pictures to be seen. Presuming that some folk will enjoy being privy to this trove of information, I have created a blog, "Weekly Grist for the Eyes and Mind," where I am showing and telling "the rest of the story." There are also some blatantly commercial mentions of some of the things we do to earn our beans and taters. Click on the Weekly Grist logo and go to the blog. — J. D.