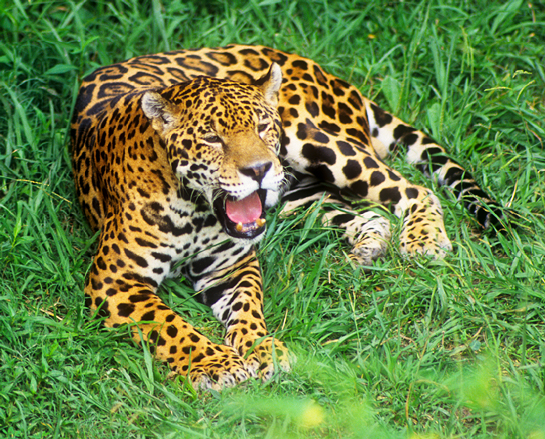 Sunday, August 15, 2010
Getting a shot of a jaguar is pure-dee luck. Photographers who go after them in the wild say they rarely see them in daylight since they are nocturnal by nature. In captivity, like this one in the Little Rock Zoo, they normally are drawn to shady areas and show you their rear. I shot this jaguar in 1993 (or was it '94?), which means, gasp . . . . film. The jaguar was cavorting with a partner and I happened along at the right time. Luck is a good thing.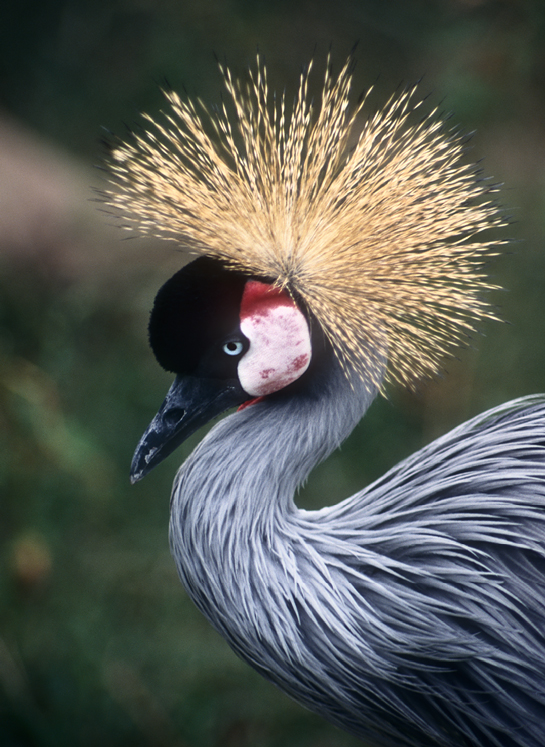 Literally, a golden "afro:" Further north, at the Memphis Zoo in 1993, I caught this African Crowned Crane. Most zoos have them and they are probably one of the most photographed critters in a given zoo, and for good reason as you can plainly see. Apparently, they adapt quickly to humankind around them and are not skittish. This one was closer than normal, and I had a long lens, which sucked him in the rest of the way for a tight shot.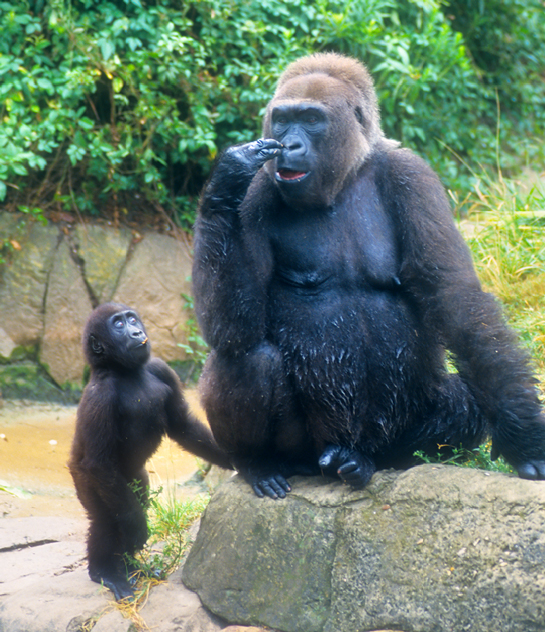 "Momma, you told me not to do that in public." This mother and child gorilla pair drew spectators like bees to honey at Audubon Park, New Orleans' fine zoo. It was advantageous in those circumstances to be well north of six feet tall and have a long lens. I was shooting over some spectators and through the rest of the crowd to get this shot.
When I shot the photos on this page, the camera was loaded with film and my beard was still black (well, mostly). Times, cameras, and beards have changed, but the critters are still at the zoo, so if you have not darkened the gate of a zoo lately, may I politely suggest that you do so. If you heed this suggestion, take a child or grandchild with you. If you have neither, borrow one or more from a relative or close friend. All concerned will surely benefit.
N O T E S:
Notes (as I remember them). Jaguar, Nikon F2, Nikkor 80-200 f2.8, Fujichrome; Crowned Crane, Nikon F2, 300 mm f 4.5, Fujichrome; Gorillas, Nikon N90s, 300mm f2.8 Tamron SP, Fujichrome. All scanned at 100% / 4000 dpi / 16-bit on a Nikon Super Coolscan 5000 ED and post processed with Photoshop CS4 Extended and Genuine Fractals Print Pro.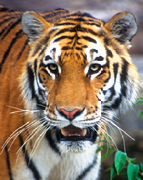 BUT WAIT, THERE'S MORE
at Weekly Grist for the Eyes and Mind. We continue to crawl through the archives and see a tiger times two, and a couple of cool sunsets that will never be duplicated. Click here to go there. At the bottom of the Weekly Grist page, be sure and click on BUT WAIT, THERE'S MORE and see our high-resolution gallery of the week.


Click the jump wings
to see the previous
Photo of the Week.

Click the camera
for an index to every
Photo of the Week.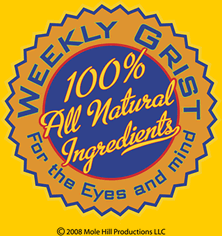 Most of the time, there is more to the Photo of the Week story than can be told in an essay. And most of the time there are more pictures to be seen. Presuming that some folk will enjoy being privy to this trove of information, I have created a blog, "Weekly Grist for the Eyes and Mind," where I am showing and telling "the rest of the story." There are also some blatantly commercial mentions of some of the things we do to earn our beans and taters. Click on the Weekly Grist logo and go to the blog. — J. D.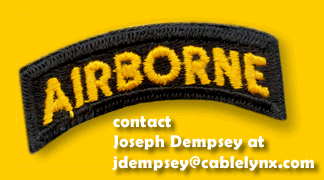 ---
---
---
---
---
---
---
---