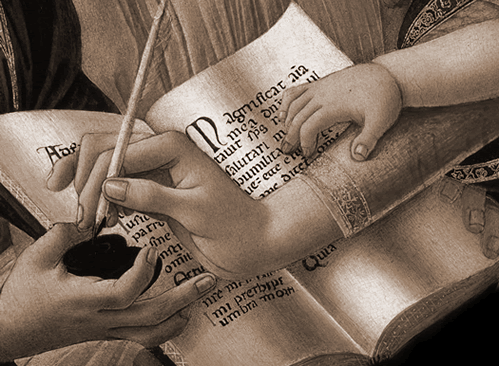 Light, Lucidity, and an LCD Projector:
Young Students Find an Inspiration
For Their Creative Writing Assignment.

Morning Glory 11-01-10

By Laura Ford Elrod
Little Rock, Arkansas


Twenty-five ninth-grade students sit in desks in English class on the fourth floor of Little Rock Central High School. A teacher wonders, What can I find to spark their creativity? What might help them form an insight to inspire a writing assignment? How best to illustrate the concepts of a main point and illuminating supporting details?
Step back a few months. Before the new semester began in August, core teachers (English, math, science) received Smart Boards and LCD projectors in their classrooms. I began projecting my bell ringers, student instructions, diagrams, and grammar exercises on the massive five-by-five-foot screen. I created my first PowerPoint to assist the students in a lesson. Like never before in my classes, the students could clearly see texts and images projected on a screen.
Return to the moment of inspiration. After seeing a spectacular photo of a morning glory taken by Ebenezer Bowles for a web feature, I shared with Mr. Bowles that I was going to show the photo to my students and ask them to describe it. A former English teacher, he said, "Do it!"
Students Spend about 15 Minutes
Developing the Main Point and Details.
So, in class the next day, I showed the image of the flower and provided my students with directions and questions to consider. The students took about fifteen minutes to create a poem, narrative, or paragraph describing or reflecting on the image of the morning glory. The objective of the lesson was for each student to develop a main point and then create supporting details.
For many, the main point was how unique the morning glory is as a flower. Most had never seen a morning glory, and they were intrigued with the image of it. Some students volunteered to read their work to the class. Then, each gave me his or her written piece. Several of the finished works are presented below for your enjoyment.
Since that lesson, flowers and plants have become a favorite visual motif in my classroom. Just now, the students are studying To Kill a Mockingbird by Harper Lee. In her text, this distinctly Southern writer refers to azaleas, camellias, a live oak, scuppernongs, and mimosas. To capitalize on my students' delight over the photo of the morning glory, I gathered a batch of images of many of the plants mentioned by Harper Lee in her novel. I showed them in class as a way to illustrate aspects of the novel and encourage critical thinking about literature and its connections to the natural world.
Making Textual Connections
The LCD projector is a great tool for helping my students to visualize the plants in the book. It also helps them connect aspects of a text to objects in the "real" world. Lee describes a character, Miss Maudie, who cultivates her garden and refuses to abandon her battle against nut grass. The students wanted to see a picture of nut grass. I was able to show them one I found on Google Images.
There is much chatter today about the value of technology in the classroom. Now that I have an LCD projector for everyday use, I can testify to its benefits for the teaching of English language arts. For one, I am able to show my students high quality images to assist their understanding and personal intellectual cultivation of a garden's special delights. The possibilities are almost limitless. So, we enter into a new journey of exploration in my classroom, inspired by a lucid photograph of a morning glory.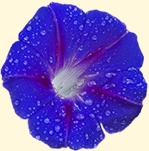 by Cameron Warren
A flower that sleeps on the ground,
waiting for the time to come around,
for the sun to shine its morning light
to create a beautiful sight.

Open, like the minds of many,
to give little ideas if any,
elegant, but from the ground it shall never part,
for it is weak and fragile as a heart.

As the sun falls into the night sky,
the flower of time closes its eyes.
With the chill of fall coming ahead,
the flower lies down, cold and dead.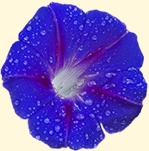 by Torrie Butler
The flower is full of rain.
It's so colorful it should be in a fashion lane.
It's fresh like a new day.
From far the dew makes it look gray.
The flower is blue so it's valuable.
It's the freshest in the garden, so casual.
Looking at this flower, it gives me joy.
So don't mistreat it like it is a toy.
Its radius looks like it can bring a new evolution.
Please don't hurt nature, and stop the pollution.
It's amazing how god make this look so beautiful.
This flower brings a new word to the dictionary:
Cuteful!!!!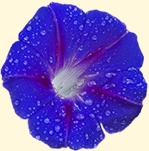 by Paris Simmons
Morning glory,
Fresh and moist,
How radiant and bright its color shows.
The bright color brightens my day.
Purplish blue glory I would say.
Only to await till the next morning,
Can I see this brightening glory.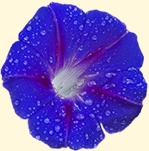 by Antoinette Lane
This flower I see is white and blue
that also has some purple too.
Water running off the petals, they store,
drip drop inside, outside and more.
This flower is called the "Morning glory."
so beautiful in sight within my story.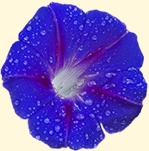 by Jorge Mandugano
The morning glory is a flower of beauty. You cannot catch it or keep it because it closes for good. The morning glory is like us. It sleeps at night and wakes up in daylight. The morning glory is not just a flower, but a thing of beauty and mystery. With its amazing colors, you can gaze at morning glory for hours.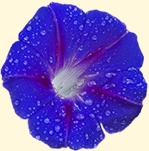 by Cassandra Perry
I am a beautiful flower.
I am a flower full of confidence.
I am a different flower.
I am a flower that never withers away.
I am a flower that beauty lays on the vine,
on its own standards.
I am a flower that starts my day off
with a smile and ends with a smile.
I am a flower with colors that trigger
a person's eyes.
I am a flower with blue leaves, purple
outline in the middle with a shape of a
Star that conquers my beauty.
I have a white inside that
shows my strengths.
I am Morning Glory… the flower
that glistens when
rain hits my soft blue skin.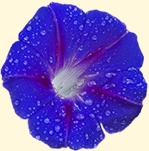 by Allison Speed
As a warm morning breeze blows over,
opens the Morning Glory.
Its colors so bright
from its rest of the night.
Its blue petals so vibrant
putting to shame a King's robes.
Its core as white as heaven's light.
In it a pureness so sweet,
yet along its edges the color of the ripest plum,
So deep you could lose your soul.
As a warm morning breeze blows over,
opens the Morning Glory.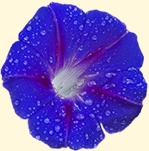 by Makiya Pitts
The flower is beautiful.
The flower is passionate: bright, bold, thin and
strong.
It's also a bold, powerful message.
Its bright, bold color shows its passion for beauty.
It sends a strong message to every living thing:
You can be bold and powerful and delicate at
the same time.
The flower shows that every living thing is
beautiful in some way.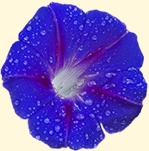 by E. J. Crawford
The flower brings out the true meaning of the real beauty of nature. The flower says that there is more to nature than dirt, trees, and leaves. It says to me that nature produces and makes beautiful things every day. Some people don't take the time to stop and observe. So the flower is expressing that if people just stop and sometimes take a look, nature always and constantly produces beautiful things.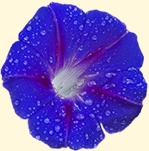 by Michelle Messenger
I see a morning glory
that is wet. I see blue
in the morning when the sun
is directly on the flower.
Sunset, it looks so
beautiful. The flower
mostly looks beautiful
in the morning.
At night, the morning
glory closes. But what
if the morning glory
closes at morn and opens
at night? I bet it
would look gorgeous
in the moonlight.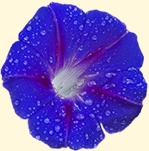 by Shahidah Tyson
A morning glory is a beautiful
thing.
It's beautiful how it's violet like
a grape.
It's white in the middle like
a twinkie.
It's wet all over like
a person getting out of the shower.
It opens in the morning like
a donut shop.
It has various colors like
A rainbow.
It has vines that are green like
The trees.
The ground is fertile like
a pregnant woman
It has a five-point star like
a star in the sky.
It's amazing how it caught
My eye.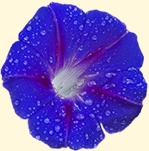 by Rudrecia Thomas
Glory on. Glory.
The Day has finally begun.
I looked and saw a flower.
The Morning Glory.

It has big, bright petals
the color of a playful blue
Outlined with a purplish-plum color.
The middle is like white cream filling.
As the water drops lay on the flower.
I see Glory on, Glory!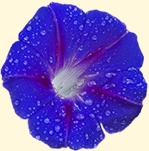 by Tyler Mann
What I see in the picture is a flower naturally, but I also see an example of the world. The blue shows all of the world. The purple shows the sadness and evil in the world. The rain shows reflection of people and their lives. The middle shows the light in the darkness and all of the good in the world. It talks about nature in a way that is cool. The rain and storm can make people's lives worse. Then after the storm there is that one thing that makes us say that it was all worth it, and the flower is that. The best thing in the world is the good after the bad.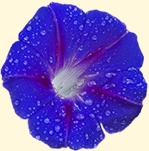 by Rehma Baig
The picture given is the picture of a beautiful morning glory. It is blue in color with shades of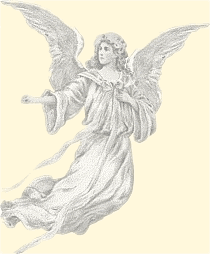 violet. By looking at the picture it looks like a little angel is coming out of the flowers and spreading light of hope and happiness. The flower looks fresh and it looks like it was dancing in the rain as it is covered with little droplets of rain.
The beautiful morning glory is trying to tell that nature is the most beautiful thing and God has filled it with a little bit of magic. The morning glory means that every little thing in this world is very special as these things make up our whole world.
The morning glory tells us that beauty lies in everything. It also tells us that we should always look at the bright side of life instead of thinking negative.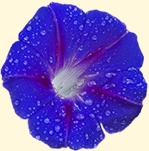 by Beth McMurtrey
"Mother!" a Kitten squeaked excitedly.
Mother purred,"Yes, dear!" Kitten flicked her tail at her mother impatiently.
"Come here! It's beautiful."
Mother walked over to Kitten and touched her nose to kitten's ear. "What is it Dear?"
Kitten looked at mother with bright green eyes."Look at that." Kitten flicked her tail at a gorgeous shining flower. "It's so blue."
Mother purred, "A Morning Glory. When the sun shows, they spread their petals like a baby bird spreads its wings." Kitten's eyes widened,"Wow," she sighed, "Is it always blue?"
"No, dear. They come in rainbows. See this?" Mother pointed with her nose to the center of the flower. "A star of purple and a dash of white."
"Pretty," Kitten cooed. "What happens when the sun's not out?"
"The flower stays hidden," Mother replied, "healing its faults, so it can be perfect."
Kitten didn't reply, just stared intently at the flower. Mother continued, "It looks as if it reflects the sky, a glorious blue and milky white, with a north star."
Kitten, genuinely curious, looked at Mother. "How do you know this?"
"Oh, dear," Mother smiled, "I've been around, I've been around."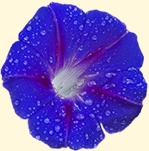 by Ashley Glason
I see a deep dark mesmerizing blue morning glory with little rain drops gently lying on its petals. I see an elegant flower just waking up from its morning sleep, gently resting on its roots and vines. When I look at this picture, I see a beautiful blue morning glory.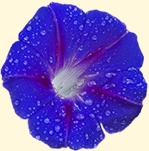 by JoHanna McNutt
There are plenty of flowers in the world, but only one has its own unique beauty, which is a morning glory. First, the color of the flower is gorgeous. You couldn't call it blue, and you couldn't call it purple, so the best name for it is blurple.
Next, when looking at this flower it could bring you to tears because it is so beautiful. Looking at it can also make you smile when you are not in a very good mood.
Finally, the only bad thing about the flower is that you can't pick it. It's so pretty that people would want to take it home with them. It would be perfect in a house.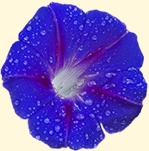 by Caleb McCrary
The morning glory is an exquisite flower. Its beauty is intoxicating. It is a wonder of life. This flower is magnificent like no other. Its name fits perfectly. In the morning it is open, and that is why it is so good looking. When it gets dark it closes up. When morning comes around again, it opens up and we can admire its beauty once more.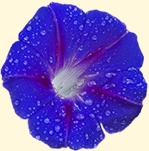 by Alicia Bre Ana Rohm
Morning Glories are so beautiful.
Only during the day,
reaching out its glorious petals
needing us to say,
it's so truly marvelous,
no one could really diss.

Glorious beautiful morning glories—
little bundles of shimmering bliss—
Original; pretty as the sight—
Resting; but only at night—
You're gonna like it,
even if you try not to with all of your might.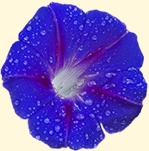 by Kaytlin Derrick
Beautiful Morning Glory,
It shines from the little rain drops,
sleeps during night. But, don't worry
it awakens in the morning,
showing its beautiful blue color.
Surrounding the Morning Glory are long
green vines.
If you look closely you may see
a little white.
Beautiful Morning Glory
is strong, pretty, and full
of truth.
Time for the Morning glory
to sleep.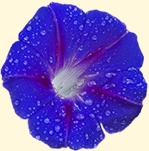 by Tionney Dillard
You're as blue as the night sky.
Water drips off your petals
like sweat coming off
a goddess's face.
Morning glory, you're as
pretty as can be.
Your sapphire color takes
my mind on wonders.
The center of this flower
shines like the morning
Sun.
Your vines green as
grass,
Oh morning glory, you brighten up
all of days.
A morning glory is the most precious
flower you'll see.
But if you wait 'till autumn to
see it, you will not because
it closes and hides like
a scared puppy.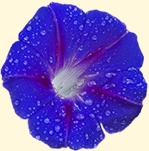 by Yahkenyan Duncan
What I see in this morning glory flower is a beautiful white light that will pull you in and have you in a daze. It will surround you around a violet blue and a pretty purple, full of crystal clear raindrops. This morning glory flower looks like an imperfect circle. The green leaves let the violet blue seem 3D, which makes this certain flower stand out and be different.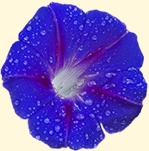 by Rasheka Freeman
What I see is a flower so fresh,
pretty and unique.
This flower is one that is so
magnificently neat.
This flower may mean nothing to
people, or maybe different things.
But Beauty, Love, and Care is what this
flower means to me.
One like no other, sort of rare, super tight,
and mysterious.
I have seen flowers with
passion but none so glorious.


Laura Ford Elrod
Laura Ford Elrod teaches ninth-grade English and a reading class at Little Rock Central High School, where she has served on the faculty since 2009. Laura graduated from Central in the bicentennial year of 1976. Before returning to her alma mater as a teacher, she studied English and dance, raised two sons with her husband, and worked as an instructor. She received her BA and MA in English at the University of Arkansas at Fayetteville. She taught at Parkview Arts Magnet High School in Little Rock as a dance teacher. Later, she served as an adjunct teacher of English composition at Arkansas State University in Jonesboro and at Pulaski Technical College in North Little Rock, Arkansas.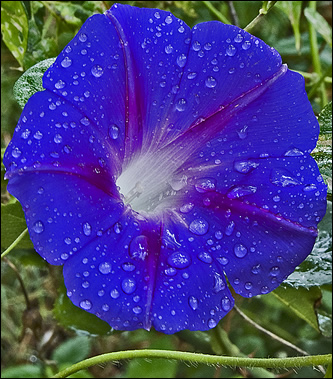 To see the original morning glory feature
that inspired the student creations,
click the blossom above.