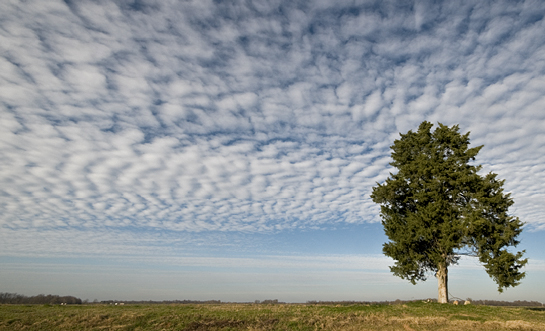 Sunday, December 26, 2010
E D I T O R ' S N O T E :
Joseph, busy with family and business responsibilities, invites us to revisit a Christmas story he shared here two years ago. He calls it "A Story Worth Retelling" — and we wholeheartedly agree. Joseph sends his greetings for a merry Christmas season and a very happy New Year, and invites us back to this same place next week for the first new feature of 2011.

First Published on Sunday, December 21, 2008
Chuck Taylor is a congenial man. Otherwise this story would not be.
The ancient cedar tree stands alone at the edge of a huge field on a farm west of Dumas, Arkansas, on state highway 83. One simply cannot miss it. If you know anything about farms in this neck of the woods, you know with certainty that if a tree is left standing in what would otherwise be a field with the approximate terrain characteristics of a pool table, there has to be a reason.
Back to Chuck. His establishment, "Taylor's," was the first sign of life I detected after shooting the tree. A sign on his business exterior read "Since 1954," so I figured someone in the establishment probably knew the story about the tree.
Yeah-buddy, I said to myself as I headed to the door. Yes, it was Sunday afternoon, but there were plenty of cars around and I could see lights inside. I was going to sop up some information. Oops! The doorknob did not budge. I looked inside and saw a number of people seated around a long table. They glanced in my direction as I turned back to the truck, muttering under my breath. Before I got to the truck, I did a 180, went back to the door, knocked, and asked if someone could answer a question.
Behold, a man got up and headed to the door. At this point, I questioned the wisdom of the door knock. Before I could ponder the question deeply, the door cracked open and there was a smiling Chuck Taylor. I told him what I was doing and what I was after. To my surprise and delight, Chuck invited me in, despite the fact that I had just interrupted their store Christmas party.
Turns out, I had landed smack-dab in the middle of the best source of information about the ancient cedar. "That tree is on the old Cross Place," Chuck said. "It's an old family home site." The tree was left as a memorial to Frank Cross, the last resident of the Cross domicile.
The Cross home, according to Chuck's mother, was a late 1800s or early 1900s model. "It was one of those houses with a breezeway between the sections."
After his father died, Frank Cross moved into the house with his mother. Several years later, she died and Frank became the sole resident of the structure. Chuck Taylor spoke highly of Frank Cross. "He was, well, eccentric, I would say. He was articulate, intelligent, and well liked."
When the years began to creep up on Frank, he became bedridden and required daily attention. Chuck's father, Charles Taylor, joined Frank's brother Tom Cross and his wife Maggie as caregivers. "He (Charles) went to take care of Frank every day, it was a part of his routine," Chuck said.
By this time, the house was deteriorating seriously. The room where Frank was bedridden was the only livable room in the house, but with the care of friends and family, Frank was comfortable.
That all came to an untimely end sometime in the mid-1980s. A still unknown miscreant shot and killed Frank in his bed. After the murderer did his gruesome deed, he covered Frank's body with a coat and proceeded to ransack the place. Who he (or she) was, what they were looking for, and why the deed was done is still a mystery.
Not long afterwards, the family had the house demolished, but left the tree as a memorial to Frank Cross. The tree shows a few bruises and scrapes, but is doing well. We can probably presume that it has endured the most savage treatment Mother Nature can dish out for a hundred years or so and is still going strong. Frank, I believe would be proud.
In a few days, millions of inhabitants of this planet, including yours truly, will celebrate Christmas — and not the infernal thing some call the "holidays." This sacred observance of Christmas gives us pause to refresh our knowledge that there is good — and that there is evil. For a few minutes today, I was in the presence of good, manifested by a well-worn cedar tree. The tree told me that in our tale of the Cross tree, the good people outnumber the evil ones. That gives us hope. Merry Christmas.
N O T E S:
Nikon D300 Hand held / AFS Nikkor 18-70 f3.5-4.5G ED / post processed with Photoshop CS3 Extended and Genuine Fractals Print Pro.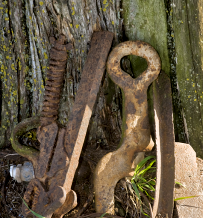 SEE MORE
of the tree,
read more of the story at
Weekly Grist
for the Eyes and Mind.
Click here to go there.


Click the jump wings
to see the previous
Photo of the Week.

Click the camera
for an index to every
Photo of the Week.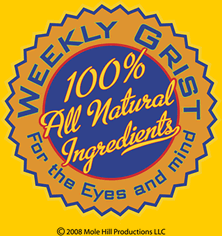 Most of the time, there is more to the Photo of the Week story than can be told in an essay. And most of the time there are more pictures to be seen. Presuming that some folk will enjoy being privy to this trove of information, I have created a blog, "Weekly Grist for the Eyes and Mind," where I am showing and telling "the rest of the story." There are also some blatantly commercial mentions of some of the things we do to earn our beans and taters. Click on the Weekly Grist logo and go to the blog. — J. D.