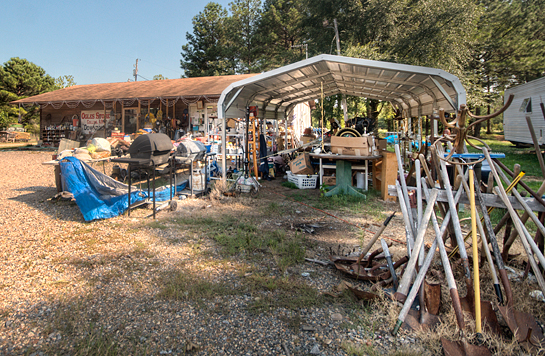 As you approach "downtown" Collins, Arkansas, from the west on state Highway 35, you get this glimpse of Ogles Store. All of a sudden you realize you are about to see a place unlike any other. The number and variety of new and used merchandise, groceries, and other food items offered by the store are nothing short of mind-boggling. Just be glad it's not you who takes inventory.

Sunday, August 7, 2011
Doy Ogles of Collins, Arkansas, subscribes to the theory, "You can't sell off an empty wagon" — or at least his emporium, Ogles Store, looks like he does. Outside and in. Adhering to the best retailing techniques, Ogles steers his customers through a museum-like, mega-eclectic display of mostly used merchandise just to get through the front door. No space goes to waste. Every nook and cranny is occupied by something for sale.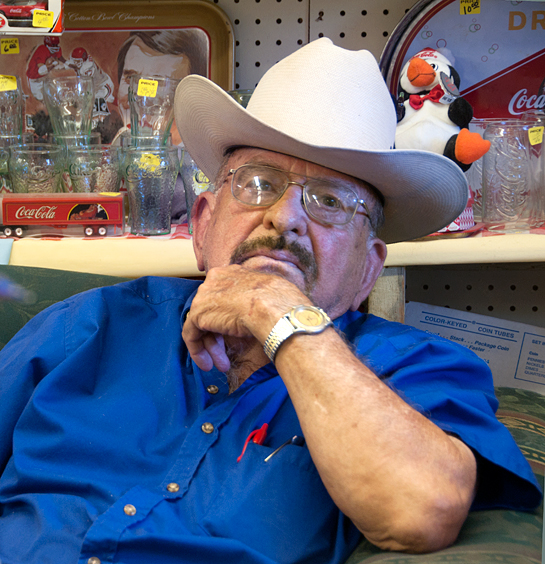 Doy Ogles takes care of business and has probably set some sort of record for merchandise in a store. He is the third generation of Ogles in the establishment, which was started in 1874 by his grandfather, John Ogles. A man of humility, he wondered why anyone would be interested in a story about his store. I couldn't imagine anyone not being interested in the place.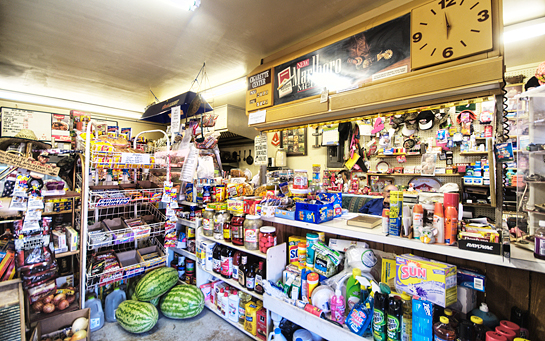 Everything from watermelons to skeeter dope, from onions to bug spray, from beef jerky to ball caps, from pickled eggs and Polish sausage to flip flops and far beyond greets you at the checkout counter of Ogles Store. It's worth the trip just to see it.
Having had my fill of lukewarm bottled water on a sultry 100-degree day, I stopped at the store for a "sody-pop." To get to the cold-drink box, I wound through a maze of groceries, guns, stuffed animals, bric-a-brac, and embroidered denim purses. In a momentary health-conscious lapse, I selected a fruit juice over the intended sody and proceeded to compensate my friendly local proprietor for his merchandise.
Naturally, a conversation ensued. It turns out that Doy Ogles knew, was fond of, and did business with my late father-in-law and his siblings, all of whom were active in their business, the Glover Livestock Commission of Pine Bluff, Arkansas. It is a small world indeed.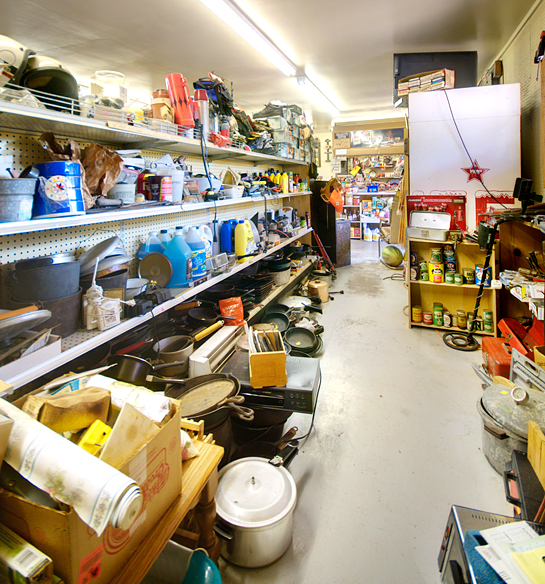 "CAST-IRON on aisle 1:" Doy Ogles asked me to take a look at his collection of cast-iron cook wear, which is impressive. While I was at it I noticed the metal detector, pressure cookers, and tool boxes. One could spend the better part of a day browsing.
I also asked Doy if he knew a man named Peacock in the cattle auction business in nearby McGehee, Arkansas. Turns out he did know and did business with Arthur Peacock, the late father of my good friend and college classmate, Jimmy Dale Peacock, now a renowned freelance copy editor in Sapulpa, Oklahoma. It is a small world.
After a bit more conversation, Doy brought me up-to-speed on the provenance of his store. His grandfather started the store in 1874 in the same location. Eventually, in the late nineteenth century, there were eight stores in the bustling town. A railroad connecting Collins to a port on the Mississippi River to the east terminated there. The town was the drop-off point for groceries and supplies shipped to the area via the river, arriving first at Collins, and then to points west by wagon. "The railroad even had a round-house in Collins," Doy said.
Like hundreds of other small Delta towns, Collins did not take kindly to the twentieth century. Ogles Store is the only remaining visible business. To have survived, the succession of Ogles Store proprietors have done something right. Like most country stores, on Saturday afternoon the doors are open for business. And there is plenty of stuff to buy. Business professors, take note.
N O T E S:
Nikon D300, tripod mounted, all. Store exterior, ISO 200, Sigma 10-20mm F4-5.6, EX DC HSM, base exposure for compositing 1/400@f11; Doy Ogle behind counter, ISO 320, AF S Nikkor 18-200mm f3.5-5.6 VR, 1/8@ f5; Check-out counter ISO 320, Sigma 10-20mm F4-5.6, EX DC HSM, base exposure for compositing 1/10@f4; Cast Iron aisle, ISO 320, Sigma 10-20mm F4-5.6, EX DC HSM, base exposure for compositing f1@1/20.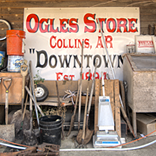 SEE MORE
OF THE STORE EXTERIOR
at Weekly Grist
for the Eyes and Mind,
plus a few more Delta goodies
including an old store front,
a political statement, a horse
in a pond, and a cool setting sun. Click, go, and enjoy.


Click the jump wings
to see the previous
Photo of the Week.

Click the camera
for an index to every
Photo of the Week.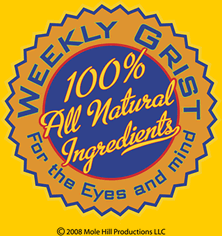 Most of the time, there is more to the Photo of the Week story than can be told in an essay. And most of the time there are more pictures to be seen. Presuming that some folk will enjoy being privy to this trove of information, I have created a blog, "Weekly Grist for the Eyes and Mind," where I am showing and telling "the rest of the story." There are also some blatantly commercial mentions of some of the things we do to earn our beans and taters. Click on the Weekly Grist logo and go to the blog. — J. D.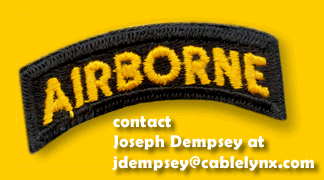 ---
---
---
---
---
---
---
---