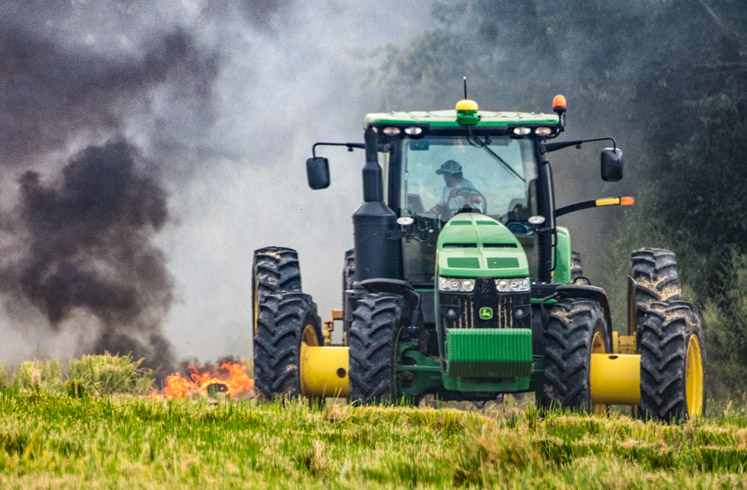 Hot Rice
The tractor driver at this farm north of Grady, Arkansas, is dragging a burning tire carcass through a recently harvested rice field. He's not alone. Farm managers are keeping an eye on the process. In this case, the fire was not catching as quickly as what they wanted, so the process took longer than normal.

Sunday, September 11, 2016
Pine Buff, Arkansas
The practice of planting winter crops soon after spring and summer crops are harvested necessitates clearing fields of the detritus, flotsam, and jetsam that lingers in the aftermath of the harvest. If time is of essence and weather permits, burning a field is a highly efficient method of doing the cleanup since the biggest part of the leftovers, plus pesky weed seeds, goes up in smoke.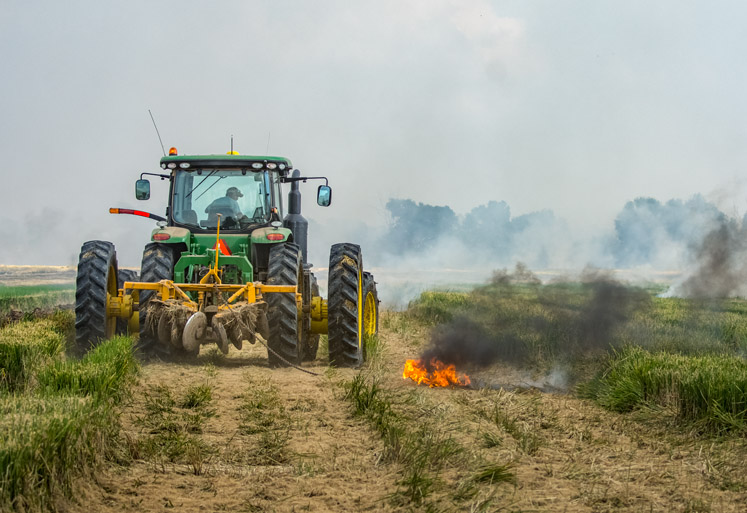 Give 'Er Enough Chain
It's not necessary to remove the disk implement from the tractor to start the fire. Twenty feet or so of chain and an old tire carcass and/or some matches and a Zippo will do the trick.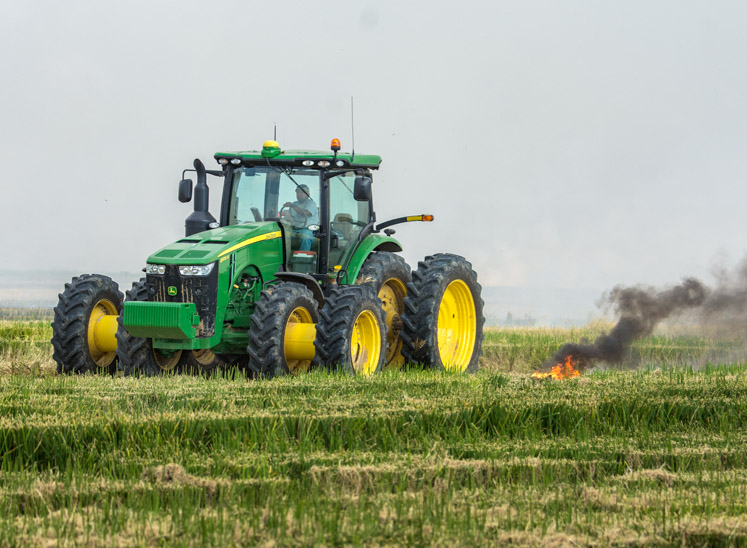 How Green Is Your Stubble?
The recently harvested rice stubble is resisting the fire — looks like it may be a tad on the green side to make good tinder.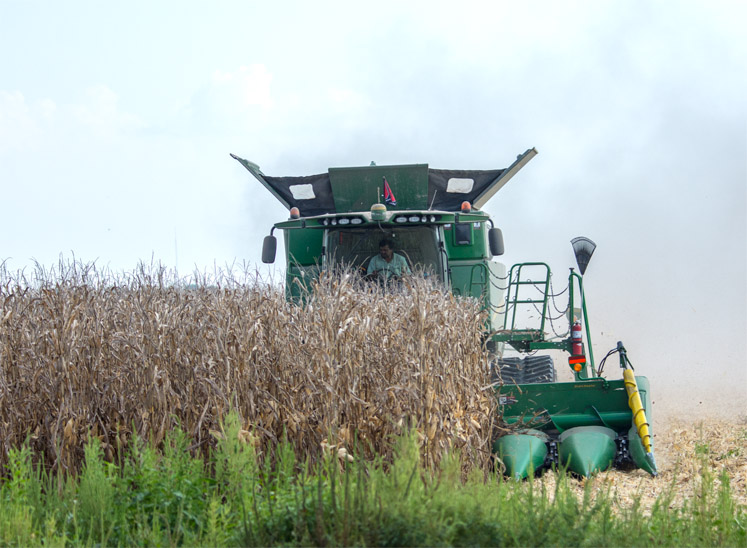 Over at the Corn Field....
South of Grady at the time the rice field was being torched, crew members of this farm were harvesting corn as fast as they could. This combine is approaching the end of the rows at the east end of the field, but not to worry, there are plenty more.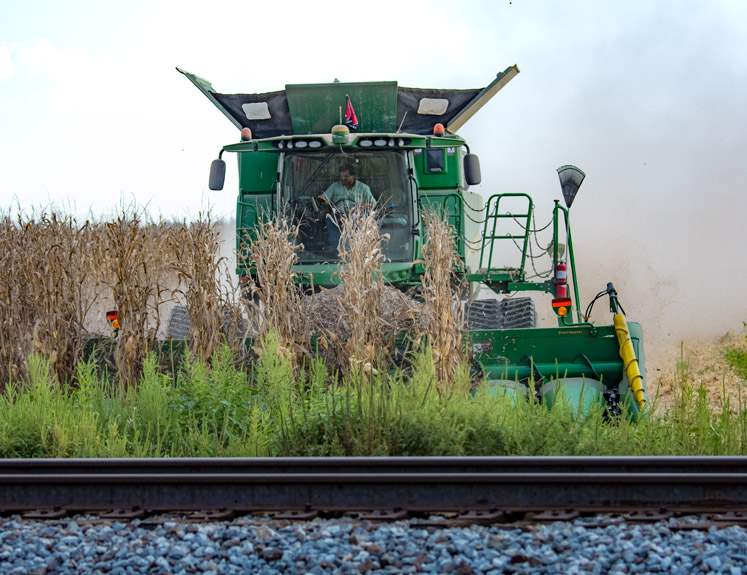 Turn 'Round at the Railroad Tracks
The combine is shown right before whacking the last stalks of these rows. It will proceed south (left) down a turn row and then turn down a new set of rows in the opposite direction. This field butts up to the Missouri-Pacific railroad right of way, the rails of which you see in the foreground.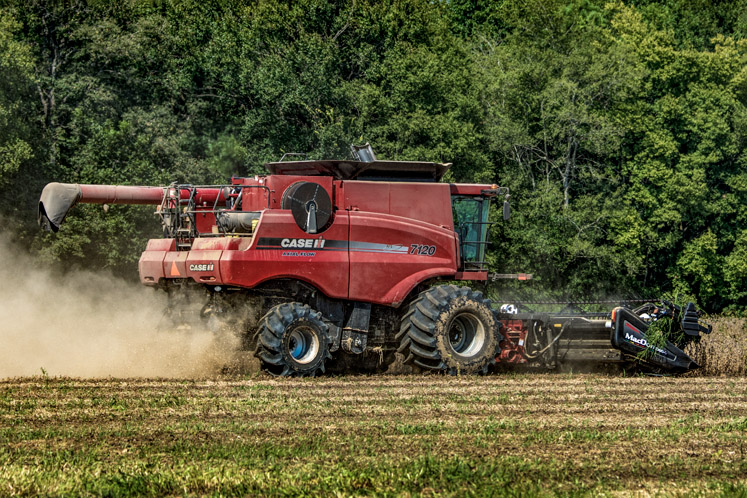 Make Room for the Beans
Further west of Grady, I spotted this combine, which was making short work of a soybean field.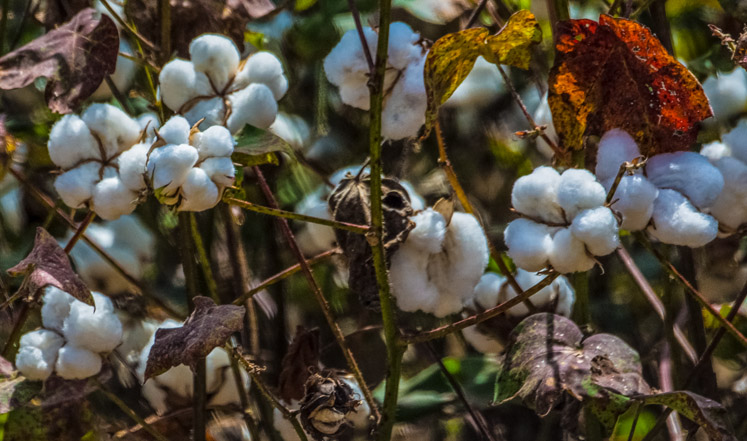 Last Stop: King Cotton
Not far from the soybean field, I found a field of cotton. Here's a good up-close look at the former King of the Fields.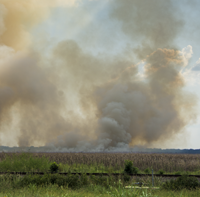 But Wait, There's More!
Get a good look
at a distant field fire
and more harvesting pictures
along with clever prose
at Weekly Grist for the Eyes and Mind.
Click, go, and enjoy.