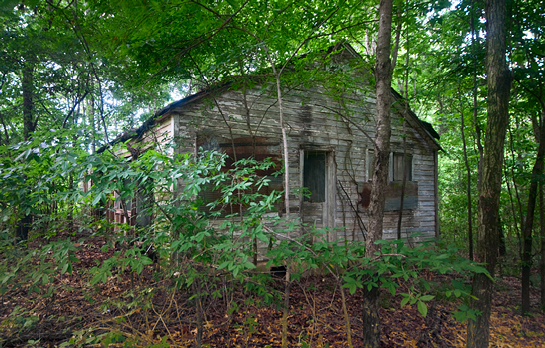 Sunday, April 29, 2012
A U T H O R ' S N O T E :
This week, we turn back the pages within a few days of two years. The trip was exploratory. I knew I would run into a photo-op and a story. I just was not certain what it would be until it manifested. In this case, a big "home-place" tree prompted me to stop. I found a two-house neighborhood well into its "last legs."

Little did I know that during the thirty minutes or so that I stopped at the site, a massive storm was brewing. After tempting a horde of mosquitoes with my person, I was back in the truck when I heard news of the storm. The emergency beep on the radio summarily interrupted Lynyrd Skynyrd wailing away on "Sweet Home Alabama."

Turns out the storm was headed to the area of my domicile. I decided to see if I could beat it there, but in the process, the storm veered so I started chasing it. Never caught it, but got close enough to get a few storm pictures, which you can see at Weekly Grist for the Eyes and Mind.

Thanks,

Joe


Originally Published on Sunday, May 2, 2010
The clue was the big "home-place tree" (see below) on the side of the road, which is normally a signal that someone formerly lived close by. At first glance, I didn't see the old abandoned house. It was deserted so long ago that the woods obscured it from vision, although it stands only a few precarious steps from the road.
I crossed the omnipresent ditch, which is part and parcel of most gravel roads, and there it was, in pre-lean condition — a precursor to pre-collapse condition. To my surprise I had stepped into a crumbling two-house neighborhood. The second house is well ensconced in the pre-collapse condition. It is functionally runrt. See it on our blog, link below.
The humidity, thick as ribbon cane syrup, was closing in on me. As I looked at the house, I expected to hear "Dueling Banjos," but instead heard the whiny buzz of a coordinated mosquito attack. Now I'm not saying they were thick, I'm only saying that in this case they would be measured by volume, say by the cubic foot, and not individual "skeeters." Fortunately, I thwarted their voracious delight in discovering a new target with a liberal application of "skeeter dope," aka insect repellent to non-southerners.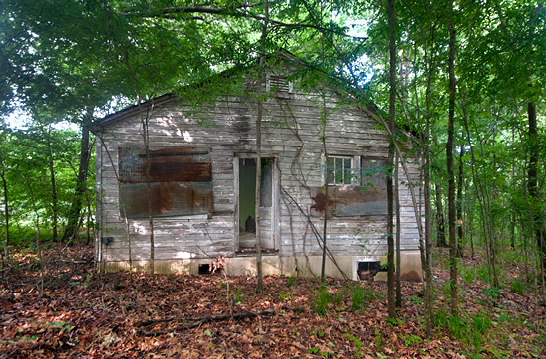 Side View: Sometime after the domicile was abandoned, someone saw fit to cover the windows with "roofin' arn," otherwise known as corrugated roofing material. It could have been an attempt by the former resident to secure those things that were left behind. Just as easily, it could have been installed by a squatter who moved in not long after the last residents moved out.
The foundation is plumb and the house appears to have been professionally built in the forties or early fifties. One's imagination is always stirred when presented with one of these abandoned residences. When and why was the great departure?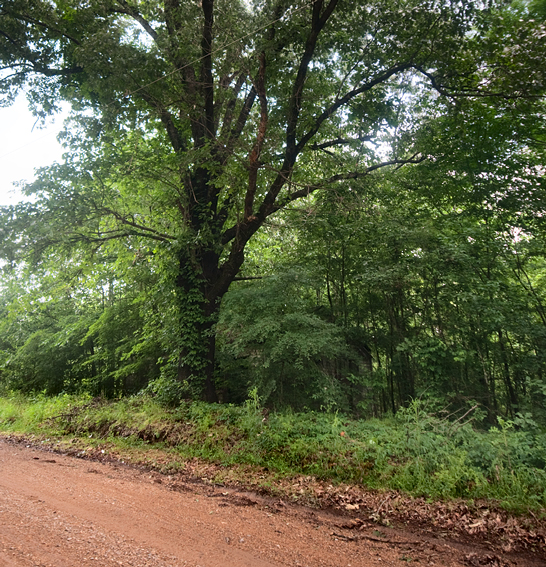 I call these big trees "home-place" trees. They are left uncut beside or near former residences. Most of the time they stick out like a sore thumb. In the South, one or more big shade trees in the yard is still a good idea — preferably, one tree on the east and another on the west. This was particularly important before the advent of air conditioning, a condition I well remember. Left alone, the trees frequently preside over a site with no building. Fact is, you see more of those than you do trees with buildings.
The trees prove again that God's creations almost always outlast ours.
N O T E S:
Nikon D300, tripod mounted, ISO 200. House pictures: Sigma 10-20 f4-5.6 EX DC HSM; top shot 1/10 @ f4.5, middle shot, the same. Tree shot, AF-S VR Nikkor 18-200 f3.5-5.6, 1/125 @ f6.3. These are base exposures, all shots composited. Post processed with Photoshop CS4 Extended and Genuine Fractals Print Pro. And a partridge in a pear tree.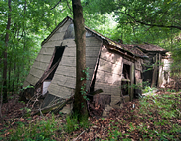 BUT WAIT, THERE'S MORE!
See the neighboring pre-collapse house (before it's too late), along with some storm shots on our Blog, Weekly Grist for the Eyes and Mind. Hey kids, it's good, clean fun, no boxtops required. Click here to go there!


Click the jump wings
to see the previous
Photo of the Week.

Click the camera
for an index to every
Photo of the Week.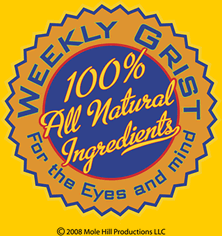 Most of the time, there is more to the Photo of the Week story than can be told in an essay. And most of the time there are more pictures to be seen. Presuming that some folk will enjoy being privy to this trove of information, I have created a blog, "Weekly Grist for the Eyes and Mind," where I am showing and telling "the rest of the story." There are also some blatantly commercial mentions of some of the things we do to earn our beans and taters. Click on the Weekly Grist logo and go to the blog. — J. D.