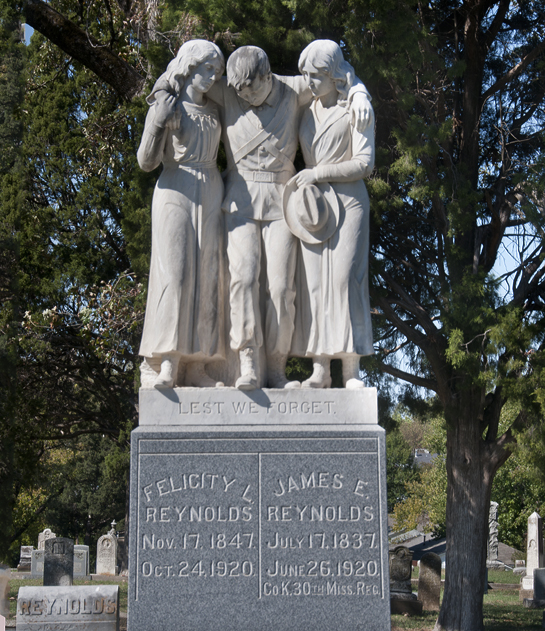 Though you initially may believe the statuary on this monument is a memorial is to a wounded soldier, just the opposite is true. The sculpture honors the caregivers who saved the life of the soldier.

Sunday, October 16, 2011
At the suggestion of my friend and high school and college classmate, Dick Estes, of Tulsa, Oklahoma, I shot this image at Oak Cemetery in Fort Smith, Arkansas. Dick as my tour guide was along for the shoot along with Ed Jeter and John Paul North, also classmates. We (Jeter, Estes and Dempsey) were in Fort Smith to attend a reunion of the classes of 1954, '55, and '56 of Fort Smith Senior High School, now known as North Side High School. John Paul lives in Fort Smith.
In his childhood and teenage years, Dick lived close to the cemetery, which was squarely in the shortest path to Creekmore Park, a veritable honey-hole of opportunities for adventurous youngsters. It was during Dick's many trips from his home to the park that he became enamored with this monument. After we shot it, he did some research and it turns out James E. Reynolds was a notable character with a story that reads like a novel.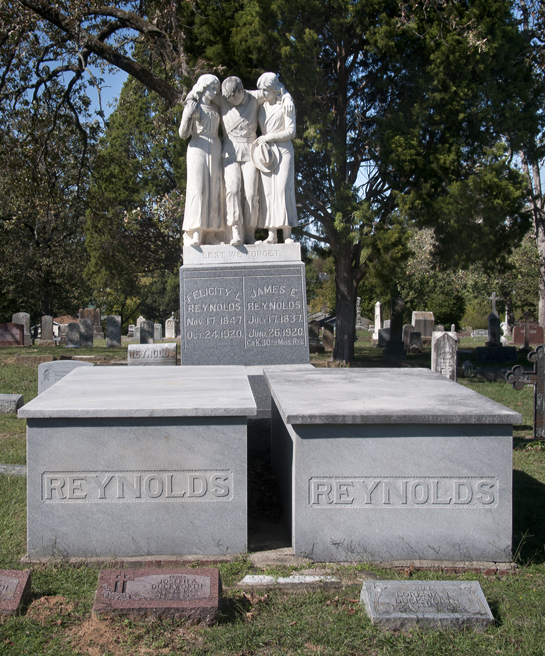 He fought in the War Between the States in the Army commanded by General Stonewall Jackson. According to his late granddaughter, Elizabeth Calloway, he was the "original male chauvinist." All of this came to a screeching halt when he was seriously wounded and would have died had it not been for the daughters of his commanding officer, who nursed him back to health. That experience changed his attitude, and from that time forward, he always showed women unconditional respect and courtesy.
At the war's end, rather than surrender, he went to Mexico with a group of his comrades, preferring to live apart from the jurisdiction of the United States of America. It did not take long for Reynolds to rethink his position and he returned to home soil in Mississippi. In 1866, he married Felicity Long Turnbull of Lexington, Mississippi, a member of the Choctaw Indian tribe.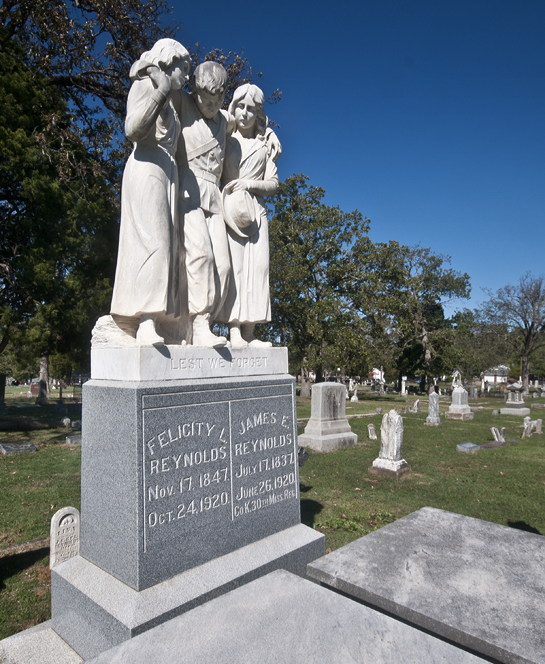 Eventually, they moved to Indian Territory (currently known as Oklahoma) and settled in an area near what is now known as the Arkhoma community west of Fort Smith. He prospered in business and never forgot the two teenage girls who saved his life. He commissioned the monument for himself and Felicity to commemorate their unselfish actions.
Oak Cemetery is a historic resting place. One hundred or so U.S. Marshalls and other lawmen are interred there along with thirty or so outlaws, many of whom met their fate after being sentenced by Isaac Parker, the "hanging judge." It is also the final resting place of John Crittenden "Jack" Dempsey, my grandfather. His main claim to fame was that he was a neat grandaddy.
N O T E S:
Nikon D300, tripod mounted, ISO 200. Top picture, AF-S VR Nikkor 18-200 G ED, 1/400@10; Second picture, Sigma 10-20mm F4-5.6, EX DC HSM, 1/400@f9; Third picture, AF-S VR Nikkor 18-200 G ED, 1/400@10.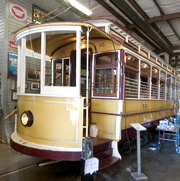 SEE MORE
pictures from this trip, totally
unrelated to Captain Reynolds,
including a restored trolley,
a neat old steam locomotive,
a barn, and an environmental
picture featuring a huge truck
tooling along at 70 mph or so at
Weekly Grist for the Eyes and Mind.


Click the jump wings
to see the previous
Photo of the Week.

Click the camera
for an index to every
Photo of the Week.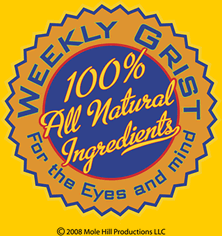 Most of the time, there is more to the Photo of the Week story than can be told in an essay. And most of the time there are more pictures to be seen. Presuming that some folk will enjoy being privy to this trove of information, I have created a blog, "Weekly Grist for the Eyes and Mind," where I am showing and telling "the rest of the story." There are also some blatantly commercial mentions of some of the things we do to earn our beans and taters. Click on the Weekly Grist logo and go to the blog. — J. D.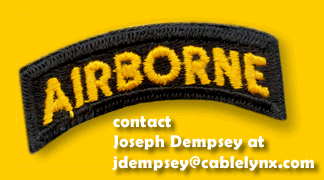 ---
---
---
---
---
---
---
---