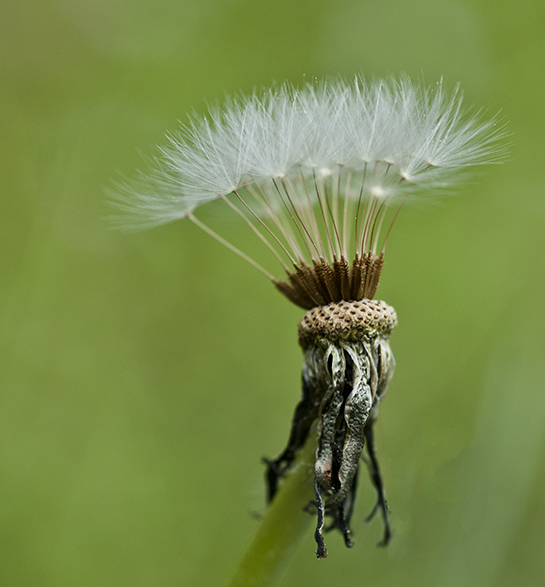 Its reproductive work nearly complete, this back-yard gone-to-seed dandelion bloom has done its part to see that the next generation of dandelions sprouts and grows before it is ripped to shreds by a lawn mower. Even in its nearly nude condition, the dandelion still shows Mother Nature's propensity for organizational perfection.

Sunday, March 25, 2012
Looking down: A search for scenic splendor does not necessarily require extensive travel. In fact, using the two primary transportation modes of an infantryman — that is, one's left foot and right foot — on one's home turf can reveal hidden treasures, some so small that stooping, squatting, or getting on one's hands and knees is necessary to absorb the entire visual message. What you can see is almost always worth the grunts and groans.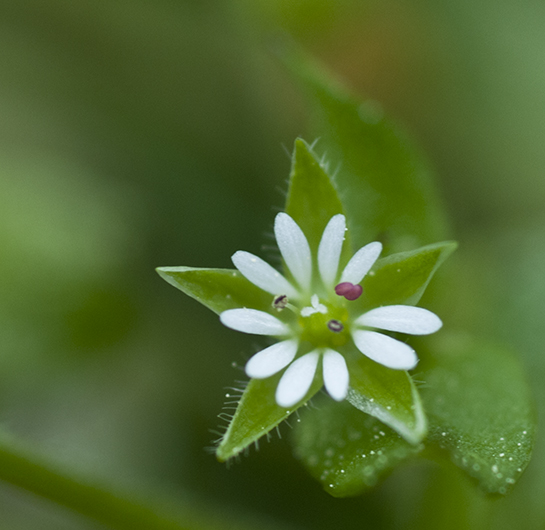 This tiny poesy is a scant 1/8-inch across by my best estimate, despite the size you see here. It was an on-my-hands-and-knees discovery while shooting a larger wildflower nearby — a get-lucky bonus — but then you had to be groveling first.
One sure sign of spring is a yard full of Spring Beauties, the small ubiquitous white-with-purple-veins flowers that sprout en-masse in almost everyone's yard. They don't last long, but their message is clear: Winter is over (with any kind of luck).
Until you get up close, Spring Beauties can fool you into thinking they are all white. Close inspection reveals their variegated patterns.
Looking around: Most yard blooms require closer inspection to get the whole story. For example, your average solid citizen when doing a drive-by observation will remark on the brilliance of a growth of healthy blooming azaleas and subsequently congratulate themselves on being so observant. In so doing, they have missed a delightful detail: azalea freckles. My more astute horticultural friends probably have a name for these specks, but for me, they are azalea freckles. They are well worth the extra effort to observe.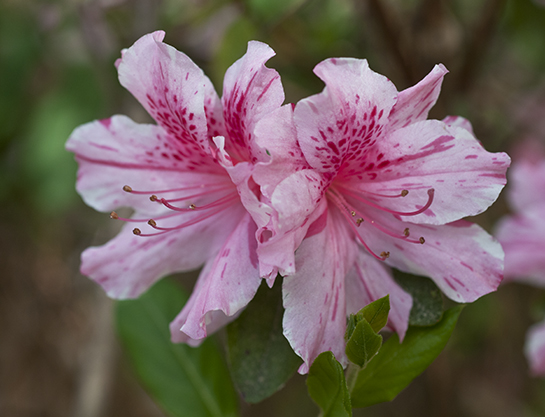 Check out the azalea freckles, not available for observation from the street or across the yard.
Take a closer look. There's no telling what you will find.
N O T E S:
Nikon D300, ISO 200, AF Mirco Nikkor 60mm, all. Spent dandelion, f2.8D, 1/320@f5.6; Spring Beauty, same lens 1/50@f14; Teen-tiny star flower, 1/250@f5.6. Azalea, 1/100@f14. Post processed in Photoshop CS5 Extended.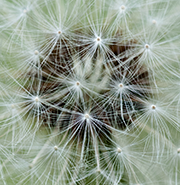 STEP INSIDE
THE DANDELION
at Weekly Grist
for the Eyes and Mind,
plus some small yellow flowers,
dogwoods, and more products
of your friendly local spring season.
Click and go.


Click the jump wings
to see the previous
Photo of the Week.

Click the camera
for an index to every
Photo of the Week.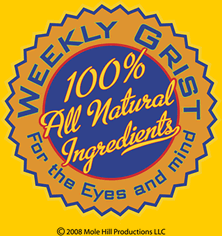 Most of the time, there is more to the Photo of the Week story than can be told in an essay. And most of the time there are more pictures to be seen. Presuming that some folk will enjoy being privy to this trove of information, I have created a blog, "Weekly Grist for the Eyes and Mind," where I am showing and telling "the rest of the story." There are also some blatantly commercial mentions of some of the things we do to earn our beans and taters. Click on the Weekly Grist logo and go to the blog. — J. D.