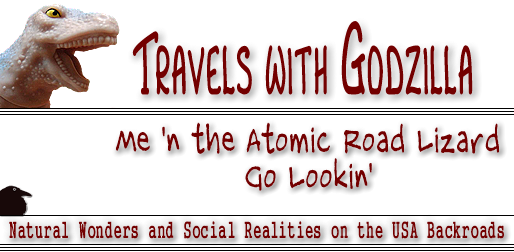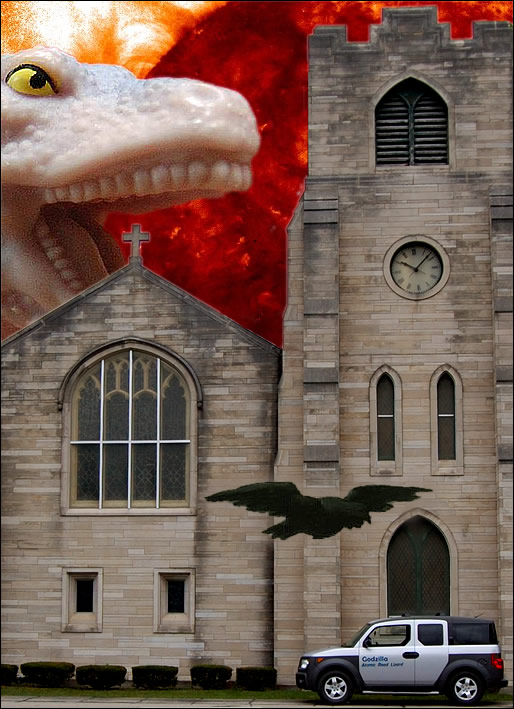 After a night of bad dreams on the Best Western parking lot,
Godzilla pauses for morning prayers
at the Howe Military School's chapel in northeastern Indiana.


Success and Fear
On the Sly Peripheral.
Monday, August 10, 2009
Kent, Ohio
The fray is there, just outside Godzilla's bug-spattered windows, open or closed, but you can't see it unless you look hard and hone your discernment: the impatient, angry citizenry of the heartland of America, restless in their prosperity and civic peace, anxious to hold fast to their swathe of the Union at any cost, a fertile band of farms and villages and small towns, stretching from Kansas to Pennsylvania, from south of Chicago and Cleveland to north of Kansas City and Knoxville, the good earth, inhabited for the most part by descendents of Europeans, and perceived to be under threat by the emerging federal government of The Outsiders.
So be it. I am merely passing through. I observe and record, try to keep my path clear, while Godzilla, being a vehicle, has more immediate and practical concerns. And no matter how divisive or destructive their opposition plays out in the coming national drama over domestic political policy, these strong and self-proclaimed conservative Americans have raised-up an orderly and productive society through hard work, cultural unity, and the staying power of generational stability.
From the northeast corner of Indiana all the way to tonight's resting place at the Comfort Inn of Kent in northeast Ohio, I observed a passing scene of understated grandeur. It wore the hardy and pleasant face of sustained success. . . .
Village streets and backcountry highways free of litter, junk, and ruins. . . .
Neatly manicured fields, hundreds and hundreds of miles of them, bursting with tall corn and bushy beans ripening for an abundant autumn harvest. . . .
Statuesque barns and picturesque homesteads, polished pick-up trucks with fast engines, powerful tractors and crop haulers, washed and tuned and fit for production. . . .
And the people, looking straight ahead, moving smartly, keeping the wary eye confined to the sly peripheral. People with a grounded sense of purpose. People with a free floating sense of fear.
"If only all of the USA were like us." That's how the mantra goes. Listen to America sing in the late summer of our slow dissolution. We are the real Americans. Not THEM.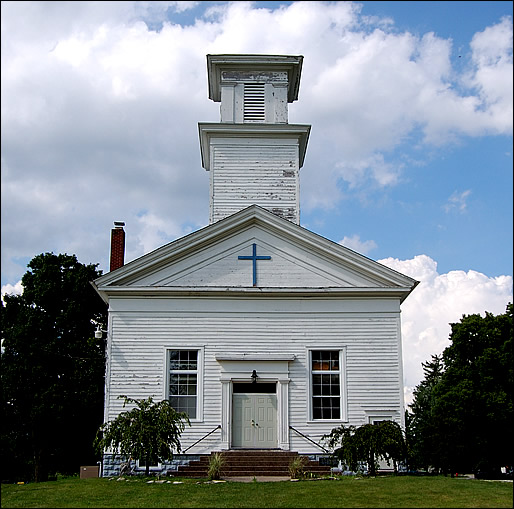 North Fairfield Assembly of God
North Fairfield, Ohio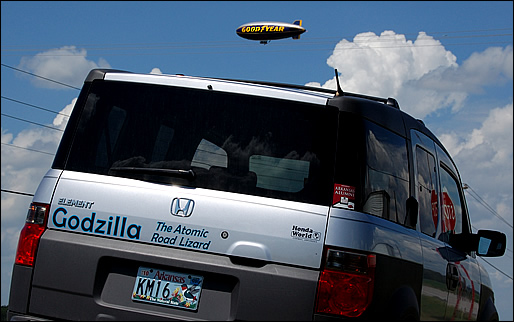 We were not too far from Toledo on Ohio 6.
We looked up, saw the famous blimp, and pulled over.
"Does it have bombs?" Godzilla asked.
"No. Just hot air and commercial spokesmen," I replied.


To read the previous dispatch in the narrative,
kindly click the crow!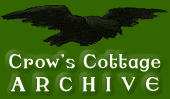 ---

---

---

---

---

---

---

---

---

---


The stories
linked below
form the narrative "Travels with Godzilla."

The Journey Ends:
Bye, Buck Bowles.

Dispatch Eighteen
Fayetteville,
Arkansas
Monday, August 31

Tobacco:
By the Hand of Man.

Dispatch Seventeen
Benton,
Kentucky
Thursday, August 27

Shy and Wonderful:
In Pursuit
Of the Wild Image.

Dispatch Sixteen
Bowling Green,
Kentucky
Wednesday, August 26

Mullens
It Wasn't the Flood.

Dispatch Fifteen
Williamson,
West Virginia
Tuesday, August 25

What Coal?
So Many Mountains
They're
Giving Some Up.

Dispatch Fourteen
Beckley,
West Virginia
Monday, August 24

Illustrated Man:
Pay Is Pay
On the
Honorable Path.

Dispatch Twelve
Morgantown,
West Virginia
Saturday, August 22

Which Road?
Counting the Lanes.

Dispatch Eleven
Bel Air,
Maryland
Friday, August 21

An Easy Puzzle:
Shade Drenched,
Flat and Tidy.

Dispatch Ten
Seaford,
Delaware
Thursday, August 20

Sea Cruise:
A Fine Old Motor Vessel Makes a Smooth Crossing from Jersey to Delaware.

Dispatch Nine
Seaford,
Delaware
Wednesday, August 19

Mighty Joe:
From the River Valley To the Sandy Pine Barrens On a Road to Heaven.

Dispatch Eight
Vineland,
New Jersey
Tuesday, August 18

Sugar Hollow Road:
Not too Far
down the Way
from Mehoopany.

Dispatch Seven
Scranton, Pennsylvania
Friday, August 14

Lucky Stars:
Godzilla Wrestles
a Bear.

Dispatch Six
Scranton, Pennsylvania
Thursday, August 13

Erie:
Off Balance, Agitated.

Dispatch Five
Erie, Pennsylvania
Tuesday, August 11

Purpose:
Success and Fear On the Sly Peripheral.

Dispatch Four
Kent, Ohio
Monday, August 10

Indiana:
You Want to Take Forever.

Dispatch Three
Howe, Indiana
Sunday, August 9

Army Truck:
Carry Me Home.

Dispatch Two
Watseka, Illinois
Saturday, August 8

Road Trip:
Go Fast.

Dispatch One
Muscatine, Iowa
Friday, August 7

---
---

---
---