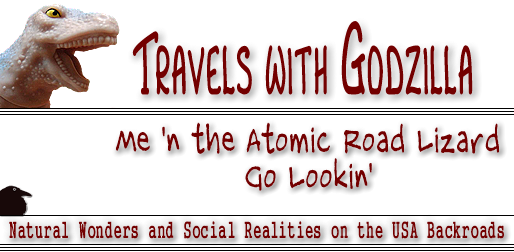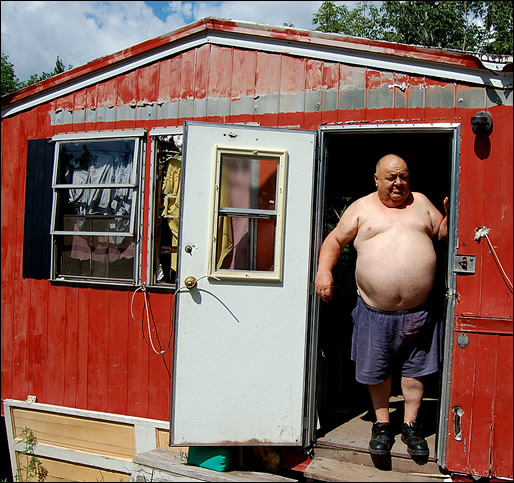 Mr. Benjamin Smith at his home on Sugar Hollow Road.


Not too Far down the Way
from Mehoopany.
Friday, August 14, 2009
Scranton, Pennsylvania
Tonight in the city, a manic day of exploring some hours done, I wait for the clothes to dry, tumbling and tumbling, and want you to know I'm happy to be out of that coal mine. But the tale of my descent into the Lackawanna Mine will have to wait for another night when time's speeding arrow slows down and psychic energy speeds up sufficiently to permit lucid thought.
I turn the narrative over to photoland and bid you a sweet good night.



Mr. Smith's abode faces the west about 50 feet off the two-lane blacktop.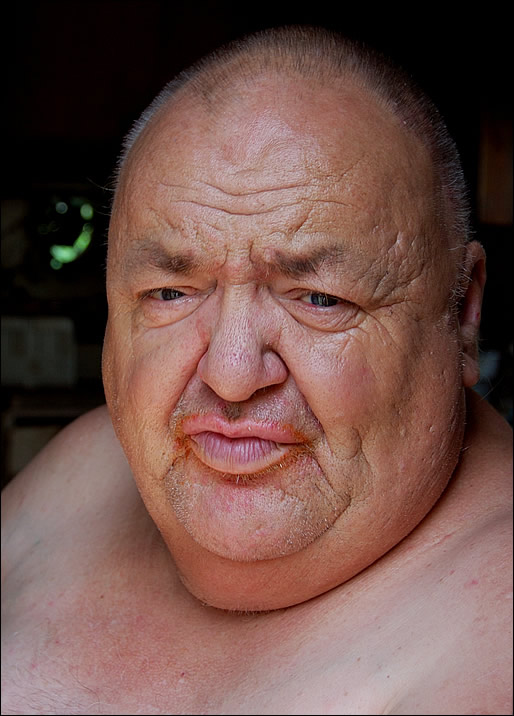 Mr. Smith told us he is 65 years old
and that he's lived in these parts all of his life.
He said he often visits the store
where Sugar Hollow Road runs into Pennsylvania 29.
The road begins at the village of Mehoopany on Pennsylvania 87,
not too far west of Scranton.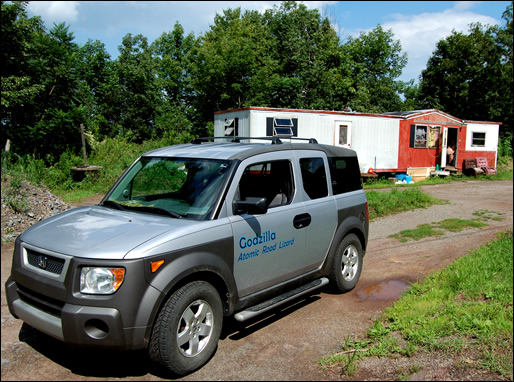 Godzilla rests his feet at Mr. Smith's place.
For the traveler who loves backcountry byways,
Sugar Hollow Road is a delight of wildflowers, rustic barns, and hayfields.
Some of the farms are downright majestic.
The road twists and turns through the foothills of the Alleghenies,
offering vistas and rustic beauties of the finest stature.


To read the previous dispatch in the narrative,
kindly click the crow!

Notices of new dispatches from my Travels with Godzilla are sent by e-mail express to my list of family, friends, students, and fellow travelers. If you've come here by some other means than an e-mail invitation, and would like to receive notices, please write me so I can add you to the list. I share the addresses with no one but Godzilla, who can't type and doesn't do e-mail.
Ebenezer Bowles
threadspinner@corndancer.com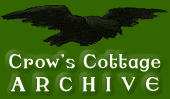 ---

---

---

---

---

---

---

---

---

---


The stories
linked below
form the narrative "Travels with Godzilla."

The Journey Ends:
Bye, Buck Bowles.

Dispatch Eighteen
Fayetteville,
Arkansas
Monday, August 31

Tobacco:
By the Hand of Man.

Dispatch Seventeen
Benton,
Kentucky
Thursday, August 27

Shy and Wonderful:
In Pursuit
Of the Wild Image.

Dispatch Sixteen
Bowling Green,
Kentucky
Wednesday, August 26

Mullens
It Wasn't the Flood.

Dispatch Fifteen
Williamson,
West Virginia
Tuesday, August 25

What Coal?
So Many Mountains
They're
Giving Some Up.

Dispatch Fourteen
Beckley,
West Virginia
Monday, August 24

Illustrated Man:
Pay Is Pay
On the
Honorable Path.

Dispatch Twelve
Morgantown,
West Virginia
Saturday, August 22

Which Road?
Counting the Lanes.

Dispatch Eleven
Bel Air,
Maryland
Friday, August 21

An Easy Puzzle:
Shade Drenched,
Flat and Tidy.

Dispatch Ten
Seaford,
Delaware
Thursday, August 20

Sea Cruise:
A Fine Old Motor Vessel Makes a Smooth Crossing from Jersey to Delaware.

Dispatch Nine
Seaford,
Delaware
Wednesday, August 19

Mighty Joe:
From the River Valley To the Sandy Pine Barrens On a Road to Heaven.

Dispatch Eight
Vineland,
New Jersey
Tuesday, August 18

Sugar Hollow Road:
Not too Far
down the Way
from Mehoopany.

Dispatch Seven
Scranton, Pennsylvania
Friday, August 14

Lucky Stars:
Godzilla Wrestles
a Bear.

Dispatch Six
Scranton, Pennsylvania
Thursday, August 13

Erie:
Off Balance, Agitated.

Dispatch Five
Erie, Pennsylvania
Tuesday, August 11

Purpose:
Success and Fear On the Sly Peripheral.

Dispatch Four
Kent, Ohio
Monday, August 10

Indiana:
You Want to Take Forever.

Dispatch Three
Howe, Indiana
Sunday, August 9

Army Truck:
Carry Me Home.

Dispatch Two
Watseka, Illinois
Saturday, August 8

Road Trip:
Go Fast.

Dispatch One
Muscatine, Iowa
Friday, August 7

---
---

---
---